The School of Nursing recognizes the critical contributions that preceptors make to advance student learning through a Preceptor of the Month Award as well as the annual Helen Martin Preceptor Award.
Preceptor of the Month Award
The Preceptor of the Month Award recognizes an exceptional preceptor who consistently and effectively contributes to UCSF nursing students' clinical education.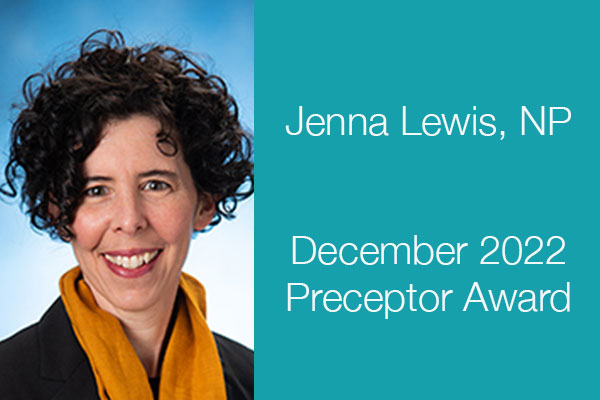 Jenna Lewis, NP, has worked at Kaiser Permanente in San Francisco since 2000, first as a subspecialist in Reproductive Endocrinology and Infertility for eight years and currently in generalist care. She received her master's degree in nursing at Massachusetts General Hospital in Boston.
Lewis has precepted UCSF midwifery students every quarter for the past year and offered to precept students in future quarters. Faculty have seen how supportive she is to new students, and how she has gone above and beyond to help support the next wave of midwives.
"I enjoy seeing a student blossom," Lewis said. "When I precept, I must think critically about why I practice a certain way, how I 'know what I know,' and whether there are new or different ways to know. Precepting gives me the gift of critical thinking. The UCSF CNM students are interesting, dedicated and curious. I love precepting them!"
Student Stacy Wu said: "I've learned so much about what it means to provide attentive and thorough care from my short time working with Jenna. In just a brief patient visit, she holds space in a way that allows people to truly feel heard about their health concerns and health achievements. Even on the most hectic days, she encourages me to ask questions and provides opportunities for me to grow as a provider."
Student Courtney Minor added: "Jenna extended her knowledge of the profession with high expertise. She is knowledgeable in hospital practices and in community practices. The care she gives and respect she shows her patients is a gift that was so valuable to see as a student."
November 2022 Preceptor of the Month: Colleen Theologis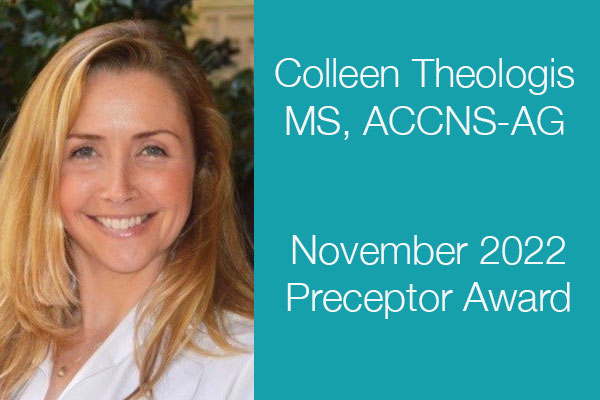 Colleen Theologis, MS, ACCNS-AG, PCCN, is a sought-after preceptor for the Master of Science program's Adult Gerontology Clinical Nurse Specialist track. She is an experienced clinical nurse specialist in the acute care setting, and currently in charge of several medical-surgical units at Stanford Healthcare. She has precepted for the UCSF School of Nursing for five years and always receives glowing reports from students. She is active in the National Association of Clinical Nurse Specialists and in shared governance opportunities at her home institution. Her commitment to her patients, interdisciplinary team, institution and professional organization is a great role model for students.
One student shared the following: "Colleen demonstrated that not only does she have clinical skills and knowledge, but also knows how to operate professionally at the systems level to advocate for nurses and the nursing profession. I often observed how Colleen moved within different circles and how she went about problem solving and can honestly say I'm going to walk away from this clinical with new skills, including being more deliberate and patient in my problem-solving approach. I will always remember to build strong relationships with my teammates the way Colleen clearly has done."
October 2022 Preceptor of the Month: Jacklin Tong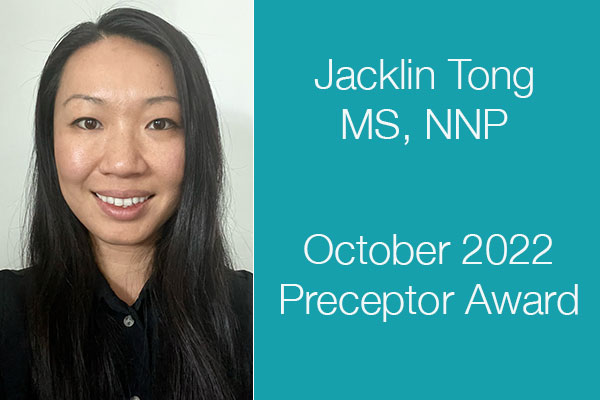 Jacklin Tong, MS, NNP, has consistently precepted students since graduating from the UCSF School of Nursing's Master of Science program. She is actively sought out by students who know her to precept them. As the Lucile Packard Children's Hospital facilitator for clinical placements, Tong has repeatedly gone above and beyond to ensure UCSF nursing students have clinical rotations at Stanford. In addition, Tong recently came to UCSF to perform a hands-on lecture with an ultrasound machine for neo students on POCUS (point of care ultrasound). The students would not have had the exposure to ultrasound techniques and its applications if it were not for Tong's advocacy for the education.
"Precepting is my expression of gratitude for the mentors and teachers that have and continued to believe in me when I didn't believe in myself," Tong said. "I enjoy precepting because I find it fulfilling when I see others flourish in advanced education and professional development."
September 2022 Preceptor of the Month: Emelie Menard, MS, PNP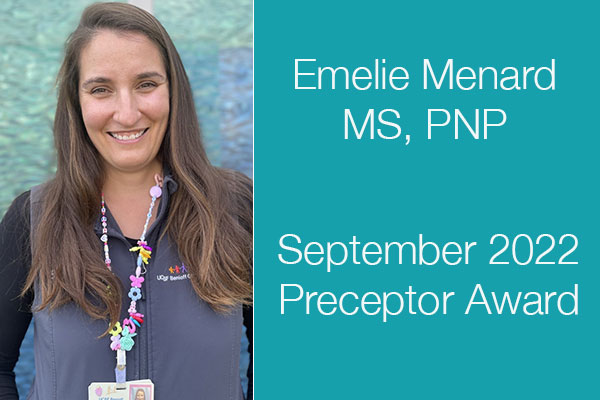 Emilie Menard graduated from the UCSF School of Nursing Master of Science program in the Pediatric Nurse Practitioner-Acute Care (PNP-AC) specialty in 2013 and launched her nurse practitioner career in the UCSF Benioff Children's Hospital PICU, building on her experience as a pediatric critical care nurse. Since that time, she has precepted numerous PNP-AC students. As the lead nurse practitioner in the PICU and Transitional Care Unit, she has continued to support the School of Nursing by recruiting additional preceptors, providing training support to new graduate NPs, and serving as a guest lecturer in which she shares her expertise on critical care pediatric topics.
"I precept to support NP students as they develop into NPs," Menard said. "I remember many of my preceptors and appreciate the time they gave and the impact they had on my career development. I consider it an honor to provide that same opportunity to more NP students."
Fostering the growth of students and new graduates through preceptorship has been a rewarding experience that has also helped her grow as an acute care pediatric nurse practitioner.
Her former instructor Sandy Staveski, an assistant professor at the School of Nursing, said, "As Emilie's advisor during her PNP-AC studies, it has been excellent to see all of her successes as lead NP at UCSF Benioff Children's Hospital Mission Bay. The very best part is to be colleagues with her and conduct research together."
August 2022 Preceptor of the Month: Mark Thomas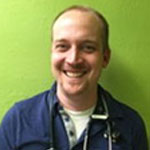 Mark Thomas, MS, PNP, is the school's August Preceptor of the Month. A UCSF alumnus and volunteer faculty member, Thomas has been precepting for the Pediatric Nurse Practitioner Primary Care specialty since 2018. He has often taught two to three students per quarter, providing full age range, full scope primary care pediatrics to a diverse patient population in the East Bay. Students thrive with his clinical teaching and strive to emulate his warm rapport with families. As students progress, his development of their autonomy and opportunities for clinical confidence is unparalleled. In addition to his precepting, he has supported didactic teaching on campus and contributed to the redesign of the specialty's clinical evaluations to a progressive, competency-based format. Thomas is a consummate educator and clinician with a talent for quickly assessing a student's level and providing a challenging and supportive learning environment.
Graduate Aparna Upadhyaya, MS '22, noted her appreciation of Thomas' timely, constructive feedback after every visit. He engages in discussion regarding assessment and plan and gently guides to the plan if needed.
June 2022 Preceptor of the Month: Aurora Ortiz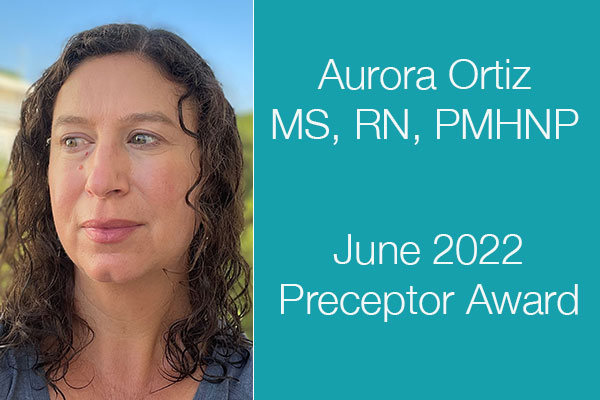 Aurora Ortiz, MS, RN, PMHNP-BC, an alumna of the school's MEPN program who received her master's degree in 2011, provides psychiatric services to students at UC Berkeley's University Health Services, as well as to children and adolescents at La Clinica de la Raza in Oakland. She has a deep interest in clinical teaching, and enjoys supporting the next generation of PMHNPs. Her clinical interests include Latinx mental health, immigrant mental health, transgender mental health, complex trauma, ADHD and integrative mental health.
Her preceptee Lauren Friedman, MS, PMHNP, notes: "Aurora is an incredibly compassionate psychiatric nurse practitioner. She is dedicated to improving the lives of those around her, which is evident in the care she provides to her patients as a provider and the support she offers to her students as an educator. As my preceptor, Aurora created every opportunity she could to promote my growth as a future psychiatric nurse practitioner. I learned so much from Aurora and I will continue to implement the valuable insights I have gained throughout my career."
May 2022 Preceptor of the Month: Erika Young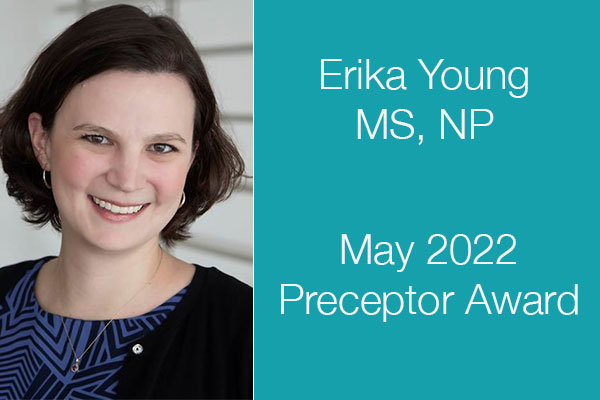 Erika Young is a graduate of the School of Nursing's Master of Science program in the family nurse practitioner specialty. A nurse practitioner at the San Mateo Health Center Ron Robinson Senior Care Center, she provides holistic primary care for patients over 60 and models interprofessional work by providing care within a multidisciplinary team while addressing complex physical and social needs of seniors.
Young consistently provides a year-long placement for students to better understand chronic disease management. She provides a supportive learning environment and constantly seeks opportunities to grow as a preceptor, including by taking several Teach for UCSF training courses. She is an exemplar of UCSF alumni caring for vulnerable and underserved populations and teaching the next generation of nurse practitioners.
"I love precepting because I feel like I learn just as much, if not more, from the students as they might from me," Young said. "I love to see how much the students grow into their own practice and playing a small role in this."
Student Beth Passey said: "From our very first interaction, Erika impressed me with her concern for her patients, her passion for teaching, and her clinical knowledge and skill. She has the ability to connect quickly, often laughing or teasing, but always ready with a hand squeeze of comfort and support. Her desk is stacked with reference material for her students, and she expects us to use them. She insists on thorough preparation for each encounter, with a good grasp of past medical history, current treatments and goals for the patient. She allows time to focus, both before and after the visit, and expects a clear, thorough, organized report with appropriate differentials and plans. Uncertainty is met with the counsel to "look it up!" helping to instill the habit of evidence-based care while increasing the self-reliance and self-confidence needed for transition to practice."
April 2022 Preceptor of the Month: Tania Yarema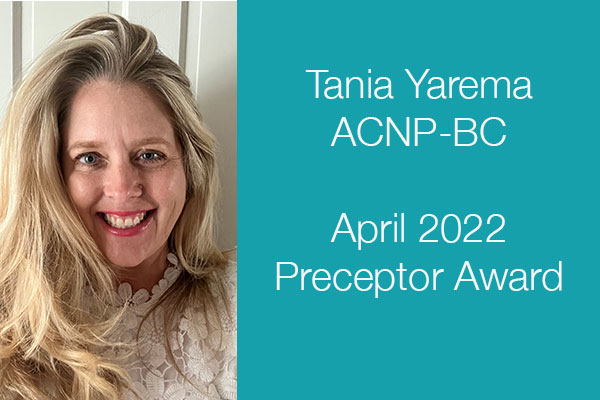 Tania Yarema, ACNP-BC, an acute care nurse practitioner, is the April 2022 Preceptor of the Month. She graduated in 2008 from the UCSF Master of Science program in the ACNP specialty, and currently works at Sutter California Pacific Medical Center with the Critical Care Service. Yarema has shared her clinical expertise with numerous AGACNP students for more than 10 years. In addition, she is a volunteer associate clinical professor in the School's Department of Physiological Nursing and lectures for course N288F. She is a generous, enthusiastic and kind preceptor who challenges her students to do their best.
AGACNP student Austin Balk said: "My time with Tania was one of the highlights of my educational and professional careers. She went out of her way every day to share her incredible passion, skill and knowledge every time that we were together. Tania was approachable and genuinely cared about her team and about me as a learner. She pushed me to move beyond my comfort zone and she made sure that I was successful. I am so fortunate and thankful to have had the opportunity to learn from her. She made my rotation at CPMC the richest learning experience that I have had during my AGACNP training."
March 2022 Preceptor of the Month: Angelina Caserta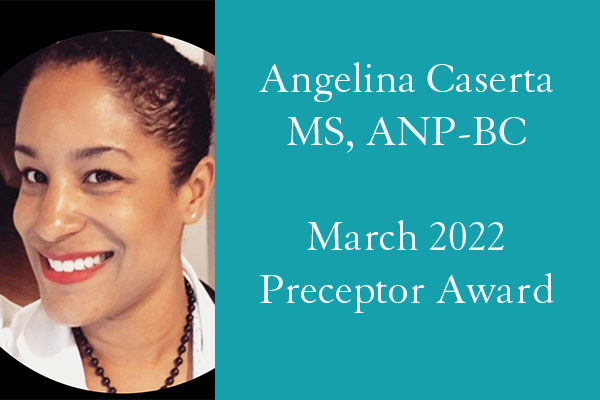 Angelina Caserta, ANP-BC, is a 2011 graduate of UCSF's Adult/OEH-NP specialty. She has been the clinical manager at Concentra Urgent Care in downtown San Francisco for the past seven years, where she directly treats patients with work-related injuries as well as urgent care patients. Despite the demands of a fast-paced urgent care clinic, Caserta consistently takes one or two students from the AGPCNP specialty every quarter and has done so for many years. Students are consistently excited about their learning at the site and consistently express that it is a very valuable experience.
Caserta says: "Precepting is one of my most rewarding accomplishments. It's both a passion and a privilege to participate in teaching, as well as learning from UCSF NP students over the years."
Alumna Ashley Johnson shared her experience with Caserta as her preceptor: "Angelina Caserta is a dedicated, constructive and inspirational preceptor. As the clinical director and main NP preceptor of Concentra Urgent Care, Angelina always made time during her day to check in with me as a first-year NP student on how I was doing. She asked me what type of feedback I prefer. She wanted me to describe opportunities and skills that I was interested in learning, and she showed me how to work collaboratively with the other disciplines at the clinic. I am truly blessed to have worked with Angelina and know that if I needed anything, I could count on her support and guidance."
February 2022 Preceptor of the Month: Sheri L. Foote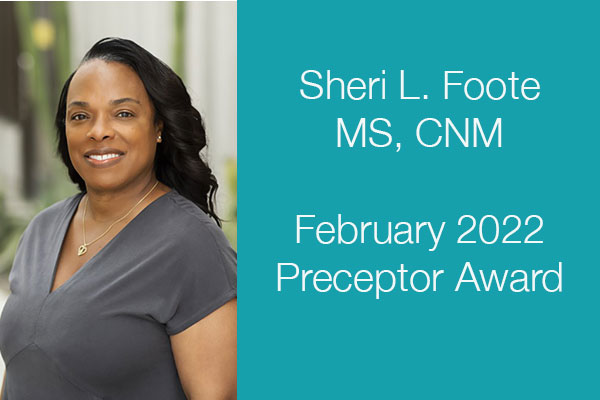 Sheri L. Foote, CNM, Associate Clinical Professor in the UCSF Department of Obstetrics, Gynecology & Reproductive Services, has been precepting UCSF midwifery students since 2020. She exemplifies clinical and teaching excellence in both the antenatal clinic and the labor and delivery unit at UCSF Mission Bay. Foote has been a dedicated educator with her students, striking the balance between support and encouraging independent thought.
"I precept to shape and influence our next generation of healthcare providers," Foote said. "My desire is to model respectful, culturally competent, evidence-based maternity care."
In addition to working as a certified nurse-midwife at UCSF Mission Bay, Foote is part of EMBRACE, a Centering group [prenatal care] specifically for Black birthing people to help support them during their pregnancy and provide a safe space.
Midwifery student Jordan Smith notes: "It is important to recognize Sheri's efforts to support and keep the black patients safe at the clinic she works at. It has been proven that the outcomes are better for Black patients when being cared for by a Black provider, as Sheri is. Black [birthing] people die 3-4 times more than any other race despite their income or social status. Black birthing people are a vulnerable population, and it is important that the care received is free of implicit bias.
"In addition to all the work Sheri does to serve Black birthing people, she has been such a wonderful educator. As a Black midwifery student, she has provided me a learning experience that cultivates safety, trust, constructive feedback and great skill developing teaching. She understands the importance of passing on all the knowledge. How she approaches being a preceptor reflects that. In the beginning, Sheri and I discussed my goals and how she can be supportive of those. This is very important to my growth as a provider and has shown in my growth from the first day of being with her. She gives me hands-on autonomy during clinic, while guiding me and giving me feedback in a supportive way to help sharpen my skills. In addition to my learning experience, I have first-hand witnessed her supporting the growth of my classmates and ensuring that they also felt supported in their learning experience even if they weren't her preceptee."
January 2022 Preceptor of the Month: Piera Wong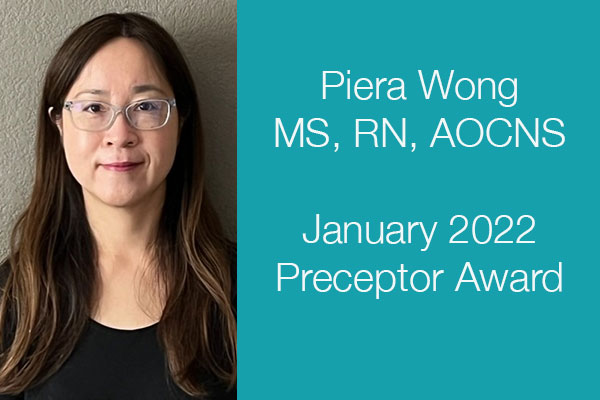 Piera Wong, MS, RN, AOCNS, is an oncology clinical nurse specialist at Zuckerberg San Francisco General Hospital and Trauma Center. She was appointed as volunteer assistant clinical faculty in the Department of Physiological Nursing of the UCSF School of Nursing in 2011. Over the past decade, she has precepted countless learners in the complex and ever-changing arena of oncology advanced nursing. Her endless energy and enthusiasm for clinical nurse specialist practice and teaching is without compare. This characteristic, coupled with a deep knowledge in oncology and nursing care, provides an exceptional residency experience for students in the Adult-Gerontology Clinical Nurse Specialist-Oncology specialty. Wong has been a powerful role model and has inspired scores of oncology-focused CNSs in practice today. Piera says: "I teach and precept students because I know that the clinical education is a significant part of the learning and it's my contribution to shaping quality future leaders in nursing."
Former student Vivian Huang, BSN, RN, OCN, said: "I was so fortunate to have Piera as a preceptor at ZSFG. As an integral part of the oncology team, Piera gives preceptees invaluable opportunities to work on innovative and impactful projects. She is trusted by providers, nurses and patients alike to go above and beyond in providing evidence-based and patient-centered care to a complex patient population, setting an example for future nurses."
December 2021 Preceptor of the Month: Janet Godfrey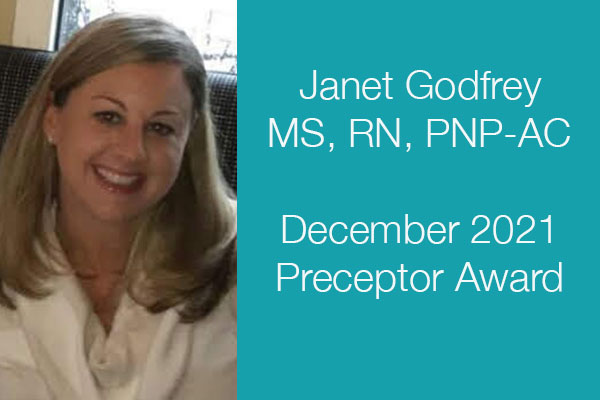 Janet Godfrey, RN, NNP, PNP-AC, is a 2014 graduate of the UCSF School of Nursing's Master of Science program in the Neonatal Nurse Practitioner specialty. Since graduation, she has been committed to providing outstanding care to her patients and supporting the development of future NNPs through precepting. She practices at Natividad, a public health system committed to providing outstanding care to all. She is committed to teaching students and supporting their growth. One student commented that she felt challenged by her questions and that she provided valuable information for working as an NNP. Further, she has a desire to improve patient care through her participation in process improvement opportunities. In a fast-paced setting like the Neonatal ICU, preceptors like Godfrey provide the support to develop future clinicians.
November 2021 Preceptor of the Month: Monica Mafla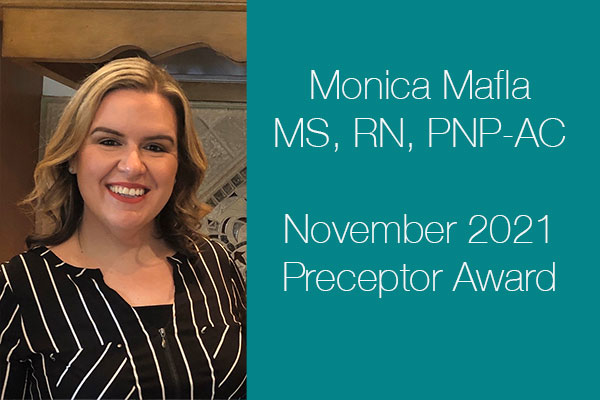 Monica Mafla, MS, RN, PNP-AC, is a graduate of the Pediatric Nurse Practitioner-Acute Care (PNP-AC) specialty at UCSF. She joined the Advanced Practice Provider (APP) team at Lucile Packard Children's Hospital in 2013 and quickly adjusted to the APP role, becoming one of the most respected APPs in the Pediatric Cardiovascular Intensive Care Unit (CVICU). Mafla has been consistently willing to precept PNP-AC students and support presentations for PNP-AC courses. She believes that a good precepting experience can be one of the starting points to a successful career in a specific area.
Her experience in precepting led to her interest in training new providers and she is now responsible for onboarding new APP team members in the CVICU. She has revamped the CVICU onboarding process into one of the most successful onboarding programs in the hospital. This past spring, Mafla developed and led a  successful skills day to help train new providers in skills such as intubation, line placement, chest tube placement and suturing. She consistently goes the extra mile to support learning of complex concepts and skills for her colleagues in CVICU and for students in the PNP-AC specialty.  
October 2021 Preceptor of the Month: Dena Cuyjet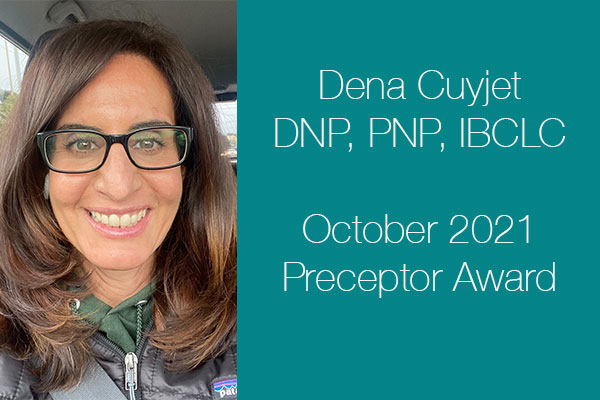 Dena Cuyjet, DNP, PNP, IBCLC, is a graduate of UCSF's MS program (Pediatric Nurse Practitioner specialty) and DNP program. She was a PNP/IBCLC at Kaiser Permanente in the newborn nursery for 25 years, and transitioned five years ago to the UCSF Benioff Hospital to work in the Birth Center/ICN. She has three college age children, all born by midwives (two at home) and is married to her college love who is also a UCSF NP.
Cuyjet notes: "Teaching is one of the most important aspects of my life. I am committed to creating equitable, inclusive learning environments for students, and have a deep passion for working with birthing families and newborns. I have so much gratitude and energy for the teaching opportunities at UCSF and truly adore the students."
Former student Katie Woods comments: "Dena is the dream preceptor! It's obvious to me that she loves her job and loves to teach; her enthusiasm and passion for what she does is authentic. She made me feel welcome and supported throughout my clinical rotation with her. At the very beginning, she helped me with my newborn physical exam, then she gradually gave me autonomy to see patients independently and do my own clinical reasoning. She answered all of my questions thoroughly and enthusiastically, and gave me feedback on all of my chart notes. Her communication was clear and I always knew what was expected of me. I feel so lucky to have had the chance to work with Dena!"
Cuyjet also precepts for the midwifery specialty, and has shown great dedication to both the PNP and midwifery specialties.
September 2021 Preceptor of the Month: Nana Efua Adabie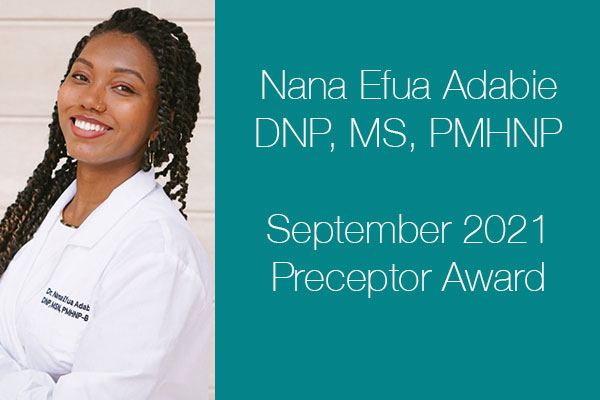 Nana Efua Adabie, DNP, MSN, PMHNP-BC, is a UCSF-trained PMHNP and DNP who is a preceptor in the PMHNP specialty. She has worked with underserved populations and the LGBTQ+ community as a PMHNP in the San Francisco Bay Area since 2018. Adabie has clinical experience in both inpatient and outpatient settings, diagnosing and treating and managing adults with psychiatric illnesses. She advocates for whole person-centered care and promotes a healthy lifestyle, in addition to psychopharmacotherapy. Adabie has a passion for working in mental health and is on a mission to de-stigmatize mental illness and advocate for more diversity in mental health care. Born and raised in Ghana, Adabie moved to the United States in 2006. She hopes to continue to translate evidence-based practices into clinical settings and improve health care outcomes.
Her clinical interests include treatment of mood and anxiety disorders, psychotic disorders, ADHD, perinatal and postpartum mental health, leadership, health policy, and teaching and precepting students.
Cristely Urena, a former preceptee, said: "Dr. Nana is a wonderful preceptor. I am so grateful to have been paired with her. She has a wealth of knowledge and she wasn't shy about pushing me to do my best. I enjoyed every moment of my experience alongside her. She is everything I could've asked for in a preceptor."
August 2021 Preceptor of the Month: Anna Kuo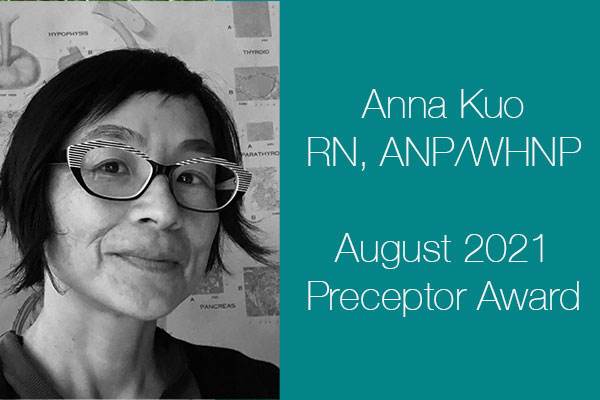 Anna Kuo, RN, ANP/WHNP, is a leader and exemplar in clinical teaching. Kuo currently precepts at the Curry Senior Center and provides holistic primary care to elders as part of the San Francisco Department of Public Health. She works with all levels of learner and precepts UCSF family nurse practitioner students for a yearlong rotation. At Curry Senior Center, she empowers students to gain competency in care of complex patients.
In her clinical preceptor role, Kuo acts as mentor and advocate. She works with the students to gain confidence and address imposter syndrome. Her former preceptees highlight her incredible clinical and teaching skills: "Anna Kuo, NP is a superb guide, mentor, role model, and teammate. The ability for her to be so comprehensive in charting and managing a patient encounter yet also efficient has given me a solid challenge to match. She integrated me into the clinic very well and offered me behind-the-scenes perspectives on how her whole care team operates. I also feel comfortable asking questions, adding my opinion, and I value her feedback tremendously. Her rapport with her patients is astounding and her demeanor/manner offer a fantastic model. Anna has been an immense and positive impact on myself from which my future patients will constantly benefit."
Kuo helps to develop clinical knowledge and skills while maintaining a busy, complex clinical practice. She provides support, trusts her students, and provides honest constructive criticism. She creates a welcoming, safe learning environment for students while pushing them  to grow and succeed. She is a model of family nurse practitioner care and precepting.
June 2021 Preceptor of the Month: David Gordon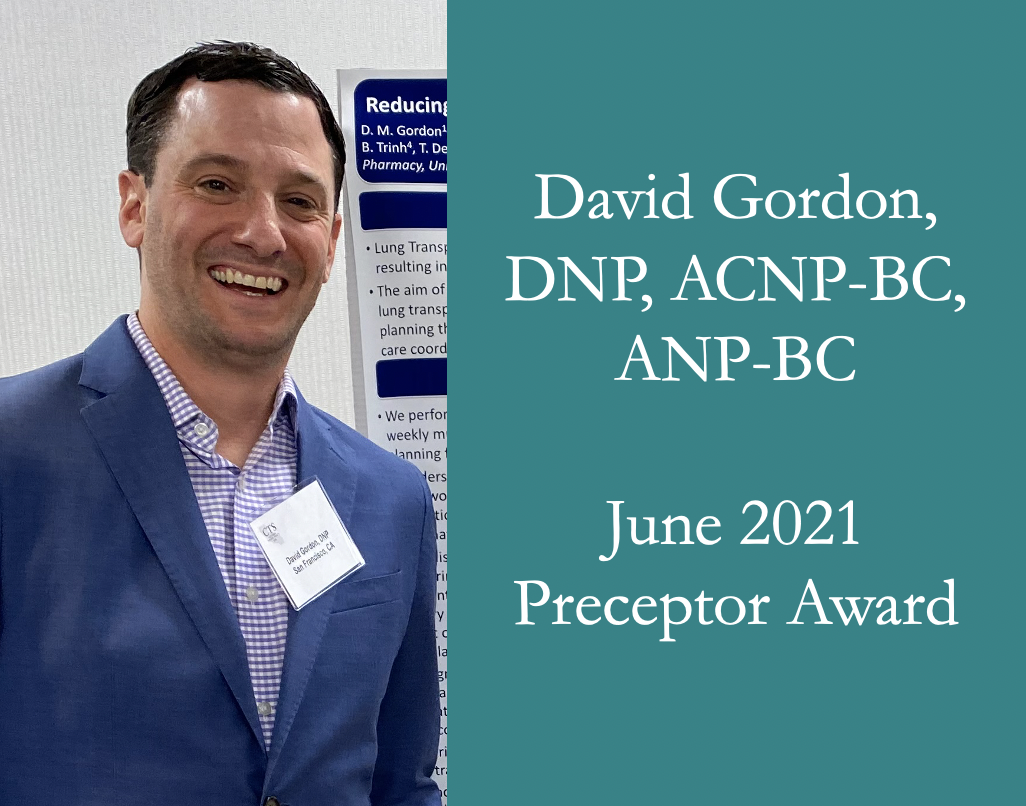 David Gordon, DNP, ACNP-BC, ANP-BC, is a nurse practitioner with the Advanced Lung Disease Service at UCSF, where he manages and cares for patients on the continuum from complex pulmonary diseases through lung transplantation. He holds an appointment as a volunteer assistant clinical professor. Students and faculty alike recognize his skill and excellence as a clinical educator. Gordon believes that the continued advancement of the nurse practitioner role and expansion in our health care system is dependent on the next generation of providers who are reliant on our mentoring and clinical preceptorship.
Student comments: 
"Dave is so smart and professional. He made a point to bring up clinical pearls and boards questions to help prepare me for my future. My favorite thing about working with Dave is that he was so encouraging which made me feel more confident as a student."
"Dave Gordon is a wonderful mentor and preceptor. He is so dedicated to the NP profession and brings incredible energy, insight, experience and knowledge to educating his students. Dave's style of teaching is direct with high expectations, but he always gives you a safe place to land, make mistakes and ask questions. He is an example of an NP that is insanely smart, fights endlessly for his patients, and his passion comes through each day. Having a mentor like Dave during my clinicals showed me the intense fulfillment and purpose one can have in a career as an NP."
Faculty comment:
"David Gordon is simply exceptional. He is a consummate teacher, preparing students to be exemplary clinicians caring for complex patients in an ever-changing environment."
May 2021 Preceptor of the Month: Jerry Saliman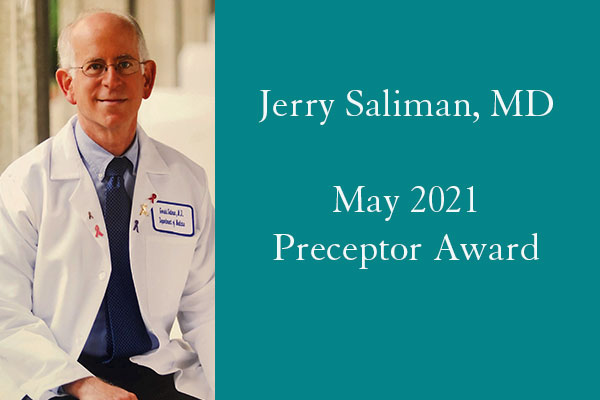 Jerry Saliman, MD, retired from Kaiser South San Francisco after a 30-year career and is now a volunteer internist at Samaritan House Medical Clinic in San Mateo. He has precepted UCSF AGPCNP students for many years and has made a huge impact on students, who have remarked on his generosity, kindness, patience, compassion, wealth of knowledge, expertise, commitment and thoughtfulness.
Some quotes from students:
"He is a thoughtful and committed mentor -- always taking the time to assess my knowledge base and ensure that I am providing the best care that I can."
"I find him approachable and can discuss any topic with him at ease."
"He is an excellent practitioner and educator whose extensive medical experience and community service efforts encouraged the practice of meaningful health care."
"He constantly shares his knowledge and experience with me and with other clinical staff. And he uses evidence base approach to care for his patients."
"He inspires me to learn more and to become a competent NP in the future. He is well respected by his peers and loved by all of his patients."
April 2021 Preceptor of the Month: Gabrielle Westergren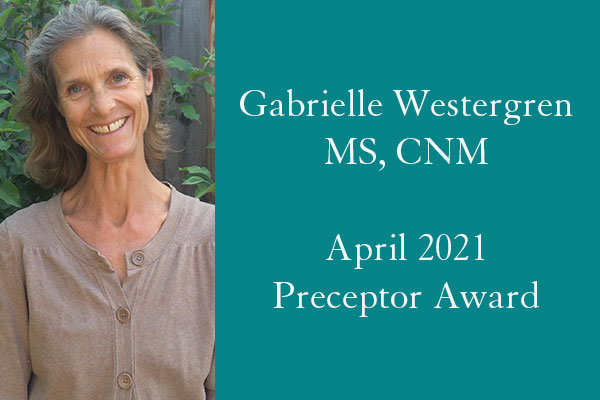 Gabrielle (Gabby) Westergren, MS, CNM, graduated from the UCSF Nurse-Midwifery Education program in 1998. She is a volunteer clinical faculty member at the School and works at Zuckerberg San Francisco General where she has been precepting students for over a decade. She has contributed to mentoring a generation of midwives who continue to hear her calm and steady voice in their clinical practice. Her evaluations from students have been consistently outstanding.
Comments from some of her students:
"Gabby has taught me so much on how to best serve our patients."
"I appreciate her kindness and patience."
"I love her positivity and her ability to control the stress of busy days in clinic without it affecting me as a student or my performance."
"I appreciate all of the knowledge, attention to detail, and thoroughness she brings to her work and imparts upon those around her in the clinic setting!"
"I really hope every student has an experience to be paired with a preceptor like Gabby."
March 2021 Preceptor of the Month: Lynn Martin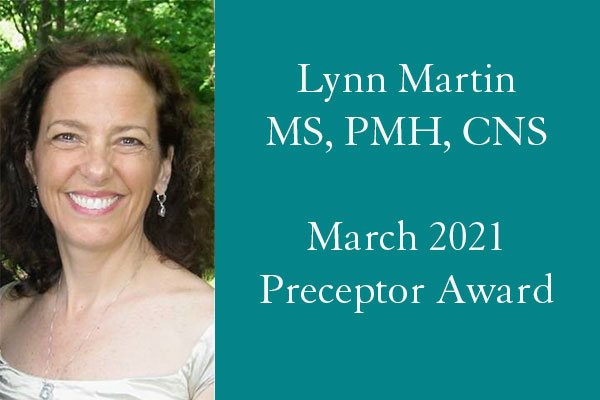 Lynn Martin, MS, PMH, CNS, volunteer assistant clinical professor at the School, has served as a clinical preceptor for numerous learners in UCSF's adult-gerontology clinical nurse specialist specialty over the past decades. She has consistently left a lasting, positive impression on each learner she has worked with. Her practice in the Community Living Center of the San Francisco Veterans Affairs Medical Center provides the ideal setting for close mentorship and CNS skill development. She is a strong APRN role model in practice and leadership. Her enthusiasm for the work she does and the population she serves is absolutely infectious. Her mentorship has inspired many CNS careers. She consistently goes out of her way to assure the learner has the best possible experience. Learner evaluations of her performance as a clinical preceptor have been consistently outstanding.
"Lynn Martin inspires future nurse leaders in geriatric mental health," a leader wrote. "She offers learners a safe environment to explore their interests and nurtures an excitement for systems innovation, education, research, and the care of vulnerable populations."
Helen Martin Preceptor Award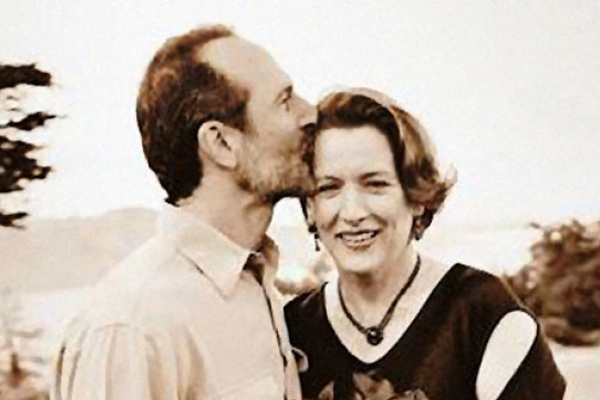 The Helen Martin Award for Excellence in Clinical Precepting is presented annually to honor preceptors for the valuable role they play in developing master's and post-master's students' clinical skills. The award is given in memory of Helen Martin, MS, RN, FNP (pictured above), who was an assistant professor at the School of Nursing and clinical director of the UCSF-supported Valencia Health Services.
Nominations are now being accepted through May 1 from School of Nursing students for the 2021 Helen Martin Award. Students may submit through this nomination form.
Past recipients:
Mark Thomas, MS, RN, PNP and Christine Kelly, FNP-BC (2021)
Karen Sprague, MS, FNP (2020)
Adam Leonard, MS, MPH, CPNP-PC (2019)
Shirley Banks, RN, MS, FNP (2016)
Ann Reppun, MS, RN, ANP, WHNP (2015)
Kathleen Ryan, RN, FNP (2014)
Steve Leiner, MS, RN, FNP (2013)
Laurie Galaty, MS, RN, CNM, NP (2013)