Preceptors and volunteer clinical faculty offer students individual perspectives and hands-on experience in a variety of health care settings and specialties. The cumulative effect of what these volunteers impart plays a significant role in the care any health system delivers.
Clinical preceptors are integral to the future of nursing.

They volunteer their time and energy, using education and training in an effort to assure that the profession grows and thrives.
They provide students with learning experiences that prepare them for the role of expert care provider.

Preceptors can advance their career by becoming a UCSF volunteer faculty, participating in CE opportunities such as Transgender and Gender-Nonconforming (TGNC) Care 101 for Nursing Preceptors available Aug. 15-Sept. 11, and collaborating on projects within the School of Nursing.
For more information, contact Clinical Placements Supervisor Tammy Ryan.
Why I Precept
What Makes a Great Preceptor?
Recognizing Our Preceptors
In honor of the critical contributions that preceptors make to advance student learning, the UCSF School of Nursing faculty are honoring one preceptor each month. The award recognizes an exceptional preceptor who consistently and effectively contributes to UCSF nursing students' clinical education.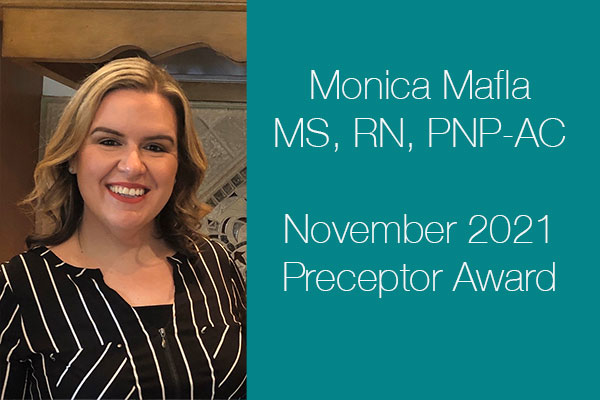 Monica Mafla, MS, RN, PNP-AC, is a graduate of the Pediatric Nurse Practitioner-Acute Care (PNP-AC) specialty at UCSF. She joined the Advanced Practice Provider (APP) team at Lucile Packard Children's Hospital in 2013 and quickly adjusted to the APP role, becoming one of the most respected APPs in the Pediatric Cardiovascular Intensive Care Unit (CVICU). Mafla has been consistently willing to precept PNP-AC students and support presentations for PNP-AC courses. She believes that a good precepting experience can be one of the starting points to a successful career in a specific area.
Her experience in precepting led to her interest in training new providers and she is now responsible for onboarding new APP team members in the CVICU. She has revamped the CVICU onboarding process into one of the most successful onboarding programs in the hospital. This past spring, Mafla developed and led a  successful skills day to help train new providers in skills such as intubation, line placement, chest tube placement and suturing. She consistently goes the extra mile to support learning of complex concepts and skills for her colleagues in CVICU and for students in the PNP-AC specialty.  
Read about other recipients of the School of Nursing Preceptor Awards.