Preceptors and volunteer clinical faculty offer students individual perspectives and hands-on experience in a variety of health care settings and specialties. The cumulative effect of what these volunteers impart plays a significant role in the care any health system delivers.
Clinical preceptors are integral to the future of nursing.

They volunteer their time and energy, using education and training in an effort to assure that the profession grows and thrives.
They provide students with learning experiences that prepare them for the role of expert care provider.

Preceptors can advance their career by becoming a UCSF volunteer faculty, participating in CE opportunities, and collaborating on projects within the School of Nursing.
For more information, contact Clinical Placements Supervisor Tammy Ryan.
Why I Precept
What Makes a Great Preceptor?
Recognizing Our Preceptors
In honor of the critical contributions that preceptors make to advance student learning, the UCSF School of Nursing faculty are honoring one preceptor each month. The award recognizes an exceptional preceptor who consistently and effectively contributes to UCSF nursing students' clinical education.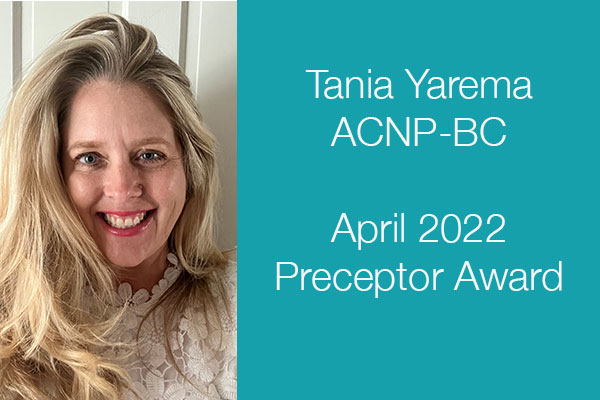 Tania Yarema, ACNP-BC, an acute care nurse practitioner, is the April 2022 Preceptor of the Month. She graduated in 2008 from the UCSF Master of Science program in the ACNP specialty, and currently works at Sutter California Pacific Medical Center with the Critical Care Service. Yarema has shared her clinical expertise with numerous AGACNP students for more than 10 years. In addition, she is a volunteer associate clinical professor in the School's Department of Physiological Nursing and lectures for course N288F. She is a generous, enthusiastic and kind preceptor who challenges her students to do their best.
AGACNP student Austin Balk said: "My time with Tania was one of the highlights of my educational and professional careers. She went out of her way every day to share her incredible passion, skill and knowledge every time that we were together. Tania was approachable and genuinely cared about her team and about me as a learner. She pushed me to move beyond my comfort zone and she made sure that I was successful. I am so fortunate and thankful to have had the opportunity to learn from her. She made my rotation at CPMC the richest learning experience that I have had during my AGACNP training."
Read about other recipients of the School of Nursing Preceptor Awards.