Preceptors and volunteer clinical faculty offer students individual perspectives and hands-on experience in a variety of health care settings and specialties. The cumulative effect of what these volunteers impart plays a significant role in the care any health system delivers.
Clinical preceptors are integral to the future of nursing.

They volunteer their time and energy, using education and training in an effort to assure that the profession grows and thrives.
They provide students with learning experiences that prepare them for the role of expert care provider.
To recognize the important contributions of preceptors, the School and its faculty honor preceptors with the annual Helen Martin Preceptor Award as well as the Preceptor of the Month Award. Scroll below to see this month's awardee and visit our Preceptor Awards section.
Preceptors can advance their career by becoming a UCSF volunteer faculty, participating in CE opportunities and collaborating in projects within the School of Nursing.
For more information contact Clinical Placements Supervisor Tammy Ryan
Recognizing Our Preceptors
In honor of the critical contributions that preceptors make to advance student learning, the UCSF School of Nursing faculty are honoring one preceptor each month. The award recognizes an exceptional preceptor who consistently and effectively contributes to UCSF nursing students' clinical education.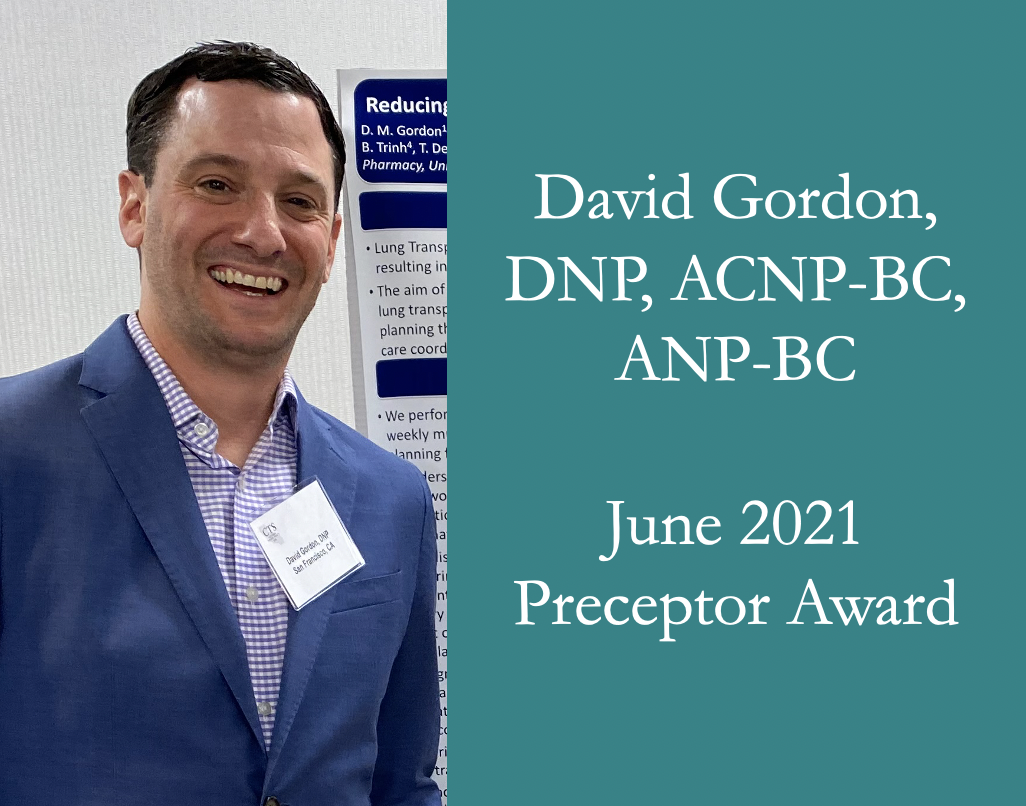 David Gordon, DNP, ACNP-BC, ANP-BC, is a nurse practitioner with the Advanced Lung Disease Service at UCSF, where he manages and cares for patients on the continuum from complex pulmonary diseases through lung transplantation. He holds an appointment as a volunteer assistant clinical professor. Students and faculty alike recognize his skill and excellence as a clinical educator. Gordon believes that the continued advancement of the nurse practitioner role and expansion in our health care system is dependent on the next generation of providers who are reliant on our mentoring and clinical preceptorship.
Student comments: 
"Dave is so smart and professional. He made a point to bring up clinical pearls and boards questions to help prepare me for my future. My favorite thing about working with Dave is that he was so encouraging which made me feel more confident as a student."
"Dave Gordon is a wonderful mentor and preceptor. He is so dedicated to the NP profession and brings incredible energy, insight, experience and knowledge to educating his students. Dave's style of teaching is direct with high expectations, but he always gives you a safe place to land, make mistakes and ask questions. He is an example of an NP that is insanely smart, fights endlessly for his patients, and his passion comes through each day. Having a mentor like Dave during my clinicals showed me the intense fulfillment and purpose one can have in a career as an NP."
Faculty comment:
"David Gordon is simply exceptional. He is a consummate teacher, preparing students to be exemplary clinicians caring for complex patients in an ever-changing environment."
Why I Precept
What Makes a Great Preceptor?