Preceptors and volunteer clinical faculty offer students individual perspectives and hands-on experience in a variety of health care settings and specialties. The cumulative effect of what these volunteers impart plays a significant role in the care any health system delivers.
Clinical preceptors are integral to the future of nursing.

They volunteer their time and energy, using education and training in an effort to assure that the profession grows and thrives.
They provide students with learning experiences that prepare them for the role of expert care provider.

Preceptors can advance their career by becoming a UCSF volunteer faculty, participating in CE opportunities, and collaborating on projects within the School of Nursing.
For more information, contact Clinical Placements Supervisor Tammy Ryan.
Why I Precept
What Makes a Great Preceptor?
Recognizing Our Preceptors
In honor of the critical contributions that preceptors make to advance student learning, the UCSF School of Nursing faculty are honoring one preceptor each month. The award recognizes an exceptional preceptor who consistently and effectively contributes to UCSF nursing students' clinical education.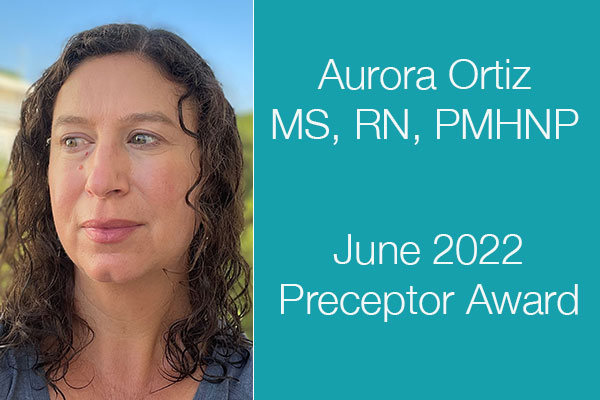 Aurora Ortiz, MS, RN, PMHNP-BC, an alumna of the school's MEPN program who received her master's degree in 2011, provides psychiatric services to students at UC Berkeley's University Health Services, as well as to children and adolescents at La Clinica de la Raza in Oakland.
She has a deep interest in clinical teaching, and enjoys supporting the next generation of PMHNPs. Her clinical interests include Latinx mental health, immigrant mental health, transgender mental health, complex trauma, ADHD and integrative mental health.
Her preceptee Lauren Friedman, MS, PMHNP, notes: "Aurora is an incredibly compassionate psychiatric nurse practitioner. She is dedicated to improving the lives of those around her, which is evident in the care she provides to her patients as a provider and the support she offers to her students as an educator. As my preceptor, Aurora created every opportunity she could to promote my growth as a future psychiatric nurse practitioner. I learned so much from Aurora and I will continue to implement the valuable insights I have gained throughout my career."
Read about other recipients of the School of Nursing Preceptor Awards.