Preceptors and volunteer clinical faculty offer students individual perspectives and hands-on experience in a variety of health care settings and specialties. The cumulative effect of what these volunteers impart plays a significant role in the care any health system delivers.
Clinical preceptors are integral to the future of nursing.

They volunteer their time and energy, using education and training in an effort to assure that the profession grows and thrives.
They provide students with learning experiences that prepare them for the role of expert care provider.

Preceptors can advance their career by becoming a UCSF volunteer faculty, participating in CE opportunities, and collaborating on projects within the School of Nursing.
For more information, contact Clinical Placements Supervisor Tammy Ryan.
Why I Precept
What Makes a Great Preceptor?
Recognizing Our Preceptors
In honor of the critical contributions that preceptors make to advance student learning, the UCSF School of Nursing faculty are honoring one preceptor each month. The award recognizes an exceptional preceptor who consistently and effectively contributes to UCSF nursing students' clinical education.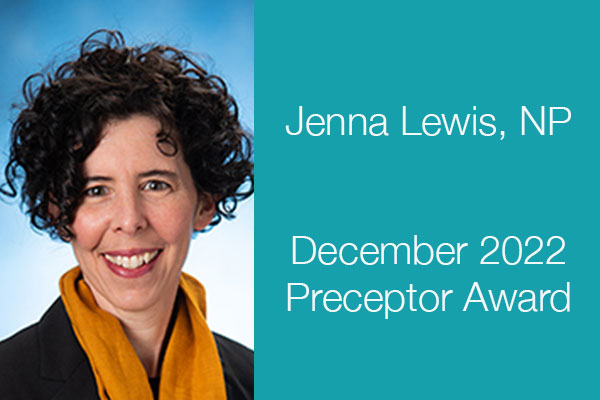 Jenna Lewis, NP, has worked at Kaiser Permanente in San Francisco since 2000, first as a subspecialist in Reproductive Endocrinology and Infertility for eight years and currently in generalist care. She received her master's degree in nursing at Massachusetts General Hospital in Boston.
Lewis has precepted UCSF midwifery students every quarter for the past year and offered to precept students in future quarters. Faculty have seen how supportive she is to new students, and how she has gone above and beyond to help support the next wave of midwives.
"I enjoy seeing a student blossom," Lewis said. "When I precept, I must think critically about why I practice a certain way, how I 'know what I know,' and whether there are new or different ways to know. Precepting gives me the gift of critical thinking. The UCSF CNM students are interesting, dedicated and curious. I love precepting them!"
Student Stacy Wu said: "I've learned so much about what it means to provide attentive and thorough care from my short time working with Jenna. In just a brief patient visit, she holds space in a way that allows people to truly feel heard about their health concerns and health achievements. Even on the most hectic days, she encourages me to ask questions and provides opportunities for me to grow as a provider."
Student Courtney Minor added: "Jenna extended her knowledge of the profession with high expertise. She is knowledgeable in hospital practices and in community practices. The care she gives and respect she shows her patients is a gift that was so valuable to see as a student."
Read about other recipients of the School of Nursing Preceptor Awards.