Preceptors and volunteer clinical faculty offer students individual perspectives and hands-on experience in a variety of health care settings and specialties. The cumulative effect of what these volunteers impart plays a significant role in the care any health system delivers.
Clinical preceptors are integral to the future of nursing.

They volunteer their time and energy, using education and training in an effort to assure that the profession grows and thrives.
They provide students with learning experiences that prepare them for the role of expert care provider.

Preceptors can advance their career by becoming a UCSF volunteer faculty, participating in CE opportunities such as Transgender and Gender-Nonconforming (TGNC) Care 101 for Nursing Preceptors available Aug. 15-Sept. 11, and collaborating on projects within the School of Nursing.
For more information, contact Clinical Placements Supervisor Tammy Ryan.
Why I Precept
What Makes a Great Preceptor?
Recognizing Our Preceptors
In honor of the critical contributions that preceptors make to advance student learning, the UCSF School of Nursing faculty are honoring one preceptor each month. The award recognizes an exceptional preceptor who consistently and effectively contributes to UCSF nursing students' clinical education.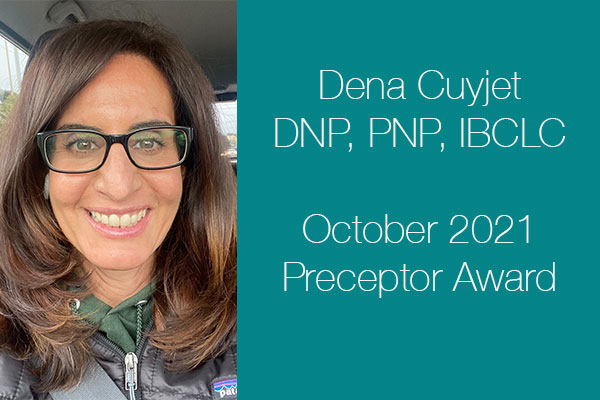 Dena Cuyjet, DNP, PNP, IBCLC, is a graduate of UCSF's MS program (Pediatric Nurse Practitioner specialty) and DNP program. She was a PNP/IBCLC at Kaiser Permanente in the newborn nursery for 25 years, and transitioned five years ago to the UCSF Benioff Hospital to work in the Birth Center/ICN. She has three college age children, all born by midwives (two at home) and is married to her college love who is also a UCSF NP.
Cuyjet notes: "Teaching is one of the most important aspects of my life. I am committed to creating equitable, inclusive learning environments for students, and have a deep passion for working with birthing families and newborns. I have so much gratitude and energy for the teaching opportunities at UCSF and truly adore the students."
Former student Katie Woods comments: "Dena is the dream preceptor! It's obvious to me that she loves her job and loves to teach; her enthusiasm and passion for what she does is authentic. She made me feel welcome and supported throughout my clinical rotation with her. At the very beginning, she helped me with my newborn physical exam, then she gradually gave me autonomy to see patients independently and do my own clinical reasoning. She answered all of my questions thoroughly and enthusiastically, and gave me feedback on all of my chart notes. Her communication was clear and I always knew what was expected of me. I feel so lucky to have had the chance to work with Dena!"
Cuyjet also precepts for the midwifery specialty, and has shown great dedication to both the PNP and midwifery specialties.
Read about other recipients of the School of Nursing Preceptor Awards.