Preceptors and volunteer clinical faculty offer students individual perspectives and hands-on experience in a variety of health care settings and specialties. The cumulative effect of what these volunteers impart plays a significant role in the care any health system delivers.
Clinical preceptors are integral to the future of nursing.

They volunteer their time and energy, using education and training in an effort to assure that the profession grows and thrives.
They provide students with learning experiences that prepare them for the role of expert care provider.
Preceptors can advance their career by becoming a UCSF volunteer faculty, participating in CE opportunities and collaborating in projects within the School of Nursing.
For more information contact Clinical Placements Supervisor Tammy Ryan
Recognizing Our Preceptors
In honor of the critical contributions that preceptors make to advance student learning, the UCSF School of Nursing faculty are honoring one preceptor each month. The award recognizes an exceptional preceptor who consistently and effectively contributes to UCSF nursing students' clinical education.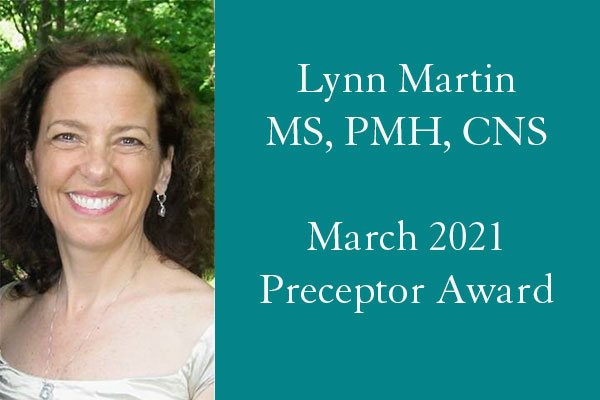 Lynn Martin, MS, PMH, CNS, volunteer assistant clinical professor at the School, has served as a clinical preceptor for numerous learners in UCSF's adult-gerontology clinical nurse specialist specialty over the past decades. She has consistently left a lasting, positive impression on each learner she has worked with. Her practice in the Community Living Center of the San Francisco Veterans Affairs Medical Center provides the ideal setting for close mentorship and CNS skill development. She is a strong APRN role model in practice and leadership. Her enthusiasm for the work she does and the population she serves is absolutely infectious. Her mentorship has inspired many CNS careers. She consistently goes out of her way to assure the learner has the best possible experience. Learner evaluations of her performance as a clinical preceptor have been consistently outstanding.
"Lynn Martin inspires future nurse leaders in geriatric mental health," a leader wrote. "She offers learners a safe environment to explore their interests and nurtures an excitement for systems innovation, education, research, and the care of vulnerable populations."
Why I Precept
What Makes a Great Preceptor?