Preceptors and volunteer clinical faculty offer students individual perspectives and hands-on experience in a variety of health care settings and specialties. The cumulative effect of what these volunteers impart plays a significant role in the care any health system delivers.
Clinical preceptors are integral to the future of nursing.

They volunteer their time and energy, using education and training in an effort to assure that the profession grows and thrives.
They provide students with learning experiences that prepare them for the role of expert care provider.

Preceptors can advance their career by becoming a UCSF volunteer faculty, participating in CE opportunities, and collaborating on projects within the School of Nursing.
For more information, contact Clinical Placements Supervisor Tammy Ryan.
Why I Precept
What Makes a Great Preceptor?
Recognizing Our Preceptors
In honor of the critical contributions that preceptors make to advance student learning, the UCSF School of Nursing faculty are honoring one preceptor each month. The award recognizes an exceptional preceptor who consistently and effectively contributes to UCSF nursing students' clinical education.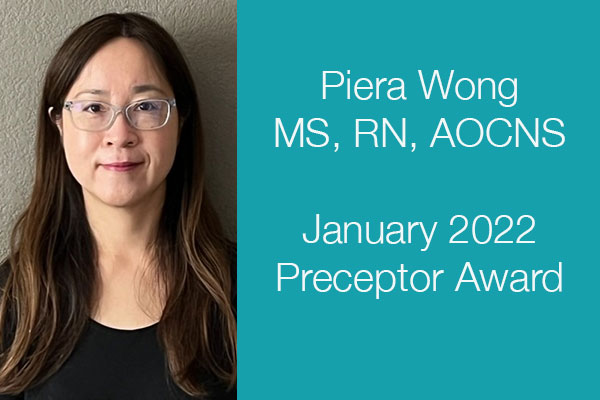 Piera Wong, MS, RN, AOCNS, is an oncology clinical nurse specialist at Zuckerberg San Francisco General Hospital and Trauma Center. She was appointed as volunteer assistant clinical faculty in the Department of Physiological Nursing of the UCSF School of Nursing in 2011. Over the past decade, she has precepted countless learners in the complex and ever-changing arena of oncology advanced nursing. Her endless energy and enthusiasm for clinical nurse specialist practice and teaching is without compare. This characteristic, coupled with a deep knowledge in oncology and nursing care, provides an exceptional residency experience for students in the Adult-Gerontology Clinical Nurse Specialist-Oncology specialty. Wong has been a powerful role model and has inspired scores of oncology-focused CNSs in practice today. Piera says: "I teach and precept students because I know that the clinical education is a significant part of the learning and it's my contribution to shaping quality future leaders in nursing."
Former student Vivian Huang, BSN, RN, OCN, said: "I was so fortunate to have Piera as a preceptor at ZSFG. As an integral part of the oncology team, Piera gives preceptees invaluable opportunities to work on innovative and impactful projects. She is trusted by providers, nurses and patients alike to go above and beyond in providing evidence-based and patient-centered care to a complex patient population, setting an example for future nurses."
Read about other recipients of the School of Nursing Preceptor Awards.