Preceptors and volunteer clinical faculty offer students individual perspectives and hands-on experience in a variety of health care settings and specialties. The cumulative effect of what these volunteers impart plays a significant role in the care any health system delivers.
Clinical preceptors are integral to the future of nursing.

They volunteer their time and energy, using education and training in an effort to assure that the profession grows and thrives.
They provide students with learning experiences that prepare them for the role of expert care provider.

Preceptors can advance their career by becoming a UCSF volunteer faculty, participating in CE opportunities, and collaborating on projects within the School of Nursing.
For more information, contact Clinical Placements Supervisor Tammy Ryan.
Why I Precept
What Makes a Great Preceptor?
Recognizing Our Preceptors
In honor of the critical contributions that preceptors make to advance student learning, the UCSF School of Nursing faculty are honoring one preceptor each month. The award recognizes an exceptional preceptor who consistently and effectively contributes to UCSF nursing students' clinical education.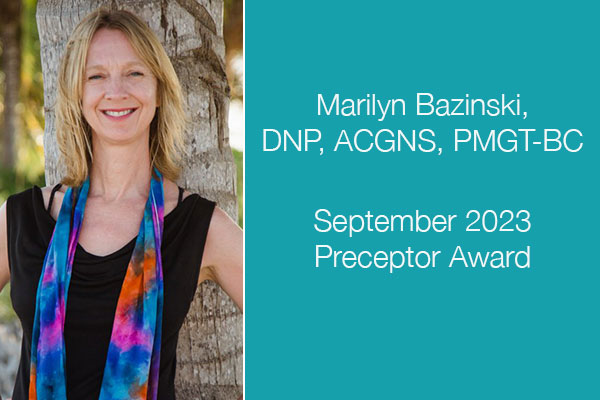 Marilyn Bazinski, DNP, AGCNS, PMGT-BC, is the pain management clinical nurse specialist (CNS) at UCSF Health. She moved from the Midwest to San Francisco in 2020 and has precepted a CNS student every term since she began her role.
"I am very passionate about the value a CNS brings to the interdisciplinary team and will take any opportunity to endorse the CNS role and highlight its three spheres of impact," she said.
Student Mark Tungol said: "Marilyn is one of the most influential people I have come across since starting my CNS training. Her teaching methods are thoughtful, and she ensures each experience during my rotation is impactful for my learning. She has been an extraordinary mentor and I value her input as I navigate life during graduate school."
Read about other recipients of the School of Nursing Preceptor Awards.