The Office of Research is dedicated to supporting faculty and students by providing an array of funding, technological and consultative services to assist with their research endeavors. Our services support the School's talented researchers to produce impactful research, resulting in critical nursing advances and recognition as one of the nation's top recipients of National Institutes of Health (NIH) funding.
Funding
The Office of Research offers a diverse and exhaustive list of internal and external funding sources in the School's Collaborative Learning Environment (CLE), including the NIH, the Bill and Melinda Gates Foundation and the Robert Wood Johnson Foundation, among others. We also utilize Pivot, a comprehensive database of funding opportunities from federal agencies and private institutions. Intramural grants furnished by the School of Nursing and UCSF are also available.
Consultation
Research Design and Statistics Consultation: School of Nursing researchers can request consultations with Professor Thomas Hoffmann, PhD, the School's statistician, to devise research designs, methods and statistical analyses for their projects. Associate Dean Johnson is available to review grants at any stage of developing, including early drafts of Specific Aims pages. Submit a request for a research design/statistics consultation.
Mock Reviews: The Office of Research also provides mock reviews to provide researchers with constructive feedback on their proposals from their peers. Submit a request for a mock review of a grant.
NIH Grants Consultant: The Office of Research offers grant editing/coaching consultations for School of Nursing faculty members to help improve their grant writing skills and secure National Institutes of Health (NIH) funding. Submit a request to work with the NIH grants consultant.
Technology
We provide funding so researchers can use state-of-the-art research software like Stata, SAS, NVivo and other programs. The Robert E. Slaughter Computer Resources Lab (Room N-735) provides instruction and support for educators, researchers and administrators as well as graduate nursing students in data management and analysis.
Additional Resources
School of Nursing faculty and staff can access a host of supportive resources, tools, and presentations and video recordings from the Nancy Steiger Research Seminar Series through the Office of Research Resources site on the Collaborative Learning Environment (MyAccess log-in required). 
Contact Us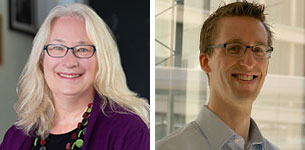 To reach the Office of Research, you may email [email protected].