The School of Nursing recognizes the critical contributions that preceptors make to advance student learning through a Preceptor of the Month Award as well as the annual Helen Martin Preceptor Award.
Preceptor of the Month Award
The Preceptor of the Month Award recognizes an exceptional preceptor who consistently and effectively contributes to UCSF nursing students' clinical education.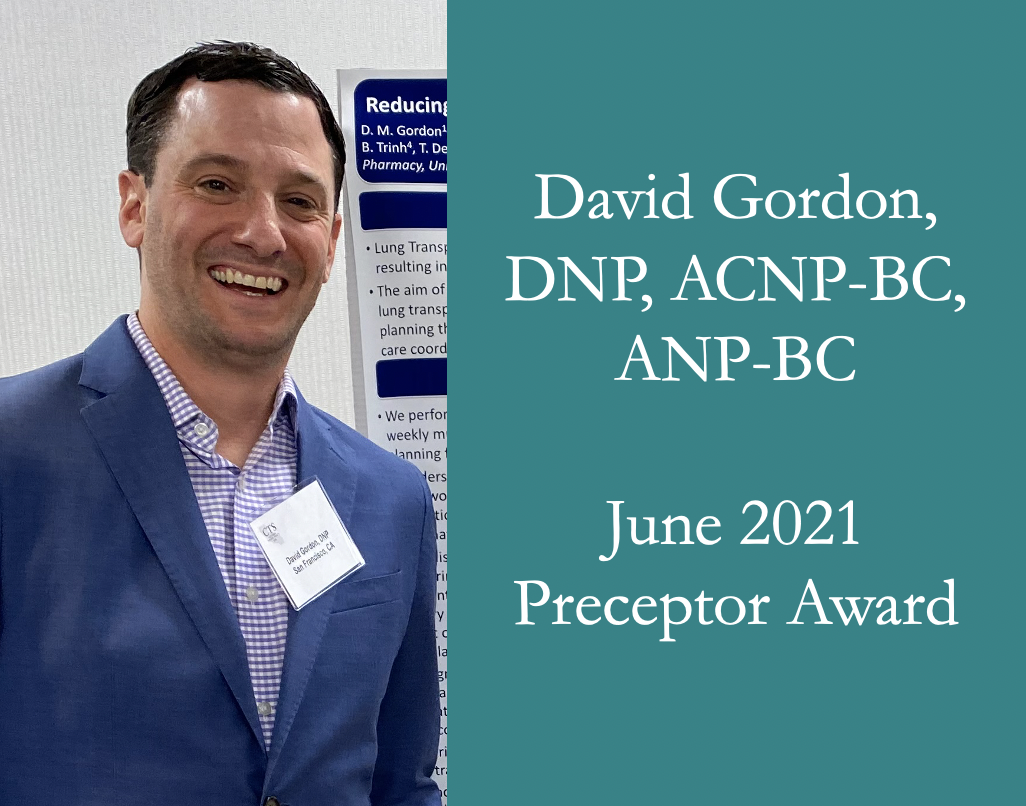 David Gordon, DNP, ACNP-BC, ANP-BC, is a nurse practitioner with the Advanced Lung Disease Service at UCSF, where he manages and cares for patients on the continuum from complex pulmonary diseases through lung transplantation. He holds an appointment as a volunteer assistant clinical professor. Students and faculty alike recognize his skill and excellence as a clinical educator. Gordon believes that the continued advancement of the nurse practitioner role and expansion in our health care system is dependent on the next generation of providers who are reliant on our mentoring and clinical preceptorship.
Student comments: 
"Dave is so smart and professional. He made a point to bring up clinical pearls and boards questions to help prepare me for my future. My favorite thing about working with Dave is that he was so encouraging which made me feel more confident as a student."
"Dave Gordon is a wonderful mentor and preceptor. He is so dedicated to the NP profession and brings incredible energy, insight, experience and knowledge to educating his students. Dave's style of teaching is direct with high expectations, but he always gives you a safe place to land, make mistakes and ask questions. He is an example of an NP that is insanely smart, fights endlessly for his patients, and his passion comes through each day. Having a mentor like Dave during my clinicals showed me the intense fulfillment and purpose one can have in a career as an NP."
Faculty comment:
"David Gordon is simply exceptional. He is a consummate teacher, preparing students to be exemplary clinicians caring for complex patients in an ever-changing environment."
May 2021 Preceptor of the Month: Jerry Saliman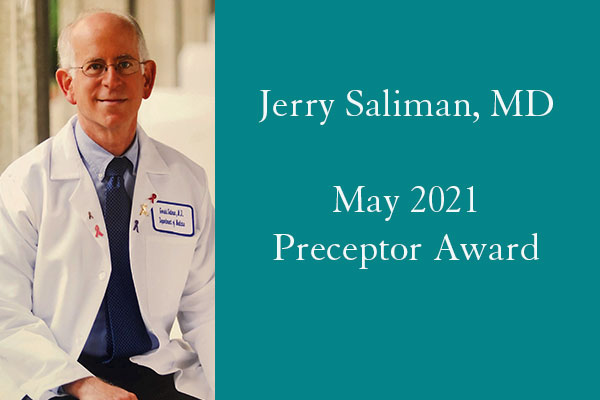 Jerry Saliman, MD, retired from Kaiser South San Francisco after a 30-year career and is now a volunteer internist at Samaritan House Medical Clinic in San Mateo. He has precepted UCSF AGPCNP students for many years and has made a huge impact on students, who have remarked on his generosity, kindness, patience, compassion, wealth of knowledge, expertise, commitment and thoughtfulness.
Some quotes from students:
"He is a thoughtful and committed mentor -- always taking the time to assess my knowledge base and ensure that I am providing the best care that I can."
"I find him approachable and can discuss any topic with him at ease."
"He is an excellent practitioner and educator whose extensive medical experience and community service efforts encouraged the practice of meaningful health care."
"He constantly shares his knowledge and experience with me and with other clinical staff. And he uses evidence base approach to care for his patients."
"He inspires me to learn more and to become a competent NP in the future. He is well respected by his peers and loved by all of his patients."
April 2021 Preceptor of the Month: Gabrielle Westergren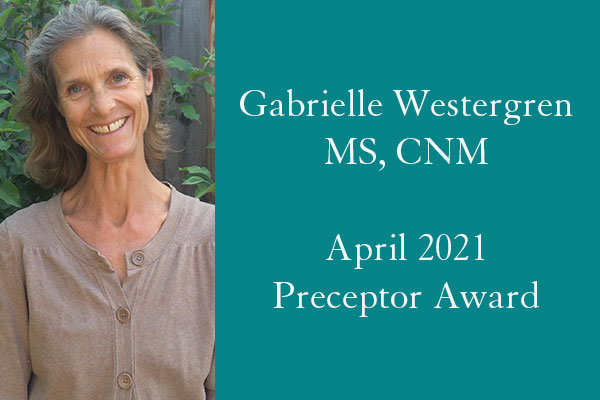 Gabrielle (Gabby) Westergren, MS, CNM, graduated from the UCSF Nurse-Midwifery Education program in 1998. She is a volunteer clinical faculty member at the School and works at Zuckerberg San Francisco General where she has been precepting students for over a decade. She has contributed to mentoring a generation of midwives who continue to hear her calm and steady voice in their clinical practice. Her evaluations from students have been consistently outstanding.
Comments from some of her students:
"Gabby has taught me so much on how to best serve our patients."
"I appreciate her kindness and patience."
"I love her positivity and her ability to control the stress of busy days in clinic without it affecting me as a student or my performance."
"I appreciate all of the knowledge, attention to detail, and thoroughness she brings to her work and imparts upon those around her in the clinic setting!"
"I really hope every student has an experience to be paired with a preceptor like Gabby."
March 2021 Preceptor of the Month: Lynn Martin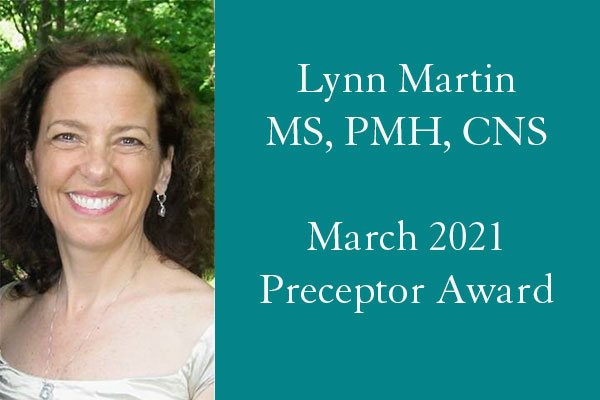 Lynn Martin, MS, PMH, CNS, volunteer assistant clinical professor at the School, has served as a clinical preceptor for numerous learners in UCSF's adult-gerontology clinical nurse specialist specialty over the past decades. She has consistently left a lasting, positive impression on each learner she has worked with. Her practice in the Community Living Center of the San Francisco Veterans Affairs Medical Center provides the ideal setting for close mentorship and CNS skill development. She is a strong APRN role model in practice and leadership. Her enthusiasm for the work she does and the population she serves is absolutely infectious. Her mentorship has inspired many CNS careers. She consistently goes out of her way to assure the learner has the best possible experience. Learner evaluations of her performance as a clinical preceptor have been consistently outstanding.
"Lynn Martin inspires future nurse leaders in geriatric mental health," a leader wrote. "She offers learners a safe environment to explore their interests and nurtures an excitement for systems innovation, education, research, and the care of vulnerable populations."
Helen Martin Preceptor Award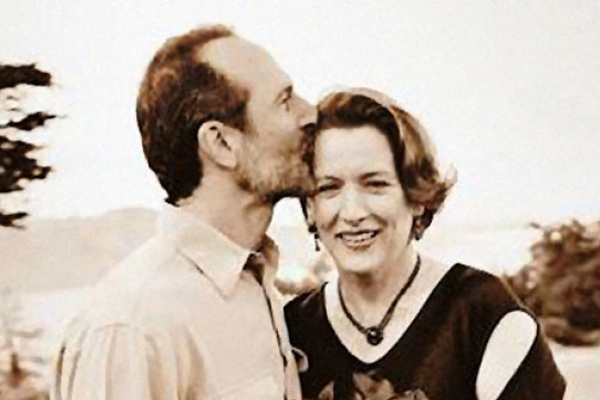 The Helen Martin Award for Excellence in Clinical Precepting is presented annually to honor preceptors for the valuable role they play in developing master's and post-master's students' clinical skills. The award is given in memory of Helen Martin, MS, RN, FNP (pictured above), who was an assistant professor at the School of Nursing and clinical director of the UCSF-supported Valencia Health Services. 
Nominations are now being accepted through May 1 from School of Nursing students for the 2021 Helen Martin Award. Students may submit through this nomination form.
Past recipients:
Mark Thomas, MS, RN, PNP and Christine Kelly, FNP-BC (2021)
Karen Sprague, MS, FNP (2020)
Adam Leonard, MS, MPH, CPNP-PC (2019)
Shirley Banks, RN, MS, FNP (2016)
Ann Reppun, MS, RN, ANP, WHNP (2015)
Kathleen Ryan, RN, FNP (2014)
Steve Leiner, MS, RN, FNP (2013)
Laurie Galaty, MS, RN, CNM, NP (2013)