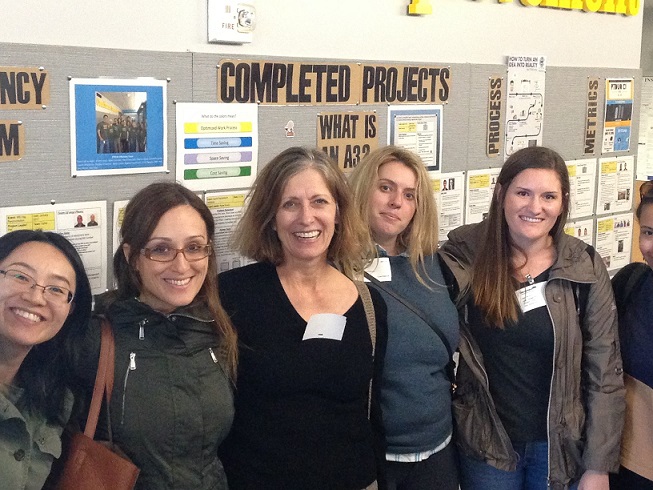 Every year more than 4,500 U.S. workers die from fatal workplace injuries; over 3 million workers suffer work-related injuries and illnesses, and about one third of these workers lose work days. Occupational and environmental health (OEH) nurses play a pivotal role in preventing work-related injuries and illnesses, as well as promoting the health of workers and communities. The Occupational and Environmental Health Nursing (OEHN) program prepares advanced OEH nurses, leaders, and researchers. Nursing students in the MS program may select the OEHN specialty. OEHN faculty members also work with students seeking the Doctor of Philosophy (PhD) degree.
MS program: Adult-Gerontology Primary Care Nurse Practitioner (AGPCNP) · Occupational and Environmental Health Focus (AGPCNP·OEH)
The AGPCNP-OEH Program - focuses on direct patient care, the theory and practice of adult health maintenance, the diagnosis and management of chronic health problems, and the assessment and management of common health conditions. In addition, the curriculum prepares students to work with working adults to prevent, and if necessary identify and treat, occupational injuries and illnesses. Graduates are eligible for state and national board certification. Detailed information about certification is available on the AGPCNP in Primary Care web page.
Career Opportunities
OEHN graduates develop careers in a variety of settings including on-site employee health clinics in various industries, hospital-based primary care or specialty clinics, direct care in occupational health services, or consultation with companies, government agencies, academia, and communities.
Curriculum
All OEHN students take courses that explore research in occupational health, health and safety hazard assessment, program planning, OEHN roles, ergonomics, and the clinical diagnosis and management of occupational health problems. This study is in addition to the adult-gerontological curriculum offered to complete the AGPCNP degree. Clinical residencies in specialty clinics and occupational health settings provide a range of experiences with experts in the field. Students also complete program development projects at businesses, medical centers, community based organizations, or government organizations. Topics for these projects have included worker education and training, ergonomics, protection from toxic hazards, medical surveillance systems, regulatory compliance systems, emergency response teams, and international travel, and disease prevention. Students complete a written comprehensive examination (or, in some instances, a thesis) for graduation.
The 2-year AGPCNP-OEHN curriculum plan is provided below:
AGPCNP-OEH Curriculum Plan: ohnp-curr.pdf
Other Application/Degree Options
Applicants who have a bachelor's degree in a field other than nursing (and who are not registered nurses) may be interested in our three-year Master's Entry Program in Nursing (MEPN). MEPN students who are interested in the OEHN specialty can enter the OEHN MS program in their second UCSF year, with the approval of the OEHN program. Please consult the MEPN admissions web page for more details about this option.

MS students may make a separate application to the UC Berkeley School of Public Health for a Master of Public Health (MPH) degree. This program, designed for health professionals, consists of 42-semester units of academic credit some of which may be transferred from UCSF to UC Berkeley for elective credits.
PhD Program
The PhD Program in OEHN focuses on theory development, design and methodology of research, and the specialized knowledge of occupational or environmental health. The goal of the PhD program is to prepare nurse scientists and leaders to contribute to knowledge development in the OEHN field, and to assume leadership positions in the profession. Each candidate's curriculum is tailored to their individual career goals and past experience in occupational and environmental health. Students explore research in OEHN through taking courses in occupational and environment exposure assessment, toxicology, epidemiology, ergonomics, and occupational safety.
Eligible full-time students will be fully funded by the NIOSH T42 predoctoral traineeship grant, which covers tuition, fees, health insurance, and monthly stipend.
For more information about the PhD program at UCSF School of Nursing, please refer to the web page.
UC Center for Occupational & Environmental Health
This program is a component of UC's Northern California Center for Occupational and Environmental Health (COEH), a multi-campus (UCSF, UC Berkeley, and UC Davis) Education and Research Center (ERC), funded by the National Institute for Occupational Safety and Health (NIOSH). The COEH has offered financial support to qualified OEHN students in the MS and PhD programs for several decades. The COEH affiliation offers students the opportunity for interdisciplinary training in occupational and environmental health with students in industrial hygiene, environmental health science, occupational and environmental epidemiology, global health, ergonomics, and occupational and environmental medicine [for more detailed information, please visit their website].
Coordinator: Oi Saeng Hong, RN, PhD, FAAN
Faculty: 
Dana Drew-Nord, RN, NP, PhD
Soo-Jeong Lee, RN, PhD, ANP