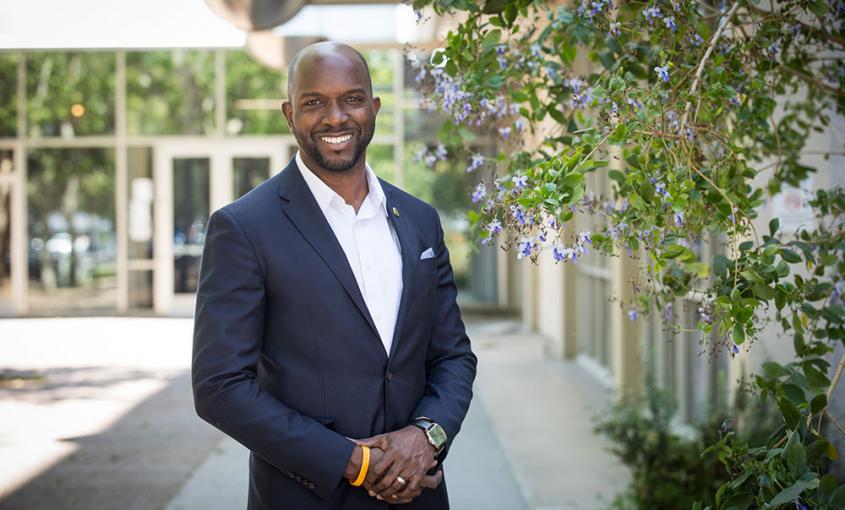 Arnold Fosah
Master of Science Program
Arnold Fosah wanted a career where he could make meaningful connections.
Nursing met the criterion, and he has bettered the lives of many in need of mental health treatment. 
"Nursing combines science with an interpersonal component of healing," Fosah said. "That interpersonal part has always been of interest to me, and explains my attraction to mental health."
Every day, Fosah serves a population whose mental health needs have long been overlooked: prison inmates. A psychiatric nurse practitioner at the Santa Clara Valley Medical Center, Fosah assesses patients for mental health issues and medication management at the Santa Clara County Main Jail Complex. 
"It's challenging knowing how much bigger the systemic problems are compared to what I'm doing," Fosah said. "But to hear of an inmate who has turned a corner in behavior, is rewarding."
That Fosah chose to enter psychiatric nursing is not surprising. His mother was a nurse for 30 years in their native Cameroon and his brother has struggled with mental illness. Early in his career as an emergency department nurse, Fosah witnessed patients battling homelessness and substance use disorders – which can often be traced back to mental health issues – cycling in and out of the emergency room. The experience "exposed how broken our mental health delivery system is," he said.
Fosah's training at the UCSF School of Nursing expanded his perspective of the mental health system and elevated his understanding of the complexity of the issues, including cost, quality and access. 
While more work is needed to repair the mental health system, Fosah believes that developing more psychiatric mental health nurse practitioners will enable more patients to access the care they need. 
"I didn't know NPs could create this level of impact," said Fosah, who credits the talented team of therapists, social workers, psychiatrists he works with for the positive change they've created. "But having worked in this capacity, I really believe more emphasis needs to be placed on more NPs in this field and training them to the full extent of their scope of practice. I'm very fortunate and proud to be in this position."
Fosah said he feels "privileged" to have earned his master's degree at the School of Nursing.
"Walking the hallways, you feed off of the energy of the great scholars that came before you," Fosah said. "There is a sense of pride there. My professors were particularly attentive, and I never saw a professor that seemed out of reach."