Becoming Data Smart for Equity
An important aspect of achieving demographic diversity within the School of Nursing is to know what our numbers have been and what they are now. To assess if we are achieving greater inclusion and equity, self-reported climate survey results also help us to assess the state of the school. On this page, we will provide data and links to UCSF data sources that will enable us to easily understand our places of diversity and places of needed diversity within our community.
Underrepresented Minority Definition
At UCSF, our working definition of an underrepresented minority (URM) is someone whose racial or ethnic makeup is from one of the following:
African American/Black
Asian: Filipino, Hmong or Vietnamese
Hispanic/Latinx
Native American/Alaskan Native
Native Hawaiian/Other Pacific Islander
Two or more races, when one or more are from the preceding racial and ethnic categories in this list
Demographic Diversity
Data on student and staff representation will be added soon. The following charts show faculty representation over the past five years.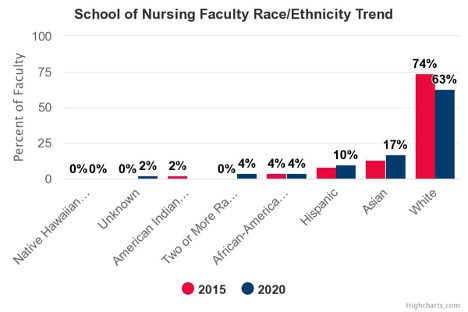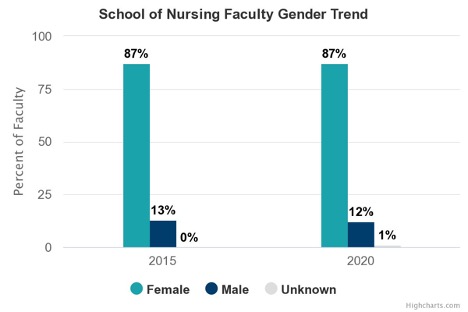 Assessing Climate and Well-Being
UCSF Climate Survey Results: The 2021 UCSF Climate Survey was designed to measure the working and learning climate across the entire community, with a particular focus on diversity, equity and inclusion. Survey respondents include learners (students, postdoctoral scholars, residents and fellows), staff, faculty and other academics who are paid by UCSF, with a total of 14,579 responses collected from Oct. 11 to Dec. 3, 2021. Read the report in English, Chinese or Spanish.
School of Nursing Staff Well-Being Poll Results (coming soon)
Student Experience Survey 2023 Results (coming soon)