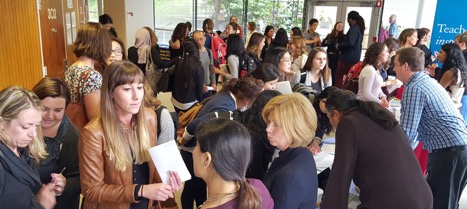 The School of Nursing hosted the first Advanced Practice Nursing Career Panel and Fair on Wednesday, May 31, as part of Epilogue (N200.01)—a summative learning experience for the master's program that fosters students' professional role with focus on professional development, lifelong learning, interprofessional practice, and sense of moral obligation. With a wide range of sites represented with all Advanced Practice Nursing (APN) roles (NP, CNS, CNM) being recruited the event was a success for staff representatives, faculty, and students alike.
As a major goal for Epilogue, the group discusses strategies to maintain and improve professional competence, enhance career progression, keep abreast of new technology and practice, and comply with professional regulatory organizations. The Epilogue course also includes the final two modules of the Core Principles of Interprofessional Practice, a blended curriculum with both online and facilitated small group sessions for students from all five UCSF health professions (dentistry, medicine, nursing, pharmacy and physical therapy).
The APN Career Panel featured the following speakers throughout the afternoon: UCSF Health Director of Advanced Practice Mitch Erickson, Community Health Center Network Workforce Development Strategist Joe Lee, Stanford Children's Health Manager of Advanced Practice Raji Koppolu, SF VA Medical Center Nurse Recruiter JoAnne Martucci, San Francisco Health Network Director of Care Coordination for Primary Care Anna Robert, and Stanford Health Care Manager of Advanced Practice and Associate Director of Advanced Practice Provider Fellowship Korinne Van Keuren-Parent.
The fair featured the following sites: UCSF Health, UCSF Office of Career and Professional Development (OCPD), SF VA Medical Center, Melnic Consulting, Lucile Packard Children's Hospital—Stanford Children's Health (LPCH), Stanford Health Care, SF Department of Public Health, Community Health Center Network (CHCN), La Clinical de la Raza, Lifelong Medical Care, Mission Neighborhood Health Center (MNHC), Richmond Area Multi-Services (RAMS) Inc., Telecare Corp, Central Valley Health Network (CVHN), Family Health Care Network (FHCN), and Peach Tree Healthcare.
Special thanks to Associated Students School of Nursing (ASSN) for sponsoring and providing refreshments to the career fair attendees and gratitude to N200.01 Epilogue Co-Faculty of Record (FOR) Angel Chen and Rosalind De Lisser.