In June of 2016 the UC San Francisco (UCSF) School of Nursing announced the creation of two new fellowships—the David Mortara Post-Doctoral Scholar Fellowship in Electrocardiology (ECG), as well as the David Mortara Pre-Doctoral Scholar Fellowship in ECG. The Fellowships, named for David Mortara, PhD, a physicist, scientist, and founder of Mortara Instrument, will support both a pre- (four years) and post-doctoral student (two years) with $75,000 each annually to explore and test solutions related to ECG monitoring.
Mortara has been a leader in the field of ECG, making significant contributions to cardiology. He has been a prolific inventor and visionary entrepreneur who guided Mortara Instrument from start-up to international industry leader in diagnostic electrocardiography, particularly in innovations in ECG interpretation, digital ECG, and ECG signal processing. Mortara has also been a stalwart and generous supporter of the UCSF School of Nursing, establishing the first Distinguished Professorship for the School in 2013. The David Mortara Distinguished Professorship in Physiological Nursing Research held by Professor Barbara Drew, is one of the most prestigious gifts possible in support of a faculty's academic or research programs.
On June 28, the current and former ECG Monitoring Research Lab directors awarded the first David Mortara Post-Doctoral Scholar Fellowship in ECG to postdoctoral student Adelita Tinoco, RN, PhD–pictured below. Adelita's doctoral advisor was Michele Pelter, RN, PhD, an assistant professor of physiological nursing and current director of the ECG Monitoring Research Lab. Barbara J. Drew, RN, PhD, FAAN—emeritus professor of nursing and medicine, cardiology and founder as well as former director of the ECG Monitoring Research Lab (Drew Lab) was a member of Adelita's doctoral committee. Adelita's doctoral work leveraged Mortara's ECG research software, a non-invasive testing systems to advance identification of a sleep disorder breathing pattern, known as Cheyne-Stokes respirations. The Fellowship will continue support of Adelita's exploration and test solutions related to ECG monitoring. This is a great fit to further the stated mission of the fellowship: "… immersed in research specific to using the ECG to explore topics such as alarm fatigue, detection of myocardial ischemia/infarction, arrhythmias, ECG-derived respiratory rate and sleep disordered breathing, and identification of acute deterioration of hospitalized patients."
Adelita will participate in ongoing research efforts in the ECG Monitoring Research Lab located in the Department of Physiological Nursing, and will be mentored by the Lab's Director and Assistant Professor Michele M. Pelter, RN, PhD.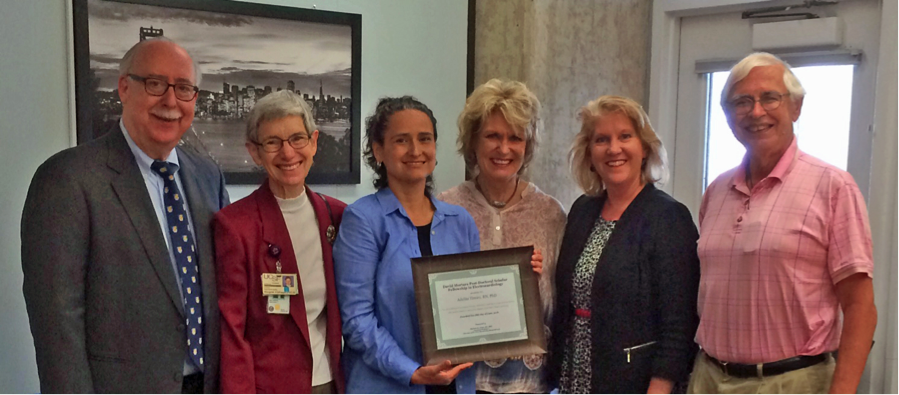 In addition, the School will soon select a Pre-Doctoral Scholar Fellowship in ECG, who will receive support for two years. Read related coverage below to learn more regarding Professor Drew's research and work, as well as Dr. Mortara's contributions.
Related Coverage