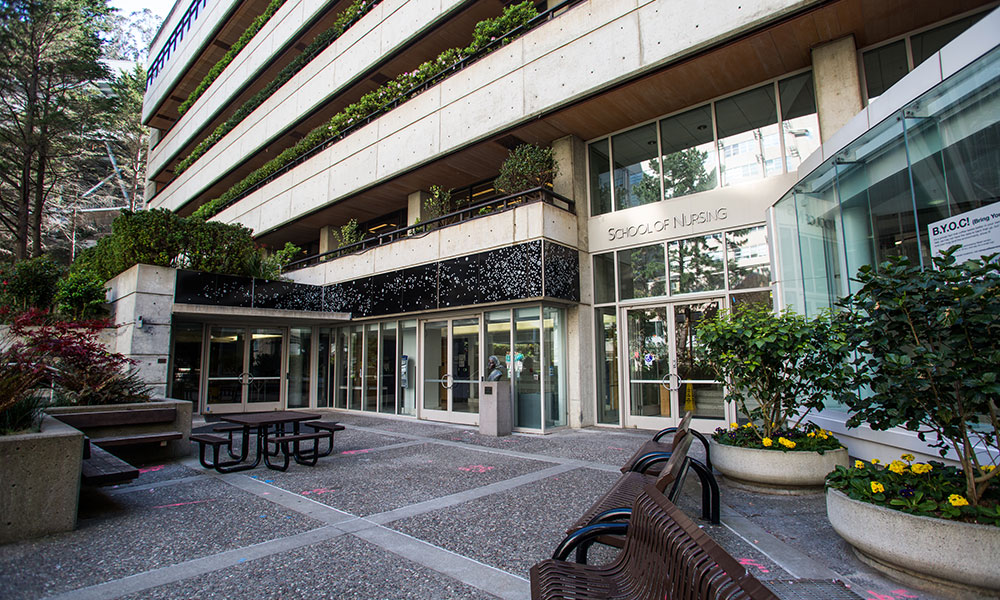 The Associated Students of the School of Nursing (ASSN) is the official organization representing the School of Nursing students at UCSF. The ASSN is a great way to get involved in the School. ASSN board members advocate on behalf of students at the School and university levels, and serve as a liaison among the student body, staff and faculty.
The ASSN works to make changes students would like to see, and sponsors events, workshops, topics of interest and hosts panels (visit the ASSN's calendar to find out about upcoming events). The ASSN sits on faculty boards, the GPSA board, alumni boards and various student organizations. 
Recent and current projects include student representation on various School committees; fostering community on campus with students, administrators, staff and others; assisting with updating the Student Handbook; anti-oppression document for Faculty Handbook and guest lectures; gender-neutral bathrooms; hosting lecture series for students; School of Nursing social events and fundraisers; artwork on campus (mural unveiling); working for additional support and emergency funding for students during the COVID-19 pandemic; and other issues that are important to students.  
Travel, Projects and Events Reimbursement
The ASSN offers reimbursement for travel, projects, and events that enhance the student learning experience at UCSF.
Through a new partnership with the Nursing Alumni Association, ASSN can offer up to $200 for conference reimbursement and travel grants for students during their time at UCSF. Applications for the grants are on a first-come, first-served basis until allocated funds run out. You can apply for pre-approval before you attend a conference using this form. You can apply for reimbursement with or without pre-approval using this form. Please note, if you do not apply for and receive pre-approval, there may not be ample funds to reimburse you fully or partially.

The ASSN also reserves an annual maximum of $300 available to each School of Nursing-affiliated student group to sponsor activities that benefit nursing students.
The process is different depending on which type of funding you are requesting. Please read below for further guidance about the appropriate forms and documentation necessary to start the process. Only complete applications will be evaluated. Please contact treasurer Natalia Villegas if you have questions.
Conference Reimbursement
The ASSN supports students attending or presenting at conferences. Applications for a conference reimbursement must be submitted after you attend the conference, along with supporting documentation. However, if you want to be guaranteed funding, you have the option of applying for pre-approval for your conference funding. The application must be submitted after attending the conference and is due no later than 30 days post-conference with all necessary receipts and supporting documentation.
How to Apply for Conference Reimbursement:
Step 1 (OPTIONAL, but important if you want to guarantee reimbursement): before conference, fill out the ASSN Pre-Approval Form for Conference Reimbursement
Step 2: After the conference, gather the following documentation:
Proof of conference registration

Proof of payment for the conference (this must be a receipt that shows a charge, check or cash payment, NOT just an invoice or itinerary)

Conference information, such as a copy of the conference description from a website or brochure

Receipts that illustrate expenses from any or all of these categories: conference registration, transportation (i.e. airfare, shuttles, taxi, rental cars), lodging, and food. (Please only include receipts up to the reimbursed limit of $200 per student per time as a UCSF student, i.e. it is not necessary to see other travel receipts if the $200 limit has been reached.)
Step 3: Use that documentation to fill out the ASSN Conference Reimbursement Application
Step 4: Once approved, submit a Request for Payment form to get paid.
Sponsored Event/Project
Funds can be granted to students who organize a special conference, presentation or project that enhances the student learning experience at UCSF. Recent examples include the UCSF Domestic Violence conference and the Undocujustice Health Panel. In an effort to share SON news with the UCSF community, we request that if funds are granted, a brief summary of the project/event be submitted to Synapse at [email protected] and to [email protected]. The article template is available here: Synapse Article Template.
For Sponsored Events/Projects, there are two phases to receiving funding:
Step 1: Use the ASSN Request for Sponsored Event/Project form to apply for funding before the event, as funding is NOT guaranteed and must be voted on by the ASSN members. Step 2. If your funding request is approved, then after the event, submit a Request for Payment/Reimbursement form to receive your funds. Please submit the request within 30 days after the event. Please contact treasurer Arthur Murray if you have questions. Read the funding FAQ.
Basic Needs
The ASSN offers up to $100 per student per quarter to assist with basic needs such as gas, utilities, groceries, etc. The distribution will be on a first-come, first-served basis while funds are available. To request basic needs support, please complete this form.
ASSN Officers 2021 - 2022
President

Enrique Esteinou

Co-Vice Presidents

Alvaro Tellez Arriago

Alexander Ching

Secretary

Melissa Im-Giuffrida

Treasurer

Arthur Murray

GPSA Liaison

Casady Brown

Co-Nursing Faculty Council Liaisons

Elena Huang

Vicky Valentine

Alumni Association Council Representative

Scott Berning

Social Chair

Casady Brown

[email protected]

Diversity Liaison

Diana Alegre

Disability Liaison
Lauren Resuello
Student Health Advisory Committee
Co-Representatives

Alyssa Connors

Anne Jolene Cuaresma

Recruitment and Retention Committee
Representative

Nancy Cassie Xu

Master of Science Program Council Representatives

Jacob DeWees

Vicky Valentine

PhD Program Council Representative
Christina Keny (Solis)

[email protected]

Distinction in Teaching Award
Selection Committee Representative

Elena Huang

Student Services Fee Advisory Committee
Ian Marshman

[email protected]
Position Duties
Elected or appointed officers of the ASSN Executive Committee shall consist of:
Preside over all Executive Committee meetings.
Appoint ad-hoc committees upon approval by the members in attendance.
Formulate an agenda for each meeting and distribute among Committee members prior to scheduled meetings.
Act as liaison with the School of Nursing Administration and allied organizations.
Coordinate executive officers and activities.
Act as official representative of the ASSN at university functions.
Ensure the maintenance of the website, public calendar, and social media.
Carry out the duties of the Vice President in their absence.
Duties of the Vice President
Carry out the duties of the President in their absence.
Carry out those duties delegated to them by the President.
Oversee recruitment and elections of new ASSN officers during Spring Quarter. Announce the names of the new ASSN officers via email and website.
Assist the President in maintaining website, updating public calendar, and administering social media.
Duties of the Treasurer/Awards Manager
Develop a budget for the school year in collaboration with the exiting and incoming officers during the Spring Quarter.
Coordinate financial transactions of the ASSN.
Oversee all financial transactions and expenses of ASSN and to have a record of them available for inspection upon request of any member.
Present budget status as a written or visual report at ASSN meeting at the first and last meeting of each quarter. Maintain records of budget reports.
Coordinate quarterly disbursements for travel grants and other student activity related expenses.
Record, maintain, and distribute minutes of all meetings in by the end of the meeting week via OrgSync.
Record attendance of Executive Committee and other attendees at each meeting. Maintain rosters of members of the Executive Committee (recorded in meeting minutes).
Ensure notices of meetings are posted on bulletin board, social media and web calendar.
Publicize ASSN programs in available campus publications, including the Student Weekly (box to click for "inclusion on Student Life events list" when creating events/booking rooms via OrgSync or submitting to 

[email protected]

).
Determine the voting privileges of those present at the Executive Committee meetings/ create OrgSync polls.
Maintain a file of all agendas, minutes, and correspondence of the Executive Committee. Files may be hard-copy and maintained in a digital document repository for posterity.
Serve as liaison to the School of Nursing Students Weekly Digest e-newsletter and UCSF ASSN website. Serve as liaison to Synapse, the UCSF student newspaper.
Duties of the GPSA Liaison
Represent ASSN by serving as the GPSA liaison at scheduled GPSA meetings.
Communicate important issues to the Executive Committee and ASSN members.
Assist the GPSA School of Nursing MEPN, MSN, and PhD Program Representatives in disseminating relevant information to the student body.
Oversee recruitment of School of Nursing students to fill GPSA Executive Board and Representative positions during the Spring Quarter.
Increase School of Nursing students' awareness of the GPSA.
Duties of the Social Chair
Lead the planning and coordination of student focused social events within the School of Nursing.
Coordinate nursing student participation of social events at the campus level. Communicate with the GPSA Student Events and Publicity Chair to encourage School of Nursing participation in GPSA events.
Duties of the MEPN Liaison(s)
Represent MEPN student interests to the ASSN by serving as the representative of the class.
Communicate important issues to the Executive Committee.
Communicate important issues from Executive Committee discussions to the MEPN students.
Duties of the Faculty Council Liaison
Represent and advocate for nursing student concerns/interests to the Faculty Council (FC) by serving as the representative of the ASSN.
Communicate important issues to the Executive Committee and to the student body.
As needed, invite appropriate faculty members to advocate on the part of the ASSN to the School and the University and serve as a consultant on School and organizational issues. Faculty members may be invited to Executive Committee meetings on an as-needed basis.
Duties of the PhD Representative
Represent the interests of the PhD students to the ASSN by serving as the representative of the program.
Communicate important issues to the Executive Committee and the PhD student body.
Encourage PhD student involvement in the School of Nursing community.
Duties of the Social and Behavioral Sciences (SBS) Liaison
Represent the interests of the SBS students to the ASSN by serving as the representative of the program.
Communicate important issues to the Executive Committee and the SBS student body.
Encourage SBS student involvement in the School of Nursing community.
Duties of the Nursing Alumni Association Liaison Committee
Plan, coordinate, execute ASSN/Nursing Alumni Association (NAA) collaborative events.
Seek student input in topics of interest for ASSN / NAA collaborative events.
Seek out NAA members who can participate in events that meet student needs and interests.
Facilitate nursing student engagement at social events at the campus level.
Encourage upcoming and recent graduates to join the NAA, give lunch talks, and attend ASSN / NAA events.
Work to collaboratively establish databases or other means of facilitating mentorship.
Duties of the Interprofessional Liaison
Collaborate between ASSN and the current Interprofessional Practice Education course.
Outreach to work with Interprofessional Student RCOs and Interest Groups.
Work with existing organizations and Interest Groups on the UCSF campus in which nurses are underrepresented, encouraging these groups to incorporate students from the School of Nursing.
Coordinate informational and recruitment events by existing RCOs and Interest Groups to include students from the School of Nursing for participation.
Duties of the Diversity Liaison
Act as a liaison that helps keep issues students of color in the SON, (MEPN, MS, PHD), feel are important and affect their learning environment and abilities to thrive
Help support SON student led groups and their goals as UCSF organizations: Voces Latinas, NSOC, DAS, LGBTQ Communities, and any future student led groups
Support ASSN Officers and Chairs create events that enhance and create inclusive spaces
Keep open communication between ASSN and working projects throughout the SON
Work alongside Student DIVA Representatives to help address current issues and concerns faced by diverse groups or individual students in the SON
Duties of the Disability Liaison
Collaborate with the ASSN Diversity Liaison to address issues that students in the SON who are neurodiverse, have disabilities, and other chronic conditions feel are important and are affecting their learning environment and abilities to thrive.
Work as a liaison between Student Disability Services, the SON faculty & staff, and the DIVA committee about the ongoing needs of students.
Help support SON student-led groups and their goals as UCSF organizations.
Support ASSN Officers and Chairs to develop events that enhance & create inclusive spaces.
Keep open communication between ASSN and working projects throughout the SON