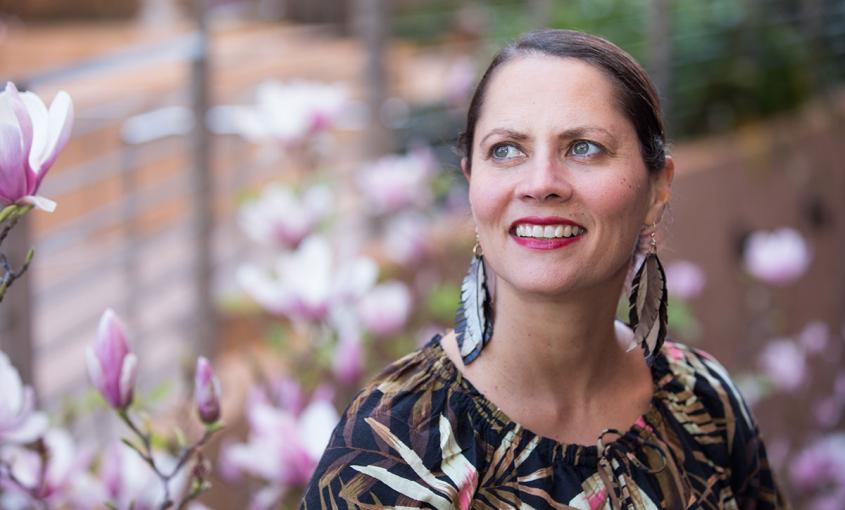 Ana Delgado
Master of Science Program
Whether it's educating UCSF clinicians and staff on the dangers of structural racism or treating expectant and new mothers, Ana Delgado's impact is felt broadly.
A clinical professor and assistant director of Inpatient Obstetrics at UCSF, Delgado (MS '02) has helped countless mothers provide their children with a healthy start through her care as a certified nurse-midwife. She hopes her tireless advocacy at the local, state and national levels will ensure health equity for these families, now and for the rest of their lives.   
"My job as a midwife cannot stop at the walls of the clinic or the exam room," she said.
In October 2021, Delgado received the UCSF Chancellor Award for Dr. Martin Luther King, Jr. Leadership, which honors members of the UCSF community who have demonstrated outstanding commitment and service to the ideals of diversity, equity and inclusion beyond the scope of their job, area of research, or training.
"We cannot limit our advocacy to things traditionally defined as health-related if we want to actually achieve health equity." — Ana Delgado
A major focus of Delgado's work is examining structural racism's role in health care. As co-director of the Anti-Racism, Equity, Inclusion and Structural Change initiative within UCSF's Department of Obstetrics, Gynecology & Reproductive Services, Delgado leads workshops and presentations educating UCSF physicians, nurse-midwives and staff about structural racism's adverse effects to prevent instances of bias and discrimination when treating underrepresented individuals.
"We're turning the lens on racism rather than race," Delgado said. "It's upsetting to hear that Black women are three to four times more likely to die during childbirth or pregnancy. How can we provide respectful care and create an identity-safe environment? Are we asking the right questions of ourselves, the institution and our health care system?"
Delgado is applying her research expertise to answer some of those questions. She is a co-investigator for Supporting Our Ladies and Reducing Stress to prevent preterm birth study, a research initiative led by women of color and women who have had preterm births to understand the impacts of stress, anxiety and racism on birth outcomes. The study is part of the UCSF California Preterm Birth Initiative.
In addition to Delgado's work at UCSF, she provides prenatal care at Mission Neighborhood Health Center, which serves nearly 13,000 low-income patients annually among its four San Francisco Bay Area locations.
"Listening to what these women need is important," Delgado said. "I feel that as long as we are partners with the community, we won't move backward."
Serving the community has always been a passion for Delgado, who considers herself "an activist first and a clinician second." Learning about the benefits of community-based, health care models while a master's student at the UCSF School of Nursing has played a significant role in Delgado's success.
At the UCSF School of Nursing, "I was introduced to innovative models like prenatal home visiting and CenteringPregnancy [group prenatal care] that de-centered health care institutions and prioritized the needs and wisdom of the families and communities we serve," she said.
Delgado entered UCSF with a degree and background in political science. The education and training she received at the School of Nursing gave her the knowledge to apply her previous experience to the new domain of health policy. She advocates for health equity through her affiliations with the California Nurse-Midwives Association's Health Policy, and Reproductive Justice and Anti-Racism Committees as well as UCSF's Bixby Center for Global Reproductive Health. She has facilitated partnerships among the San Francisco Department of Public Health and non-profit, community-based organizations, resulting in initiatives aimed at enhancing perinatal care for underrepresented individuals.
"Many structures impact health, such as the system of mass incaceration or immigrant and border policies," Delgado said. "We cannot limit our advocacy to things traditionally defined as health-related if we want to actually achieve health equity."