The theme of this year's Western Institute of Nursing (WIN) conference was "Innovations in Engagement through Research, Practice, and Education," and the following are some big UCSF School of Nursing news items:
Our very own Kate Lorig (MS 1968) delivered a great State-of-the-Science talk on Friday morning, "Theory to Translation: Chronic Disease Self-Management."
Our very own doctoral student, Shannon Smith-Bernardin, won best poster in the Research and Information Exchange (R&IE). Her poster, "Evaluation and Comparative Cost of Sobering Center Care for Acute Alcohol Intoxication" was one of 116 competing from nine schools of nursing for this award. Second-year doctoral student in Nursing Health Policy, Kyung Mi Kim, was a best poster finalist as well.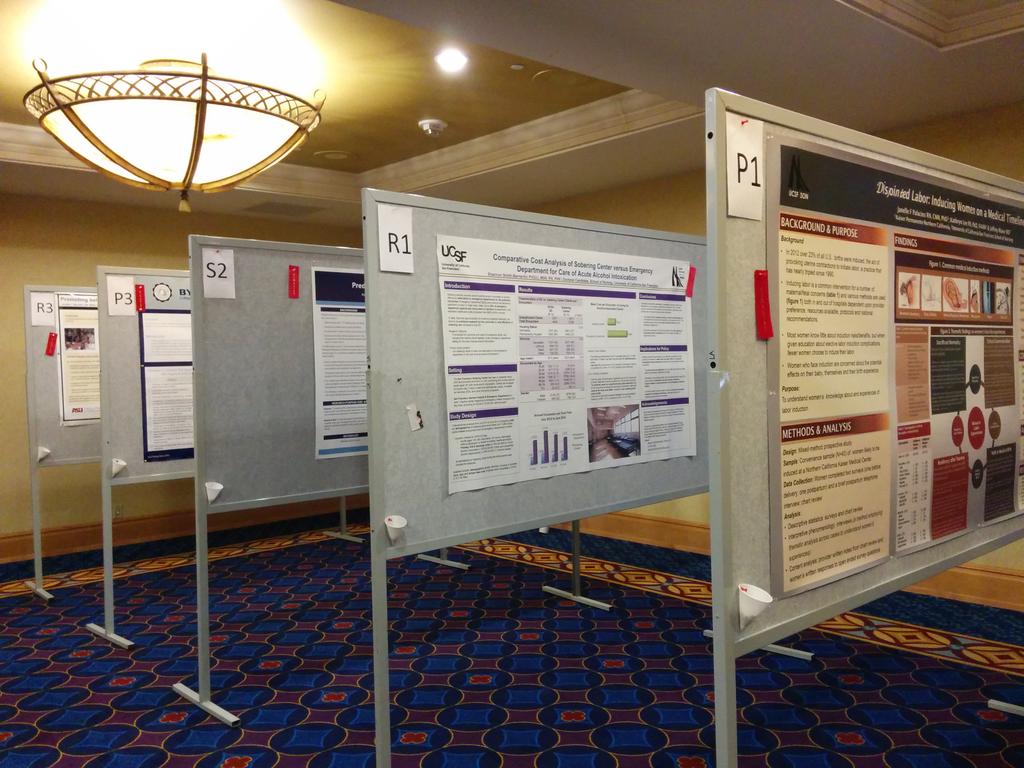 Our very own doctoral graduate and postdoctoral fellow, Dr. Janelle Palacios won best poster in the Research category for "DisJointed Labor: Inducing Women on a Medical Timeline."
Additionally, Miranda Surjadi, along with Dr. JoAnne Saxe, and Suzan Stringari-Murray, had their poster presentation covering the work "Incorporation of Entrustable Professional Activities Into Adult-Gerontology Primary Care Nurse Practitioner (AGPCNP) Education" highlighted in the WIN conference booklet as one to watch for best practices.
Former Associate Dean for Research and Emerita Professor Kathy Lee was re-elected to serve another three-year term as the Governor for Research on the WIN Board of Governors.
Our Faculty (Barbara Burgel, Kit Chesla, Carol Dawson-Rose, Monica McLemore, Carmen Portillo and Roberta Rehm) were there to support UCSF Doctoral Students and Postdocs who were highly visible everywhere:
Doctoral student, Linda Gregory, moderated a symposium on Student Issues.
Doctoral student, Kirsten Wisner had a podium presentation with Dr. Audrey Lyndon, "Parents' perspectives on navigating the work of speaking up in the NICU."
Postdoctoral fellow, Dr. Rosamar Torres, moderated a symposium on Midlife Women Stressors and Challenges, and had a podium presentation, "Predictors of postpartum depression in emerging adult women who are first time mothers."
Postdoctoral fellow, Dr. Don Mitchell, had a podium presentation, "Child symptom management in the ED: A dimensional concept analysis."
Postdoctoral fellow, Dr. Eeeseung Byun, had a podium presentation; "Cytokine polymorphisms are associated with daytime naps in adults with HIV."
Dr. Monica McLemore had a podium talk, "Health care experiences of pregnant women of color at risk for preterm birth."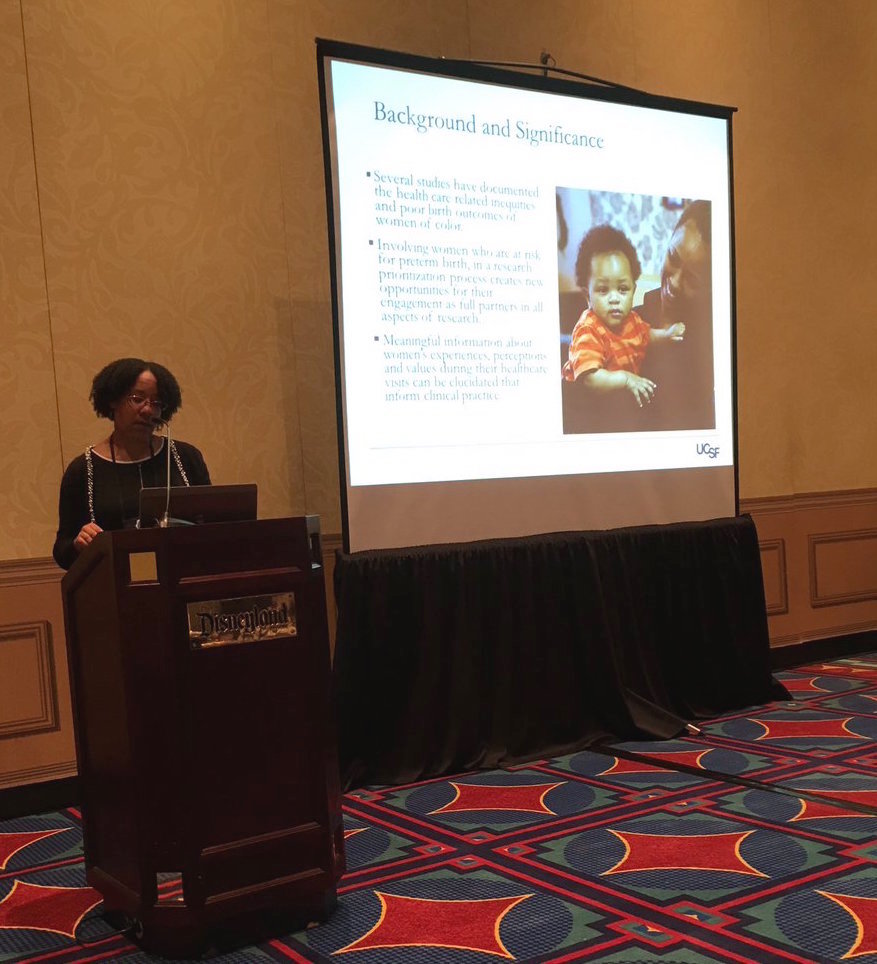 Dr. Kathy Lee had a podium talk with two UCSF Medical Center Nurses, Tina Ratto and Alicia Pollack: "A hospital-based sleep improvement program for antepartum care."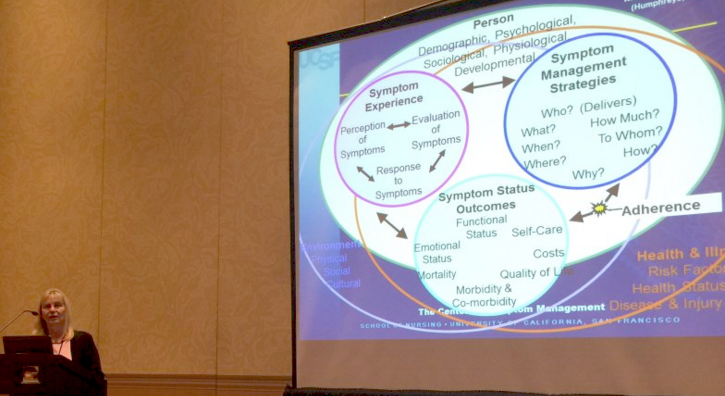 Dr. Carmen Portillo moderated a symposium on Current Issues in HIV Prevention, which included podium presentations from Glen-Milo Santos, Carlo Hojilla, Kellie Freeborn, Glenda Baguso, and Patricia Ambrose with Carol Dawson-Rose.
Dr. Barbara Burgel had two podium presentations, "Interprofessional practice: Staff and clinician collaborative practice assessment" (with Geri Collins-Bride), and "Interprofessional dental outreach for adults with serious mental illness" (with Brianna DeVito).
Kellie Freeborn, Rosamar Torres, Kathy Lee and Carmen Portillo had a poster on "Mentor and Mentee Role in an Individual Development Plan (IDP)."
There were many sessions for doctoral students and beginning researchers (speed networking, sessions with journal editors, workshops on how to be a moderator). Excellent resources are available at the WIN website: http://www.winursing.org/.
Save the date! WIN is celebrating its 50th year anniversary in Denver, April 19-22, 2017, and our keynote speaker will be Doris Kearns Goodwin, PhD, Pulitzer prize winning author and presidential historian; her talk on the history of leadership will set the tone for WIN's 2017 conference theme, "Leadership: Continuing the Vision." Abstracts will be due October 15, 2016.
Let's be thinking about some state-of-the-science research we can submit this fall!
Related Coverage: