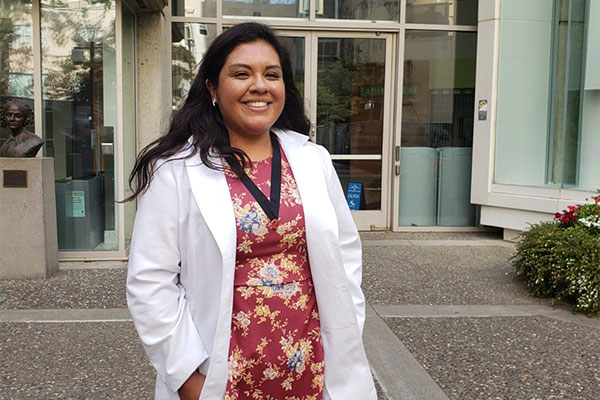 When Master's Entry Program in Nursing (MEPN) student Alejandra Flores isn't studying or advocating for her fellow students, you're likely to catch her spinning records at a San Francisco hotspot. Flores discusses why she chose UCSF, a special person who motivated her educational aspirations and how she learned to be a DJ.
Name: Alejandra "Lali" Flores
Age: 28
Hometown: Temecula, California
Program: Master's Entry Program in Nursing
Specialty: Advanced Public Health Nursing (APHN)
Why did you choose the MEPN program at the UCSF School of Nursing?
UCSF is one of the few schools in California that offers the APHN specialty for a master's entry program. As a Southern California native, I wanted the opportunity to learn from all that the Bay Area has to offer. UCSF's values align with my own and I felt a deep connection when I first visited the campus back in 2015. I knew it was the place for me.
What's been the most challenging aspect of the MEPN program?
Before COVID-19, I probably would have said the program's pace. Every aspect of MEPN moves so fast. But now, it's having to learn everything from home. I've never taken an online class before and I am really missing the in-person learning and interaction.
What's been the most rewarding aspect of the MEPN program?
It's being surrounded by so many people who share the same goals as me. The exchange of thoughts and ideas and the incredible conversations that I have been a part of here renew my inspiration to keep pushing forward despite the challenges. I have learned so much from my peers and I am very proud to be on the same team as them.
You serve as one of the MEPN representatives for the Associated Students of the School of Nursing (ASSN). What are your duties and why did you seek out this position?
I am passionate about building genuine connections with people. Creating community was really important to me after being accepted into this program, especially moving to a new city. Being a MEPN representative has given me the opportunity to advocate on behalf of my peers, voicing their ideas and interests to ASSN. I have also been able to make connections with students from classes outside of MEPN who I might not have otherwise met. I really value what you can learn from previous cohorts and it's great to pay it forward to the incoming classes.
What are your career plans when you complete your studies?
What inspired me to apply to MEPN was learning about the role of a certified diabetes educator and that's something I've always wanted to do. Through this program, though, I've learned about the flexibility of a public health nurse's role, which is super exciting. Nursing is everywhere and I can't wait to see where I end up!
Is there anyone in particular who has played a meaningful and supportive role in your education?
My maternal grandmother always supported my education. She helped raise me and was like a second mother to me. As an undergrad at CSU San Marcos, we grew even closer because she lived in San Marcos and I would spend nights at my grandparents' house to reduce my commute. It was bittersweet being accepted to MEPN because it meant that we would be apart, but she fully supported my decision because she knew it would be beneficial to me — and that's all she cared about. After all that my grandparents sacrificed to make a life for their family in the United States after emigrating from Mexico, I am proud to be their granddaughter. My grandma was such a huge part of why I want to be a nurse. She suffered from chronic pain most of her adult life and always complained about not receiving quality care because of language and cultural barriers. I want to be the nurse that my grandma deserved and that everyone deserves to have.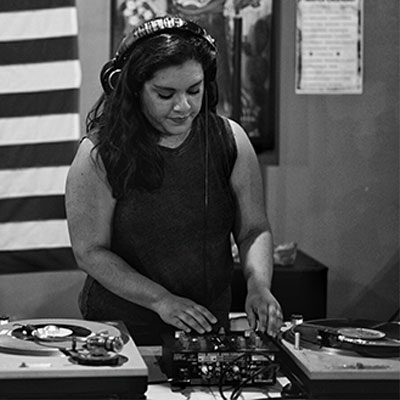 We hear you're a skilled DJ. How did you get started and why is it a passion for you?
Music has always been a love of mine. I started collecting records in 2012 as another way of enjoying my passion for music. A few years later, I was introduced to femme-focused vinyl and DJ collectives via Instagram and I was totally inspired to learn about DJing. In 2017, I connected with a DJ from San Diego who was teaching an "Intro to DJ" workshop where I learned the essentials. Earlier this year, I was invited to join the collective Soul Driverz Crew. I've also been a guest DJ with Chulita Vinyl Club during their residency at The Knockout here in San Francisco. I even got to spin for the ASSN Virtual Spring Social which was super cool. The feeling you get when you're playing a set in front of a crowd and you can feel everyone's hyped energy because of your selections is like no other. One of the best ways to bring people together, including for healing, is through music.