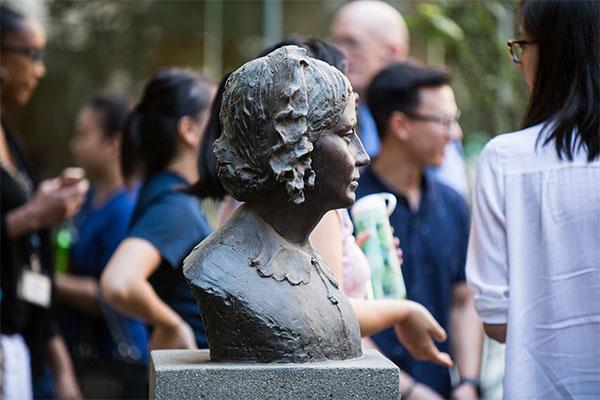 On Friday, June 5, 2020, the School of Nursing issued the following statement on its public commitment to stand in solidarity with colleagues to fight racism. On Monday, June 8, 2020, an additional statement was issued to identify specific actions the School will take. Both statements are included below.
This statement and our commitment to an anti-racist framework has been shaped by the longstanding advocacy of students and faculty who have worked within the School to push us to provide an inclusive culture and environment for all. The students include Karen Lopez-Acero (main contributor and coordinator), Denisse Porter (main contributor and coordinator), Adin Vaewsorn (main contributor and coordinator), Mayra Lizzette Yñiguez (main contributor and coordinator), Max Farber, Katie Machado, Talita Oseguera, Lisa Schaaf, Lisa Schwartz, Annemarie Stone, Anjali Asrani, Sara Benson, Taylor Cuffaro, Tessa Rubin, Alison Davis, Haley Davies, Melanie Garcia and Sam Kadin. In addition, our appreciation goes to the members of the 2019-2020 Faculty and Student Diversity, Equity and Inclusion Task Force: Kim Dau (main contributor and coordinator), Orlando Harris, Michalle Ramirez-McLaughlin, Stella Bialous, Astrid Block, Max Farber, Adin Vaewsorn and Mayra Lizzette Yñiguez.
Statement of Commitment to Solidarity with Communities of Color
We, the students, faculty and staff of the UCSF School of Nursing, stand in solidarity with those impacted by senseless racialized violence at the hand of law enforcement, most recently the killing of George Floyd, as well as countless other Black and Brown individuals killed by the police and/or other white vigilantes. We see your pain from bearing the weight of injustice. We hear your voices – your messages are clear and they matter.
We acknowledge all forms of racism, from everyday bias and micro-aggressions to racialized violence, create an undue weight on the daily lives of our faculty, staff and students of color. As a historically white institution of higher education, and as a majority white and female profession, it is time for us to recognize our privilege – especially those of us who appear or identify with being white/Caucasian to recognize white privilege and as such, we must speak up against bias and hatred. Our students, faculty, staff, and colleagues of color cannot be expected to shoulder the burden of standing up to racism alone. As such, we must continue to educate ourselves on the dynamics of racism, oppression, and privilege in order to act on our values of inclusion and equity.
From our policy on anti-racism, we honor the countless aspects of diversity reflected within the UCSF School of Nursing community. Furthermore, we acknowledge that race, which is a socially constructed concept – not a biological one - continues to play an ongoing and central role in our society that endangers the health and well-being of persons and communities of color in our society and in the world.
The legacy of America's racism and the oppression of people of color continues to cast a long shadow in modern health care; we are committed to identifying where it exists and eliminating it. We acknowledge the horrific historical influence of racism in health care and nursing, including the exploitation of enslaved persons to develop medical treatments and technologies. We denounce the problematic persistence of race-based medicine and reject unscientific notions of race as a biological construct.
We are committed to an anti-racist approach, defined by individual and collective commitment to relentlessly examine the processes that repeatedly advantage and develop the potential of one group over another. We will work to make our curricula inclusive, continue to celebrate different heritages within our community and among those we serve as health care providers and researchers, removing the vestiges of oppression at UCSF and in the health care system of which we are apart. We do not pretend to be a model to be followed but we commit to be more than allies. We commit to being engaged partners and instigators of meaningful change.
Actions in Support of the School of Nursing's Commitment to Solidarity with Communities of Color
We propose to begin with a set of initiatives designed to promote healing in our own community and deepen our understanding of racism and bias.
1. We will create a virtual safe space via Zoom for community building and healing for our SON community. We are working to identify a facilitator and will provide information to the community as soon as possible.
2. We will expand the supporting services for those in distress with knowledgeable and neutral resource persons. I am exploring hiring a professional able to serve as a resource for students and coordinate needed services for our students. I envision this professional will be able to assist our faculty advisors in planning and accessing the services that are needed by our students.
3. We will acknowledge the ways in which our faculty and staff of color serve as principal supports for one another and for our students of color. We implemented a pilot program in 2019, which received positive feedback from the students involved. We are looking for funds and strategies to expand our reach and the number of students served.
4. We will embark on a program of community education on racism, and expand access to education on bias and macroaggressions to include our faculty, staff and students. We will amplify our resources through use of campus resources and contract with external experts who can assist us in recognition of the patterns that have contributed to the distress of our community members. These programs will be available to all of our faculty and staff and will be completed by the beginning of Fall Quarter 2020.
5. We have begun a crowdsourced list of resources to support our growth and education, which will be made available to faculty and staff. We are committed to growing this list of resources and to implementing activities to facilitate learning about the dynamics of racism, oppression and privilege and how these operate in our environment and across the world.
Moving forward, we have initiated the following additional actions that will take longer to implement:
· Our faculty members are taking steps to launch a required course on racism for our students.
· I am appointing an advisory committee chartered to guide us in the design and implementation of a significant community-facing project that will demonstrate our commitment to the most vulnerable communities we serve.