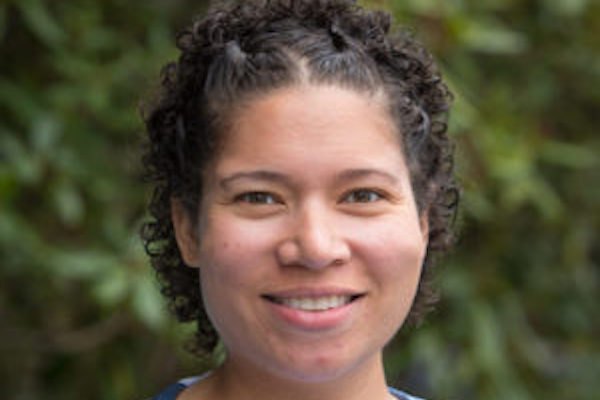 Jennifer James, PhD, MSW, MSSP, assistant professor in the School of Nursing, is one of three scholars nationwide to be named to the Greenwall Faculty Scholars Program in Bioethics' Class of 2024.
The program supports early-stage faculty members conducting innovative bioethics research addressing ethical, policy and practice issues.
"It is such an honor to be selected for this award," James said. "I am grateful for the support and training I've received from UCSF Bioethics as I have developed my program of independent empirical bioethics research grounded in intersectionality and community engagement."
James is the third UCSF scholar to be named a Greenwall Faculty Scholar since the program began in 2002. The others from UCSF were Alexander Smith, MD, MPH, MS, professor in the School of Medicine (Class of 2013), and Lori Freedman, PhD, associate professor in the School of Medicine (Class of 2017).
As a Greenwall Faculty Scholar, James will receive 50 percent salary support for three years to advance her bioethics career. Through her research project, "Healthcare decision-making in California women's prisons: historical legacies of injustice and modern regulatory constraints," she will explore the sterilizations that occurred in California's women's prisons over the last two decades, in order to elucidate the intersection of the historical legacy of eugenics, state regulations and the unique burden of custodial care in prisons. Her work will also explore patient-provider relationships and how health care in prisons can act as an extension of the state to regulate the bodies of women of color.
"I am looking forward to engaging with the growing community of bioethics scholars — on UCSF's campus and across the nation through the Greenwall Foundation — who are seeking to advance anti-racist approaches to bioethics, as well as conducting this research in partnership with the California Coalition for Women Prisoners," James said.
James is a sociologist and Black feminist scholar whose research lies at the intersection of race, gender and health with a particular focus on cancer, aging and chronic illness. She has won numerous fellowships and awards for her work, including the Qualitative Dissertation Award from the International Institute for Qualitative Inquiry in 2018.