The School of Nursing is proud to share that Naomi Schapiro, RN, PhD, PNP, was selected for this year's Outstanding Faculty Practice Award by the National Organization of Nurse Practitioner Faculties (NONPF). This honor recognizes Schapiro's life-long clinical and faculty commitment and celebrates her excellence in integrating practice into the Nurse Practitioner (NP) faculty role. She has worked in school-based health centers, adolescent clinics, and full-scope pediatric clinics and has been a revered professor in the School of Nursing for nearly two decades.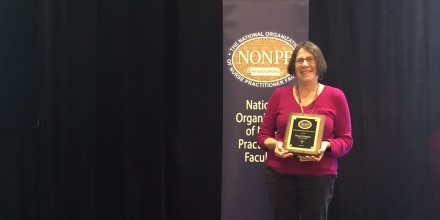 National Organization of Nurse Practitioner Faculties (NONPF)
Each year, NONPF recognizes select members for exceptional achievement in the categories of outstanding: educator, faculty practice, policy, researcher, and service. Honorees are chosen from nominations made by their peers. As an organization, NONPF provides timely and critical resources for NP educators and advances innovative models that support NP educational programs in order to meet the highest quality standards. NONPF also serves to unite and lead NP educators in transforming healthcare.
Faculty Practice and School-Based Health Centers (SBHC)
Since Schapiro became faculty in 2000, she has maintained active participation in an established NP faculty practice. During her first nine years, Schapiro practiced at the School-owned Faculty Practice, Valencia Health Services, where she precepted FNP and PNP students in the Master program. From 2000 to 2003, Schapiro continued practice in the San Lorenzo High School Health Center (HSHC), a clinic she helped develop in 1998, being the first provider in that practice. In 2010, she returned to this clinic under a practice agreement between UCSF and La Clinica de la Raza and continues to precept there today. The clinic is located in an underserved area of Alameda County and is one of twenty-nine school-based health centers (SBHC) under the coordination and support of Alameda County Center for Healthy Schools and Communities.
UCSF Elev8 Healthy Students and Families Project
Following the success of Schapiro's SBHC work, she led the UCSF Elev8 Healthy Students and Families Project (2011-14) as Director. Funded by the Atlantic Philanthropies, this project advanced the sustainability of SBHC expansion into Oakland middle schools and was recognized in 2013 with the Academic-Practice Partnership Award from American Association of Colleges of Nursing (AACN). Schapiro's strong ties with the SBHC allowed her to obtain Health Resources and Services Administration (HRSA) funding for 2014-17 toward primary care/behavioral health integration in SBHC, including integrated obesity care. Schapiro then initiated a grant-supported pilot pediatric psychiatric decision support consultation service to primary care providers in SBHC by psych mental health NP faculty/and affiliated pediatric psychiatrist in January 2015, which will expand to all twenty-nine SBHC in Alameda County.
Creativity in the Classroom
Schapiro demonstrates creative approaches for teaching models of care. She created a learning collaborative for providers and student preceptors, showcasing innovations in each health center, and disseminating recent evidence-based guidelines. Schapiro also continues to provide training at individual SBHCs as needed. From 2001 through 2014, Schapiro collaborated in developing models of population level screenings for sexually transmitted infections (STI), oral health, psychosocial and immigrant health issues, which enabled large numbers of NP and dental students to gain intensive practice in specific skills. Schapiro is currently in the process of developing a program to train Oakland High School Health Academy students to be standardized patients to expose them to graduate health careers, give them a marketable skill, and improve culturally appropriate simulation practice for UCSF students—part of an Oakland and Alameda County Pipeline to Health Careers initiative. This innovative activity will enhance NP training in the adolescent psychosocial interview.
Schapiro's stalwart commitment to enriching student experiences, adherence to outstanding standards of practice, and dedication to service are exemplary. The School of Nursing takes great pride in her recognition by NONPF.
Related Coverage: