UC San Francisco's School of Nursing Professor Kathleen Puntillo, RN, PhD, FAAN, will be honored with the 2017 American Association of Critical-Care Nurses (AACN) Pioneering Spirit Award on May 22. This award recognizes significant contributions that influence high acuity and critical care nursing regionally and nationally, and relate to AACN's mission, vision and values.
Puntillo will be honored at the AACN's National Teaching Institute and Critical Care Exposition in Houston, Texas, along with her colleague and collaborator Judith Nelson, MD, JD, who will also receive the award.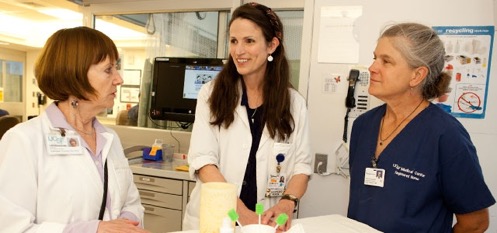 Puntillo is a Fellow of the American Academy of Nursing and graduate from the UCSF School of Nursing. In 2002, she established the first palliative care course at the UCSF School of Nursing and has since been at the forefront of training advanced practice nurses to be part of palliative care teams. Most recently, she contributed to "Patient and family involvement in adult critical and intensive care settings: a scoping review" and co-authored (along with Nelson and others) "Translating research Into practice: Palliation of thirst in intensive care unit patients."
Nelson is a well-known ICU physician in the palliative care field who is now Chief of the Palliative Care Service at Sloan Kettering Memorial Cancer Center in New York City and an ICU physician. A long-time partnership, Puntillo and Nelson have appreciated many years together doing ICU palliative care research, writing, and education.
According to AACN chief Clinical Care Officer Connie Barden, RN, MSN, CCRN-K, CCNS, the award is "significant recognition of [their] contributions to high acuity and critical care nursing through pioneering work in improving palliative care in the ICU as well as long-standing body of innovative interprofessional research." To view a list of past AACN Pioneering Spirit Awardees, see here.
Related Coverage:
UC Health Helps ICU Nurses Bring Palliative Care to Patients
Embracing the Complexities of Managing Pain
More Common and More Harmful Than Once Believed, Delirium Takes Center Stage
Is This Palliative Care's Moment?
Seminal Program Has Changed, Improved Acute Care in Northern California
Palliative Care Minor Builds On Historic Commitment, Interdisciplinary Collaboration
AACN Honors Puntillo, Nelson for Interprofessional Efforts to Integrative Palliative Care With Critical Care