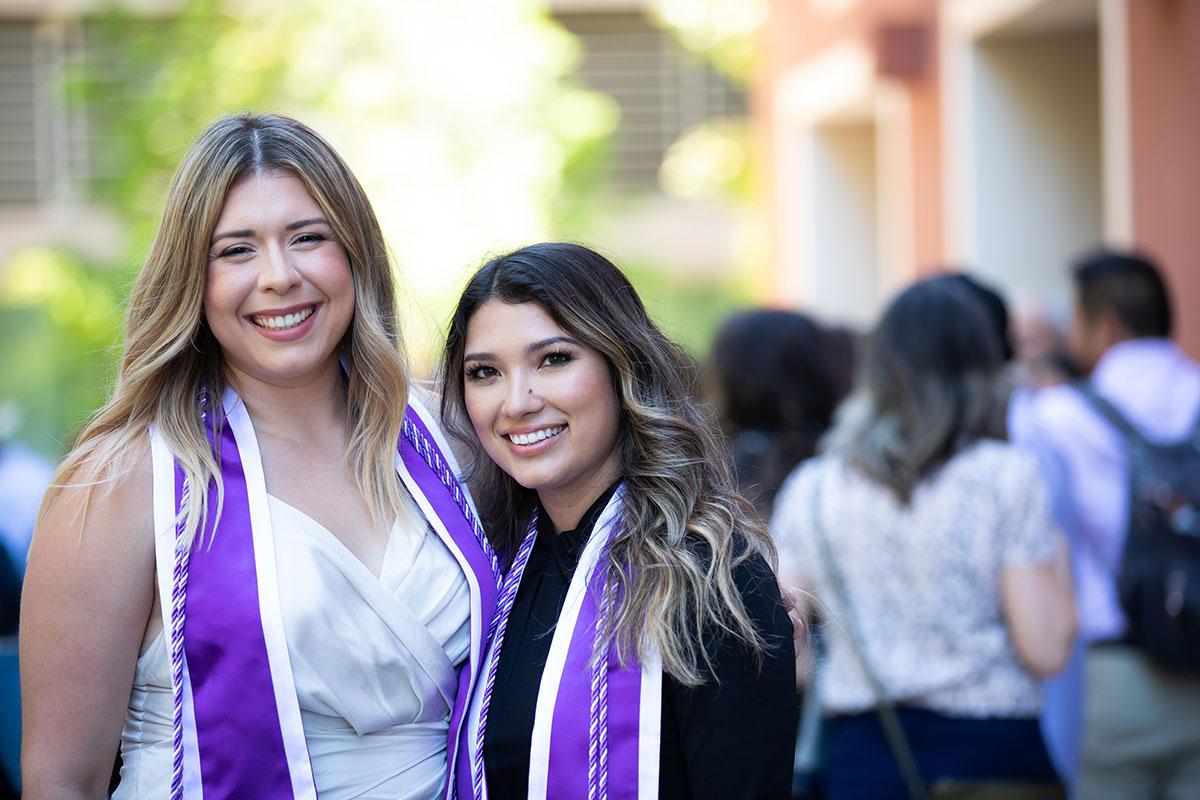 Before a celebratory crowd of family and friends, nearly 80 nursing students marked the completion of their rigorous first year in the Master's Entry Program in Nursing (MEPN) with a Pinning Ceremony on June 11, 2022.
A time-honored nursing school tradition dating back to 1855, the Pinning Ceremony celebrates students' completion of coursework and clinical training to become a registered nurse. Students receive a nursing pin and recite the nursing pledge at the event. The ceremony also marks the students' matriculation into the two-year master's program portion of their training, after they sit for the National Council Licensure Exam (NCLEX-RN) exam to become licensed registered nurses this summer.
Clinical Instructor Jamie Dula-Crawford served as the mistress of ceremonies for the MEPN Pinning Ceremony, which was held on UCSF's Mission Bay campus. Program Director Marianne Biangone described the significance of the ceremony in her welcome address.
Student speakers Edward Campbell and Jacob Virtusio shared memories of the past academic year, and thanked their peers, faculty, staff, family and friends for their support.
"From the countless hours on the Zoom to what felt like never-ending days on the units, we studied, we cried, we worked tremendously hard to meet those clinical goals, we tested and we passed," Virtusio said. "Many were parenting children, pets and or plants, supporting loved ones, working one or more jobs, and trying at all costs to get through this program with the knowledge base it takes to think like a nurse. We did all of this during a pandemic."
In her keynote address, nurse educator Angel Barrios congratulated the students and offered advice as they embark on their nursing careers.
"Trust that your education from one of the most prestigious universities and nursing programs in the nation has prepared you to care for patients safely," Barrios said. "You will soon go out there saving lives. Our fight against COVID is still ongoing and you are the soldiers in this war. In your journey as a nurse, never hesitate and never be afraid to advocate for your patients and their families."
During the ceremony, Chris Bowerman and Lana Kipnis were honored as this year's recipients of the Cait Walsh Award. Mags Hines was presented with the Emma Deboncouer Trans Health Scholarship Award. The international nursing honor society, Sigma Theta Tau, also had this year's 55 MEPN inductees acknowledged during the ceremony.