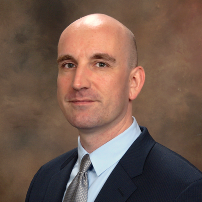 The School of Nursing is proud to share that Nursing and Health Policy PhD student Daniel Linnen, MS, RN-BC was selected for the American Nursing Informatics Association (ANIA) 2016 Maggie Cox Award. This annual award is presented for the best article published in Nursing Informatics Today—the professional journal of ANIA.
Linnen investigates the ability to predict clinical outcomes for high-risk patients by applying the next generation of big data technologies and predictive analytics in acute care. A board certified Nursing Informatics Specialist at Kaiser Permanente (KP), National IT and Innovation, he received his Master's of Science degree in Health System Leadership from UCSF, and a Bachelor's degree in Nursing from California State University Chico.
The selection process for the Maggie Cox Award includes assessment for scholarly, interesting, timely, and valuable articles. In his winning article "From Data to Action: Developing Next-Gen Enterprise Dashboard Analytics to Reduce Clinical Alarm Fatigue" (page 4), Linnen, Quinton, and Staley (2015) discuss a big data analytics project at KP, including the development of a national alarm notification data mart for physiological alarms across four regions and the creation of a fast-loading, multi-layer clinical alarm notification dashboard using a state-of-the-art visual analytics solution. The article also highlights the need for interprofessional collaboration and maintaining a user-centric vision. Linnen led conceptualization and design of the visual analytics, developed the dashboard through several iterations, and facilitated the interregional engagement with clinical staff and leaders. He will receive the award during ANIA's Annual Conference in San Francisco on April 22.
Linnen's specific research interest includes investigating the ability to predict clinical outcomes for high-risk patients. In addition, he is interested in the policy aspects of healthcare information technology and advanced analytics. Linnen's clinical background includes six years as a critical care nurse (CCRN) and four years as department leader of a critical care unit in Walnut Creek, CA. He has led and collaborated in numerous clinical analytics projects, many at national scale at KP, including electronic sepsis recognition, delirium risk prediction, safe alarm management, clinical event notifications, and electronic dashboard design and development. Linnen was honored with the "Emerging Leader" award from the Sigma Theta Tau International chapter at UCSF in 2014, and was selected to be a 2016-18 Jonas Nurse Leader Scholar, joining an impressive cadre of scholars supported by the Jonas Center for Nursing Excellence.