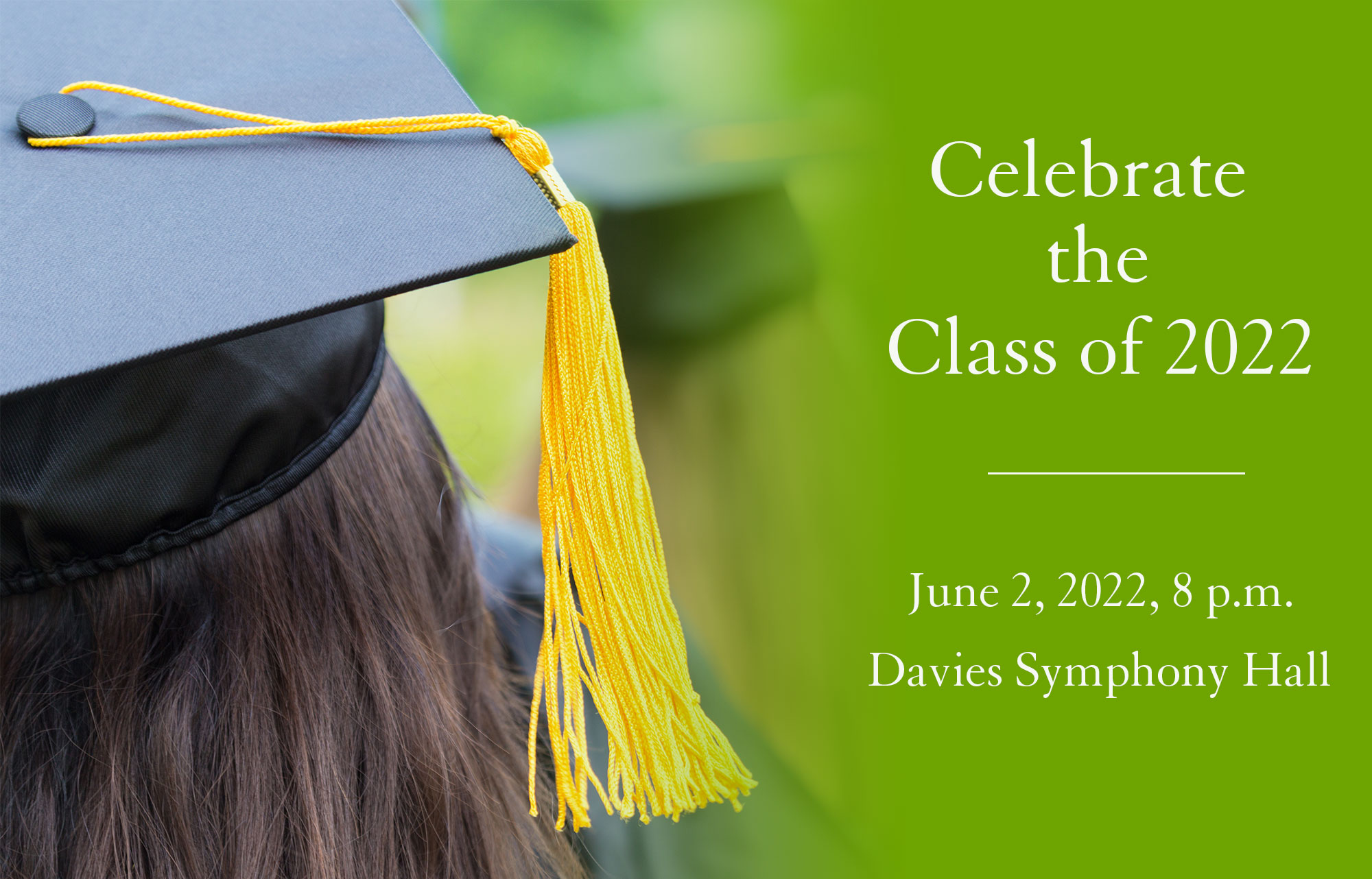 Join us as we celebrate the accomplishments of the Class of 2022.
School of Nursing 2022 Commencement Ceremony
June 2, 2022, 8 p.m.
Davies Symphony Hall, San Francisco
Please note that Commencement will not be live streamed or recorded. More information, including the commencement schedule and speakers, will be provided soon.
Important Guidelines For All Attendees
While COVID case counts have improved, the pandemic remains a reality. Davies Symphony Hall has guidelines, which are consistent with the San Francisco Department of Public Health's orders, that all attendees are required to follow:
All students, guests, faculty and staff are required to wear a well-fitted mask at all times inside Davies Symphony Hall.
Graduating students are permitted to lower their mask briefly immediately as they step onto the stage, walk across the stage to receive their diploma, and take a photo. All graduating students must put their masks back on — fully covering the nose, mouth and chin — before stepping off the stage and returning to their seat.  
A well-fitted mask is defined as a mask that covers the nose, mouth and chin. An N95 mask is strongly recommended. A KN95, surgical mask or double layer cloth mask are acceptable. You may not wear a scarf, ski mask, balaclava, bandana, turtleneck, collar or single layer of fabric.
Everyone attending commencement — students, guests over the age of 12, faculty, staff and vendors — must provide proof of full vaccination. Full vaccination includes the COVID-19 booster shot. Children who are not eligible for vaccination must show proof of a negative COVID test for entry (PCR test taken within 48 hours of the event or antigen rapid test taken within 24 hours of the event).
No vaccine exemptions will be allowed. Davies Symphony Hall's policy states: "Due to the extreme risk unvaccinated persons pose to others, the War Memorial will not allow accommodations for medical reasons or sincerely held religious beliefs."
School of Nursing staff and Davies ushers will check all attendees for mask compliance and proof of vaccination at the building entrances. Any student, guest over the age of 12, faculty, staff or vendor who is not in compliance will not be allowed to enter. For children who are not eligible for vaccination, Davies ushers will check for proof of a negative COVID test as stated above; those who are not in compliance will not be permitted to enter the facility.
Ordering Regalia
Graduating students can visit Josten's online store for UCSF to order regalia by April 22. The regalia sets include gowns, hoods, caps and tassels, and will take two to three weeks to receive. If you are a doctoral graduating student and would like to purchase a deluxe gown set, email [email protected] for more information. These special gowns are a better quality and are custom made. Graduates who expect to assume faculty roles after graduation and who expect to get a lot of use out of their regalia prefer this option.
Graduating students may also purchase optional graduation announcements and other mementos in Josten's online store.