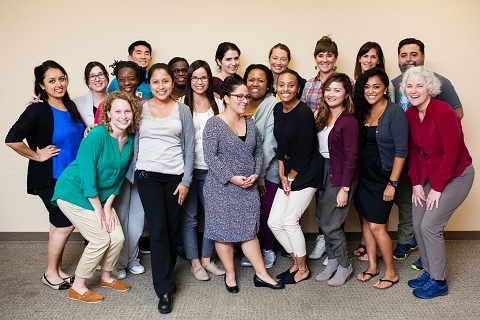 The Department of Family Health Care Nursing offers a minor in diabetes (video) to any student enrolled in a Master's program in the School of Nursing at UCSF. Students who complete all three courses will be awarded a certificate that they have completed the minor in diabetes. Students in the ACNP, AGNP, FNP, ACPNP, and PNP specialties are given preference for enrollment, as the course of study is focused on outpatient management of diabetes. This program provides students with expertise in diabetes across the lifespan with courses that focus on the medical management of pediatric and adult diabetes, as well as the behavioral aspects of self-management of this chronic condition.
Students accepted into the minor may have the opportunity to be placed in clinical rotations specific to the delivery of diabetes care within primary care and specialty care clinics. These clinical rotations will be arranged through the students' specialty coordinators. Clinical practices include the UCSF Madison Clinic for Pediatric Diabetes, The UCSF Diabetes Teaching Center, The Richard H. Fine People's Clinic at ZSFG (Zuckerberg San Francisco General), the ZSFG Endocrine Clinics, and other family practice and community clinics.
Applications
Students interested in the diabetes minor need only send a one-page goal statement as to why they want to take the minor course of study. Additionally, student advisors will need to send an email to Maureen McGrath, Program Director, to verify that the student has discussed their decision with their advisor and that they are in good academic standing. Contact  [email protected] with questions.
Courses
(Course details are subject to change.)
N296A Advanced Management of Pediatric Diabetes.
Fall Quarter, 2 units, 2nd year students only
The primary focus is on diabetes (T1 and T2DM) in a pediatric population. Course will include: epidemiology and detection of diabetes in children and adolescents; pathophysiology; disease management requirements; pharmacological treatment; diabetes education and self-care management expectations for pediatric patients and their families.
N296C Advanced Clinical Management of Adult Diabetes.
Winter Quarter, 2 Units, 2nd year students only
Primary focus is on T2DM in an adult population. Course will include epidemiology and detection of diabetes in adults; pathophysiology; disease management requirements; advanced pharmacological treatment; care of special populations with diabetes such as the elder patient, persons with co-morbid conditions such as mental illness, and care of underserved populations.
N296B / N301.5 Family and Behavioral Approaches to Diabetes Management Across the Lifespan.
Spring Quarter, 2 Units, Didactic plus Laboratory, 1st & 2nd year students
Course focuses on the complex behavioral, educational, and family skills required to support patients in living with diabetes. Topics include: behavioral theories for managing diabetes, family theories for influencing health outcomes; empirically based intervention strategies for behavior change. The related lab focuses on student skill development in varied forms of behavioral and family intervention (e.g. motivational interviewing; coping skills training, problem-solving interventions, behavioral goal setting and follow-up).
Extracurricular Elective Community Activities
Students will have the opportunity to observe and/or participate in some of the following activities and organizations:
The UCSF Diabetes Teaching Center: http://dtc.ucsf.edu/workshops-and-classes/
The ZSFG Endocrine Clinic Patient Education Classes
The Diabetes Youth & Families (DYF): http://www.dyf.org/volunteer-paid-opportunities/volunteer-opportunities/
See Spanish Language Family Camp (video) as an example of student and faculty work.
Online 30-unit Continuing Medical Education (CME) Course 
For graduates and interprofessional colleagues, the UCSF School of Nursing Advanced Management of Diabetes online certificate program will provide learners with a foundation of knowledge to improve outcomes for patients and healthcare systems. Three self-paced modules cover core competencies that practitioners from any discipline can integrate into their practices and include presentations and simulations from leading experts in the field. The curriculum is designed to support all learners, especially useful to those who are preparing to obtain or renew their Certified Diabetes Educator (CDE) and Board Certified - Advanced Diabetes Management (BC-ADM) exams.
To register or for more information: http://www.ucsfcme.com/diabetes/
Contact
Maureen McGrath, MSN, PNP, BC-ADM
Department of Family Health Care Nursing
UCSF School of Nursing
2 Koret Way, N-411Y, Box 0606
San Francisco CA
94143-0606
Telephone: 415-502-3203
Fax: 415-753-2161
Email: [email protected]
 UCSF Madison Clinic for
Pediatric Diabetes
    — madisonclinic.ucsf.edu
J. K. Schreyer Diabetes Care Center
    — diabetes.ucsf.edu/adult-care
UCSF Diabetes Teaching Center
    — dtc.ucsf.edu
UCSF Diabetes Center
    — diabetes.ucsf.edu
UCSF Advanced Management of Diabetes Online CME Course
    — www.ucsfcme.com/diabetes/