About Elev8 Oakland
Elev8 brings together schools, families and the community in underserved neighborhoods to ensure that students succeed in school and in life. The Elev8 initiative is being implemented in New Mexico, Chicago, Baltimore, and Oakland, with schools, local nonprofits and community partners working to provide integrated service delivery in public middle schools.
Elev8 Oakland reaches about 2,000 students in 6th through 8th grades at five middle schools in Oakland, California: United for Success Middle School, West Oakland Middle School, Havenscourt Campus (ROOTS International Academy and Coliseum College Prep), Madison Park Academy and Roosevelt Middle School. The selection of these five campuses for the Elev8 program was based on criteria that included socio-economic need and disparity, health profiles, academic performance and neighborhood crime data.
UCSF Elev8 Partnership
From 2011 to 2014, University of California San Francisco (UCSF) Schools of Nursing and Dentistry faculty and students will partner with the Elev8 Oakland Initiative to address the increasingly urgent need to provide quality, in-school health care to children in underserved communities. This need, exacerbated by recent health and education cuts in federal and state budgets, is acute in the Oakland communities served by Elev8 schools.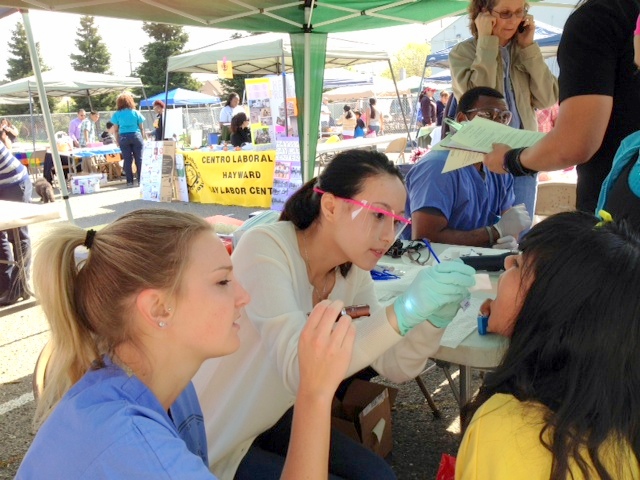 The UCSF Elev8 Healthy Students & Families Program collaborates with Elev8 community partners to achieve the initiative's health promotion goals to:
1) improve the health and future lives of children 
2) promote healthy families from underserved urban communities
3) develop replicable health and education models for school-based care
UCSF will support the goals of the Elev8 Initiative by:
placing advance practiced nursing and dental faculty, providers and students in the Elev8 School Health Centers (SHC) to implement the following broad strategies:
providing high quality physical, mental and dental health services, case management services, and health education to Elev8 students;
enhancing capacity of the SHC to serve Elev8 students with special health care needs, such as asthma, diabetes, and other chronic conditions and provide screening and prevention of overweight/obesity and increasing healthy lifestyle for Elev8 students;
engaging UCSF students in Elev8 sites with health-oriented science curriculum and exposure to health care students and professionals;
engaging and empowering Elev8 students and parents to improve health literacy and health advocacy at the individual, family and community levels;
and developing new models of financially sustainable and integrated health care service delivery in a school-based environment.
News & Publications
Journal of Pediatric Healthcare published "Afforable Care Act: States Move Forward with Health Reform" by Karen Duderstadt, RN PhD, CPNP, PCNS, who is SON faculty on the UCSF Elev8 team. (March/April 2013)
Current Problems in Pediatric and Adolescent Health Care published "Separation and Reunification: The exepriences of adolescents living in transnational families" by Naomi Schapiro, RN, PhD, CPNP, who is SON faculty and UCSF Elev8 Project Director; and co-authors Susan M. Kools, RN, PhD, FAAN; Sandra J. Weiss, RN, DNSc, Claire D. Brindis, DrPH. (March 2013)
EdSource featured the dental program at James Madison Middle School in an article about school-based dental safety nets. UCSF Elev8 provides supports all of the services in the Madison school based health center by providing NP practice, advising and technical trainings. (March 31, 2013)
Journal of Pediatric Health Care published a policy brief by FNP gradute Anthony Sayegh, MS, RN, FNP, co-authored by UCSF Elev8 project staff, with reccomendations for condom availability in middle schools. (November 2012)
Science of Caring, a publication of the UCSF School of Nursing, featured an article about UCSF Nursing faculty and students' work in the Elev8 middle school clinics and classrooms. (August 2012)
Current Problems in Pediatric and Adolescent Health Care published an issue titled "School Based Health Centers in an Era of Health Care Reform: Building on History," edited and with articles by Victoria Keeton, SON and Elev8 faculty; and Samira Soleimanpour and Claire D. Brindis, IHPS and Elev8 evaluation team. (July 2012)
UCSF News Center featured an article introducing the goals and activities of our new Elev8 partnership to the university community. (November, 2011)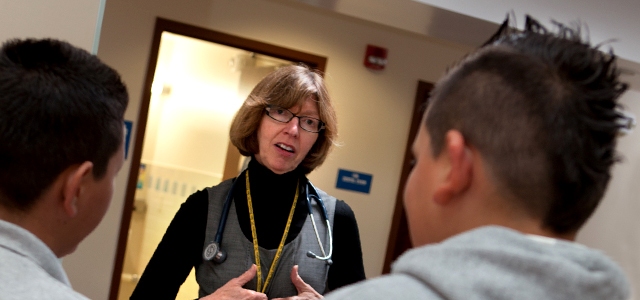 UCSF Elev8 Faculty and Staff Naomi Schapiro, RN, PhD, CPNP, Director
Linda Sturla Franck, RN, PhD, FRCPCH, FAAN, Chair of Family Health Care Nursing Department
Baharak Amanzadeh, DDS, MPH, Oral Epidemiology and Dental Public Health
Annette Carley, RN, MS, NNP-BC, PNP-BC, Faculty
Lisa Chung, DDS, MPH, Oral Epidemiology and Dental Public Health
Karen Duderstadt, RN PhD, CPNP, PCNS, Faculty
Barbara Hollinger, RN, MSN, FNP-C, Faculty
Victoria Keeton, RN, MS, CPNP, CNS, Faculty
Rebecca Peterson, Dental Hygienist
Ivette Gutierrez, Project Analyst