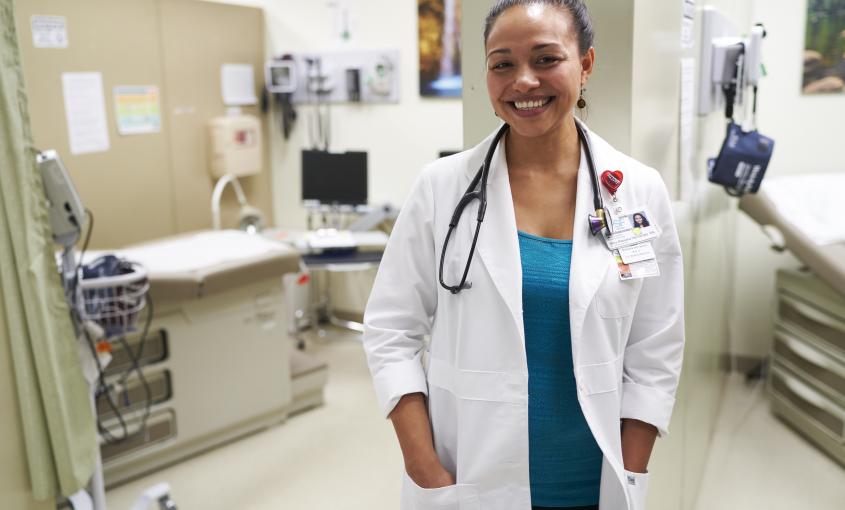 Mary Massella
Master of Science Program
Mary Massella's journey to UCSF started in poverty. As a child, she emigrated from war-torn Guatemala with her family in hopes of a better life. Once in the U.S., her mother cleaned houses, and both parents worked multiple jobs to put Massella (above, right), a standout student, through community college. She eventually earned a bachelor's degree in nursing and landed a job at La Clínica de la Raza in Oakland, which cares for underserved communities.
Inspired by the nurses on staff – most of whom trained at UCSF – Massella pursued a master's degree at the UCSF School of Nursing. During orientation, she met Maureen McGrath, RN, MS '95 (above, left), director of the school's pioneering diabetes minor – the first such program in the nation. McGrath helped define the nurse practitioner's role in addressing the diabetes epidemic sweeping the country. She shaped the program to help people who have difficulty accessing care or face language or cultural barriers. For Massella, it was a perfect fit. "I see diabetes all day long in my practice," she says.
"I will always be grateful to UCSF and my mentor, Maureen McGrath, for giving me the tools I needed to enable me to give back to my community."
— Mary Massella, MS '17, RN
With McGrath's encouragement, Massella dove into the program. "Maureen is my inspiration," she says. As a Madison Clinic Peggy Huang Diabetes Nurse Fellow, Massella volunteered for every opportunity, including participating in camps for kids, teens, and families affected by the disease. Run by the nonprofit Diabetes Youth Families, the camps also offer sessions for Spanish-speaking families.
"The experience was life-changing. I learned to appreciate the emotional and psychosocial aspects of diabetes," Massella says. Next year, she will serve as medical director of the Spanish-language camps. "Mary brings a whole new level of understanding and sharing with the families," says McGrath.
Massella also traveled twice to Chiapas, Mexico, to examine nursing in rural communities – where nurses are the primary providers of medical care, as well as advocates for local families – and share novel ways to improve outcomes for people affected by type 2 diabetes.