Original article on UCSF.edu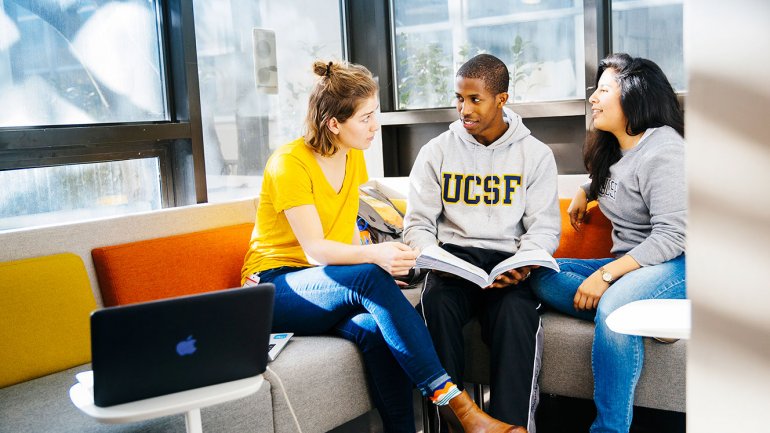 UC San Francisco's schools of medicine, nursing and pharmacy received top rankings nationally in this year's U.S. News & World Report survey of best graduate schools.
Medical schools are evaluated in two categories, research and primary care, and UCSF was the only school of medicine in the top five in both. It was also the top-ranked public university in research.
The School of Medicine ranked in the top 10 in six of the seven the specialty areas, including drug/alcohol abuse, family medicine, geriatrics, internal medicine, pediatrics and women's health. The exception was rural medicine. AIDS was not included in the specialty rankings this year.
"Today's doctors need to bring the latest research into their clinical practice to provide the best care for their patients," said Talmadge King, MD, dean of the School of Medicine. "We're pleased to be credited once again with delivering exceptional training in both."
UCSF's Doctor of Pharmacy program (PharmD) was ranked third.
"The top programs share exceptional strength and breadth," said B. Joseph Guglielmo, PharmD, dean of the UCSF School of Pharmacy."The survey underscores what we know so well: we have an exceptional, dynamic PharmD program, and outstanding students and faculty."
The UCSF School of Nursing was ranked number three, and it was the top ranked school at a public university. The School of Nursing was in the top 10 in all five of the ranked nursing programs that are offered at UCSF: adult/gerontology primary care, family, pediatric primary care, psychiatric/mental health across the lifespan and nurse midwifery, which was ranked first.
"The UCSF School of Nursing continues to be recognized as a top school with excellence in teaching, research and clinical practice," said David Vlahov, RN, PhD, dean of the UCSF School of Nursing. "We are proud of our outstanding students and alumni who go on to have impact in all areas of health and health care."
Science PhD programs were not ranked this year. U.S. News does not rank graduate schools of dentistry.
The U.S. News medical and nursing school rankings are based on data provided by schools, as well as surveys of deans, deans of academic programs and heads of internal medicine or directors of admission. Other factors include the amount of funding that faculty receive from the National Institutes of Health, the rates at which graduates enter primary care residencies in family practice, pediatrics and internal medicine, how selective the school is in admitting students and the ratio of full-time science and clinical faculty to medical students. Medical specialty areas are ranked based on ratings made by medical school deans and senior faculty at peer institutions who were asked to identify up to 10 schools offering the best programs in each specialty. The pharmacy ranking is based solely on surveys sent to deans, administrators and faculty at accredited PharmD programs.
UC San Francisco (UCSF) is a leading university dedicated to promoting health worldwide through advanced biomedical research, graduate-level education in the life sciences and health professions, and excellence in patient care. It includes top-ranked graduate schools of dentistry, medicine, nursing and pharmacy; a graduate division with nationally renowned programs in basic, biomedical, translational and population sciences; and a preeminent biomedical research enterprise. It also includes UCSF Health, which comprises two top-ranked hospitals, UCSF Medical Center and UCSF Benioff Children's Hospital San Francisco, and other partner and affiliated hospitals and healthcare providers throughout the Bay Area.