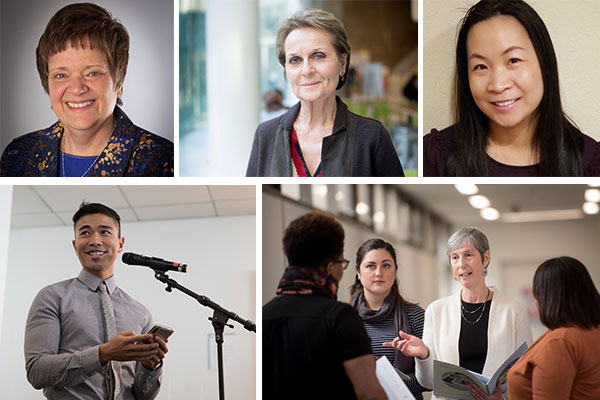 By Katherine Tam
The UCSF School of Nursing captured $10.4 million in federal National Institutes of Health (NIH) funding in 2019 — a nearly 15 percent increase from the previous year — to fuel research that advances human health and the health of communities.
The School ranked No. 3 out of more than 70 nursing schools nationwide, according to the new 2019 rankings compiled by the independent Blue Ridge Institute for Medical Research based on NIH data.
The top three ranked schools each garnered more than $10 million in NIH funding. The UCSF School of Nursing closely followed University of Pennsylvania, which ranked first with $11.3 million, and University of Washington, which ranked second with $10.9 million.
Among public nursing institutions, UCSF ranked No. 2 nationwide.
School faculty use NIH funding to expand our understanding of complex diseases, aging, depression and dementia, and other health issues, and to address health disparities through policy. The total amount garnered in NIH grants and contracts in 2019 substantially exceeded the $9.1 million the School secured in 2018.
"Our continued ranking as one of the leaders in NIH funding is a reflection of both the expertise and the drive of our researchers," said UCSF School of Nursing Dean Catherine L. Gilliss, PhD, RN, FAAN. "From cancer and Alzheimer's to substance use and pesticides, the research our faculty are engaged in aims to improve and transform health care for all."
Top UCSF School of Nursing Recipients of NIH Funds in 2019
| | | |
| --- | --- | --- |
| Recipient | Total NIH Funding | Project(s) |
| Christine Miaskowski | $1,711,977 | Biomarker and Phenotypic Risk Factors for Breast Cancer Lymphedema; Impact of Hearing Loss and Tinnitus in Cancer Survivors |
| Van Ta Park | $1,159,554 | Collaborative Approach for Asian Americans and Pacific Islanders Research and Education (CARE) in Alzheimer's Disease and Related Dementias |
| Sandra Weiss | $1,119,717 | Antenatal Corticosteroids; Maternal Depression and Preterm Infant Stress Response; Biobehavioral Research Training in Symptom Science |
| Abbey Alkon | $746,526 | Reducing Pesticide Exposures to Preschool-Age Children in California Child Care Centers |
| Glenn-Milo Santos | $717,756 | The A-HACK Project: Addressing Heavy Alcohol Consumption With Kudzu; Treatment with Lorcaserin for Cocaine Use: The TLC Study |
| Mica Estrada | $705,888 | Studying Inclusive Mentor Networks to Diversify the Biomedical Workforce |
| Ruth Malone | $678,672 | Tobacco Retail Policy Innovation to Reduce Health Disparities |
| Kord Kober | $625,752 | An Investigation of the Molecular Mechanisms for and Prediction of the Severity of Cancer Chemotherapy-Related Fatigue Using a Multi-staged Integrated Omics Approach |
| Barbara Koenig | $621,625 | Precision Genomics in the WISDOM Pragmatic Clinical Trial: An 'Embedded' ELSI Study of Risk-based Breast Cancer Screening |
| Jenny Liu | $326,802 | Reaching Adolescent Girls and Young Women through Girl-Friendly Drug Vendors |
| Elena Portacolone | $224,929 | Identifying Scalable and Culturally Relevant Strategies for Recruitment of African Americans With Cognitive Impairment Into Dementia Research; Living Alone in Older Age With Cognitive Impairment |
| Annesa Flentje | $216,930 | Gene Expression Outcomes in Interventions for Substance Using HIV+ Minority Men |
| Elena Flowers | $200,833 | Evaluating Longitudinal Relationships Between Circulating MicroRNAs and Risk for Type 2 Diabetes and Responses to Behavioral Interventions |
| Emily Tuthill | $197,683 | Understanding the Role of Food Insecurity and Depression in Non-Adherence to Option B+ Among Perinatal Kenyan Women Living With HIV: A Syndemics Approach |
| Cherry Leung | $86,978 | Gut Microbiota, Inflammation and Adolescent Depressive Symptoms |
| Kristen Clark | $36,792 | The Relationship of Stressors in Health Care to Emotional and Physical Symptoms Experienced by Marginalized People |
(Date Posted: April 2, 2020)