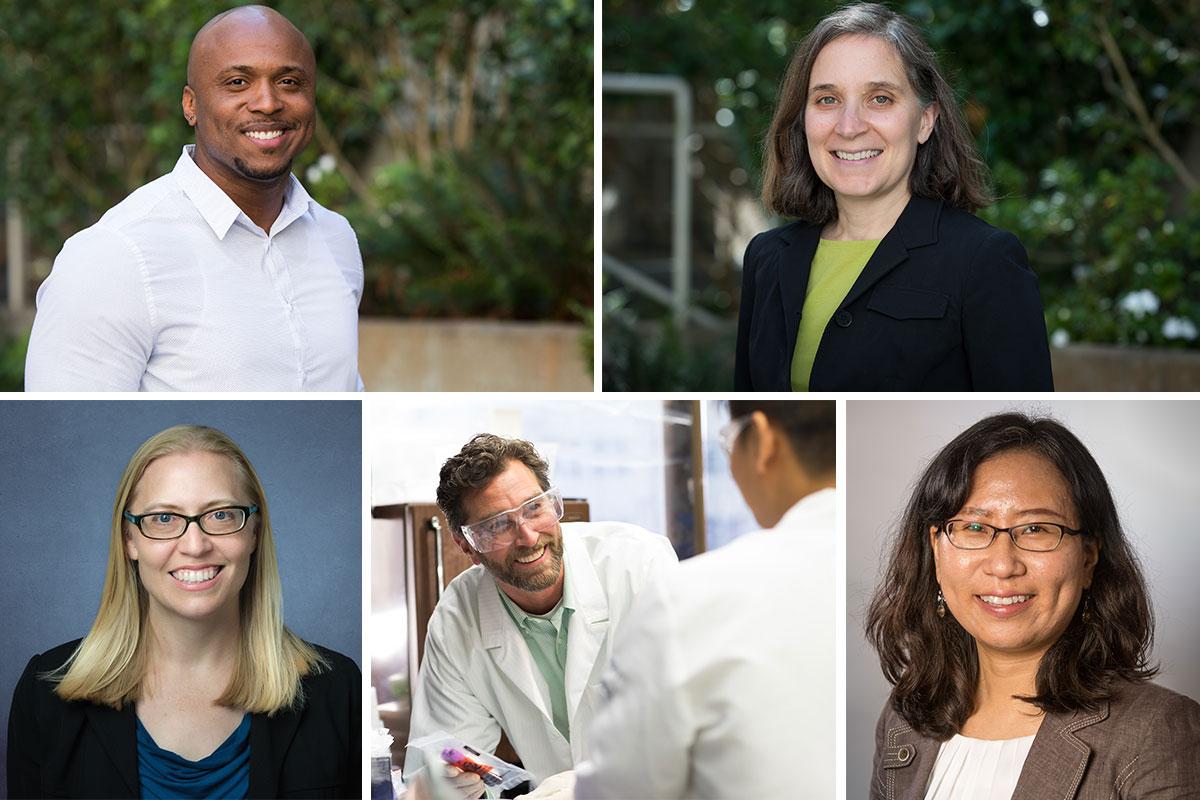 The UCSF School of Nursing is the leading public recipient of 2022 federal research funding among nursing schools nationwide, capturing $13.2 million to drive studies that advance health and health equity.
The school ranks No. 1 among public institutions in its field in National Institutes of Health (NIH) funding, and No. 4 overall among all private and public nursing organizations nationwide, according to rankings released by the Blue Ridge Institute for Medical Research based on NIH data.
"Research that advances health is an integral part of our mission," said Dean Catherine L. Gilliss, PhD, RN, FAAN. "Every day, our faculty and scholars lead innovative research that accelerates nursing science and transforms care across California and the nation."
The school's experts use the NIH grants to deepen understanding of the causes of health disparities, to improve treatments for diseases ranging from Alzheimer's to diabetes, and to shape health policies and practices. Their studies span the school's five research themes: Aging and Life Course; Community and Population Health; Health Equity; Digital Health, Omics and Data Science; and Symptom Science.
"Our work across these five themes demonstrates the breadth of our research," said Associate Dean for Research, Julene Johnson, PhD. "Every dollar that we receive in grant funding is funneled into new studies and research with the sole aim of improving the health of our communities."
In addition, the grants that faculty secured encompass three categories of NIH's competitive funding: R01 grants that signify the hallmark of research independence, K awards for career development, and infrastructure grants.
These NIH-funded projects include:
In Aging and Life Course:

Hospice use in older adults with Alzheimer's disease and related dementias: Patterns, policies and caregiver experiences (principal investigator: Lauren Hunt)
Relationships of dementia care workforce experiences, training and work environment to resident outcomes in skilled nursing facilities (principal investigator: Laura Wagner)

Community and Population Health

Impact of COVID-19 on disinfectant exposure and associated health effects (principal investigator: Soo-Jeong Lee)
AmbassADDOrs for Health: Supporting young women's health through girl-friendly drug vendors (principal investigator: Jenny Liu)

Health Equity:

Addressing disparities in tobacco-related diseases by understanding the tobacco industry strategies (principal investigator: Stella Bialous)
Jamaica CARES Project: Connecting HIV/AIDS resources to engage Jamaican sexual and gender minorities (principal investigator: Orlando Harris)

'Omics and Data Science

Substance use and DNA methylation at the intersection of sex and gender (principal investigator: Annesa Flentje)
The impact of interventions to treat incident diabetes on circulating microRNAs in the diabetes prevention program (principal investigator: Elena Flowers)

Symptom Science

An investigation of the molecular mechanisms for and prediction of the severity of cancer chemotherapy-related fatigue using a multi-staged integrated omics approach (principal investigator: Kord Kober)
The school's Office of Research provides resources and funding opportunities to support faculty members and postdoctoral scholars in leading and publishing new studies.
Projects Awarded NIH Funding in 2022
| Principal Investigator | Project |
| --- | --- |
| Abbey Alkon | Reducing pesticide exposures to preschool-age children in California child care centers |
| Stella Bialous | Addressing disparities in tobacco-related diseases by understanding the tobacco industry strategies; and integrating tobacco use cessation into HIV care and treatment in Ministry of Health Facilities in Kisumu County, Kenya |
| Julia Brown | The emergence of prenatal gene therapy: an "embedded ethics" ethnography investigating clinical, scientific and societal values |
| Mica Estrada | Scaling up culturally affirming pathways to biomedical faculty careers for native scholars; and Studying inclusive mentor networks to diversify the biomedical workforce |
| Annesa Flentje | Substance use and DNA methylation at the intersection of sex and gender; Investigating substance use, minority stress, and inflammation among sexual and gender minority participants in the All of Us research program |
| Elena Flowers | The impact of interventions to treat incident diabetes on circulating microRNAs in the Diabetes Prevention Program |
| Orlando Harris | Jamaica CARES project: connecting HIV/AIDS resources to engage Jamaican sexual and gender minorities |
| Lauren Hunt | Hospice use in older adults with Alzheimer's disease and related dementias: Patterns, policies and caregiver experiences |
| Jennifer Jain | Women, intersectionality, substance use and HIV |
| Julene Johnson | Impact of music improvisation training on brain function and cognition among older adults |
| Kord Kober | An investigation of the molecular mechanisms for and prediction of the severity of cancer chemotherapy-related fatigue using a multi-staged integrated omics approach |
| Soo-Jeong Lee | Impact of COVID-19 on disinfectant exposure and associated health effects |
| Jenny Liu | Effects of a prosocial intervention among sellers of HIV and reproductive health supplies on young women's health; and AmbassADDOrs for Health: Supporting young women's health through girl-friendly drug vendors |
| Ruth Malone | Tobacco retail policy innovation to reduce health disparities |
| Elena Portacolone | Access and use of long-term services and supports for older adults living alone with Alzheimer's disease and related dementias from four racial/ethnic groups; and Leveraging the national infrastructure of trusted organizations to increase representation of Latinos in dementia research |
| Glenn Milo-Santos | ASTERISK: Alcohol and Substance use Treatment and Engagement Research on Intervention Studies among Key populations; The ION+EMI Study: Intermittent oral naltrexone enhanced with an ecological momentary intervention for methamphetamine-using MSM; and The A-HACK project: Addressing heavy alcohol consumption with Kudzu |
| Shannon Smith-Bernardin | Evaluation of paramedic decision making in triage and transport of adults with acute uncomplicated alcohol intoxication to the emergency department versus sobering center |
| Emily Tuthill | Understanding the role of food insecurity and depression in non-adherence to Option B+ among perinatal Kenyan women living with HIV: A Syndemics approach |
| Laura Wagner | Relationships of dementia care workforce experiences, training and work environment to resident outcomes in skilled nursing facilities |
| Sandra Weiss | Perinatal precursors of early microbiome development |