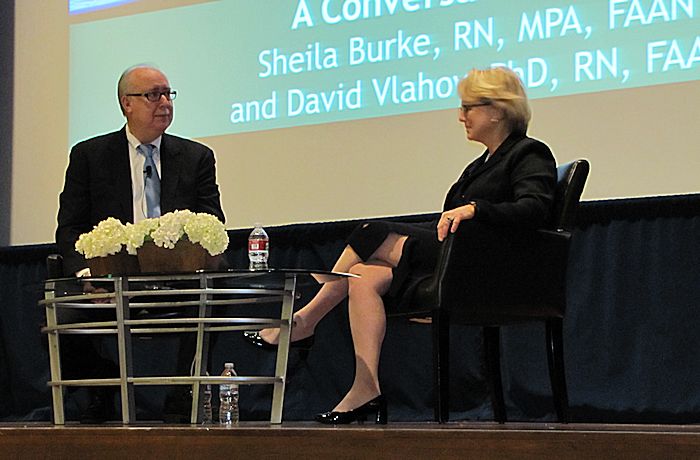 Over 300 Bay Area nurse champions attended the 2013 Betty Irene Moore Speaker Series: Leading the Way in Nursing featuring national leader, Sheila P. Burke, RN, MPA, FAAN and local leader, David Vlahov, PhD, RN, FAAN as they discussed leadership development and opportunities to make an impact in patient care.
Sheila P. Burke is a Faculty Research Fellow at the Malcolm Wiener Center for Social Policy and a member of the faculty at the John F. Kennedy School of Government at Harvard University.  She is also a Senior Public Policy Advisor, Baker, Donelson, Bearman, Caldwell & Berkowitz. David Vlahov is Dean and Professor of Nursing Education at the University of California, San Francisco, School of Nursing.  This dynamic program was part of the Betty Irene Moore Nursing Initiative's goal to expand continuing education for new nurses.

Throughout the lively conversation, Burke and Vlahov shared their experiences and offered the following Tips on Leadership:
Work with people you respect and can learn from.
For you and everyone else:  make family, however you define it, a priority.  If you focus on your family, your work will flourish.
Never burn bridges.
Talk less and listen more.
Find a mentor.  Some you can confide in and seek guidance from.
Unlearn and be open to new ideas – don't draw a line in the sand, step across the lines.  Read constantly.
Be the best prepared person in the room and always be prepared to speak up; or when necessary, listen carefully.
Start and advance conversations; not avoiding and ending conversations.
Never ever lose your sense of humor.  There will always be a pony in there somewhere.
Be enthusiastic.
As the program came to a close, Burke reminded the audience of the value of her Nursing education:  "We are all in situations when someone challenges your judgment.  Nursing prepares you deal with this and stand your ground."