President Barack Obama has announced the appointment of UC San Francisco's Alice Wong to the National Council on Disability.
"I am honored that these talented individuals have decided to join this Administration and serve our country," Obama said in a statement. "I look forward to working with them in the months and years to come."
Wong is a staff research associate for the UCSF School of Nursing's National Center for Personal Assistance Services, which conducts research and training about personal care services that help people with disabilities live in the community, as opposed to being institutionalized in a nursing home.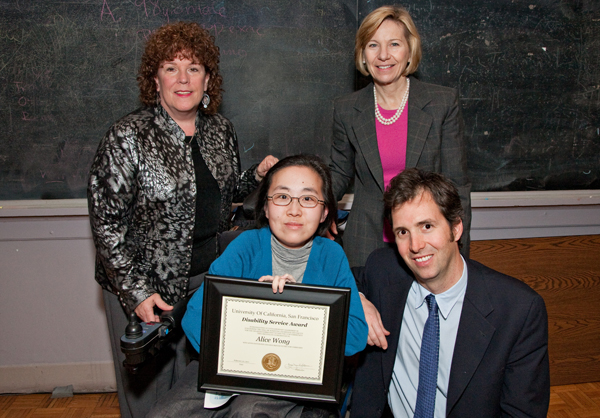 Alice Wong, center, holds up her 2010 Chancellor's Disability Service Award, honoring members of the UCSF community for their dedicated and remarkable work to advance access for and accommodation of those with disabilities. From left, fellow awardee Geraldine Collins-Bride, Wong, UCSF Chancellor Susan Desmond-Hellmann and another fellow awardee Nathaniel Gleason. Photo by Susan Merrell.
Wong is also president of the San Francisco In-Home Supportive Services Public Authority Governing Body, and is a board member of Asians and Pacific Islanders with Disabilities of California.
At UCSF, Wong served as vice chair of the Chancellor's Advisory Committee on Disability Issues (CACDI) from 2006 to 2009. While vice chair of the CACDI, Wong advocated for UCSF's professional schools to include a disability-related curriculum in their cultural competency courses. "We want to encourage schools to learn more about the disability community, especially since we are a health sciences campus," Wong said at the time. "Disability is part of the greater continuum of diversity, and we need to allow for variation and not get so focused on what is the norm."
During this time, Wong brought notable speakers to the University for lunchtime presentations on a variety of disability issues. She served on the inaugural discussion panel on culturally competent care of patients with disabilities for third-year medical students organized by then CACDI member Nat Gleason, who is now a resident at UCSF Medical Center.
For her leadership on behalf of the disability community, Wong received the Mayor's Disability Council Beacon Award in 2010, the first-ever Chancellor's Disability Service Award in 2010, and the 2007 Martin Luther King, Jr. Award at UCSF.
Wong, who also led the Disability Interest Group as chair at UCSF from its inception for six years until 2002, is credited with l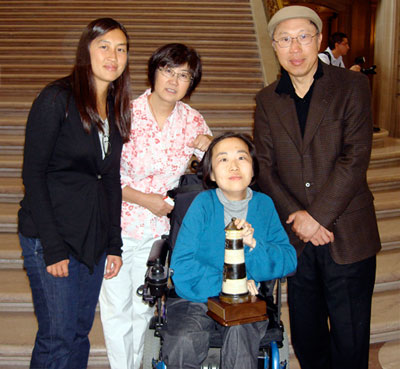 iterally and figuratively opening doors for the disabled community at UCSF, enabling greater participation for the disabled in all aspects of campus life."
Alice Wong celebrates with her family after receiving the Mayor's Disability Council Beacon Award in 2010. From left, her sister, Emily Wong; mother Bobby Wong; and father Henry Wong.
She led the development of UCSF Access, a website that describes the accessible features of the major buildings at Parnassus, Laurel Heights and Mission Center campus sites, pushed for more text telephones for the hearing-impaired on the Parnassus campus and lobbied for the installation of low, horizontal, wheelchair-accessible buttons inside elevators on campus, as well as the posting of signs to allow those with special needs to enter elevators first.
Wong received a BA degree from Indiana University and an MS degree in medical sociology from the Department of Social and Behavioral Sciences in the UCSF School of Nursing.
Story by Lisa Cisneros