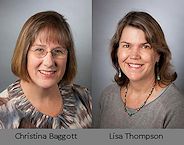 Christina Baggott, RN, PhD, PNP-BC, CPON,
      Assistant Professor and NINR P30 Faculty Scholar,
      Department of Physiological Nursing
Lisa Thompson, RN, PhD, FNP-C, Assistant Professor,
      Department of Family Health Care Nursing
OnLine Schools California have named the above faculty members at UCSF School of Nursing among their list of the "Top Nineteen Medical and Nursing Professors in California." Also named were professors at UCSF School of Medicine and UCSF School of Dentistry.
According to the OLSCa web site:
"The education of tomorrow's physicians and nurses is in good hands in California. The Golden State has more than 23 state university campuses, nine University of California campuses, and 75 independent colleges and universities. Scour the faculty lists and you'll find excellence in teaching and research among the ranks of doctors and nurses. The one's making this list have achieved high recognition for their efforts in the classroom, as well as in the research laboratory and medical practice.
 
You'll find nursing faculty that brings innovation in healthcare and health education into California communities. California physicians and medical scientists work at the frontiers of the professions, serving in international communities of scholars looking for solutions to real-world problems. They lead the way in cancer research, cardiology and radiology science, or in creating the next generation of talented, dedicated nursing and healthcare professionals to take their places in the world."