Full Story at http://ScienceofCaring.ucsf.edu
When in the fall of 2012 UCSF School of Nursing received a $1.5 million gift to begin a minor in diabetes – one of the few of its kind in the country – there was a national search to find the appropriate director. That search led to an alumna and former UCSF clinician: pediatric nurse practitioner (PNP) Maureen McGrath.
M. McGrath with Students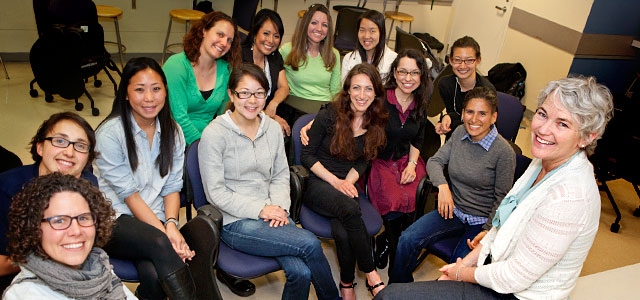 In the 1990s, as a newly minted PNP, McGrath had helped revamp the Diabetes Clinic at UCSF Medical Center. Since that time, as one of a small group of clinicians nationwide who are board certified in advanced diabetes management, she has been among those defining the NP's role in managing a disease that afflicts 26 million Americans and 347 million people worldwide. Diabetes is also a major cost driver in a health care system struggling to deliver care more efficiently.
Also see:
NBC Los Angeles News Story
"Maureen was a wonderful partner in developing our revitalized pediatric program in the early '90s in response to the Diabetes Control and Complications Trial [DCCT]," says pediatric endocrinologist Stephen Gitelman, co-director of the Madison Clinic for Pediatric Diabetes at UCSF. "She doesn't shy away from the toughest problems or the most difficult cases – she embraces them – and something magical happens behind closed doors when she takes a sullen, angry teen and talks them through what they need to do to emerge in a more functional place with their diabetes."
The first class has started.  Dean Vlahov notes, "With this generous gift and recruitment of Maureen who is a fantastic resource and role model, we are positioned to prepare a generation of practitioners and researchers to address this major public health problem."