The UCSF School of Nursing lost a nursing leader last April with the passing of Sarah Gomez Erlach ('49). Her impact will be felt in communities for decades. A distinguished career in nursing and public health led to her developing and implementing public health services for migrant farm workers in California.
Background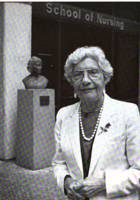 One of nine children whose parents were refugees from the Mexican Revolution, Sarah Gomez Erlach dedicated her professional and personal life to service for the underserved—especially minority, migrant, and rural populations. The first Hispanic in her nursing school, Sarah had an illustrious military career that spanned over 34 years, entering as a Cadet Nurse during World War II with the U.S. Army, serving in Korea, Vienna, and Austria, and finally retiring as a full Colonel. During her military service she established medical-nursing care services and trained nursing and corpsmen staff, including those who served as the backup for the European Theater of Operations. While in the Army Reserve, she served as Chief Nurse of two hospitals.
Service
While Sarah had a stellar military career, it is her parallel career in Public Health, in which she served for over thirty-three years, where her greatest legacy remains. Her advocacy in the policy arena led to the passage and creation of the Primary Health Care and Community Service Division of the Health Department for the State of California. This has served as a blueprint to the development of primary care in the state. A particular feature of this legislation was the development of local community projects and the establishment of consumer boards. In this area, Sarah worked tirelessly to develop the leadership capacity of local communities, as evidenced by her work in organizing consumer boards for health centers. Recognized by the Alumnae Resources, a San Francisco organization, she has been credited with sustaining efforts to provide primary health care to the underserved by "encouraging and inspiring community participation."
Championing Minorities Into Nursing
Sarah also has dedicated herself to recruiting minorities into nursing. Sarah once commented, "Having seen throughout my career the shortage of qualified nurses, especially from minorities, I resolved to one day help those who came after me." Her resolve was realized in particular, by her contributions to the National Association of Hispanic Nurses (NAHN). At a critical juncture in NAHN's development, Sarah assumed leadership for strengthening the infrastructure of NAHN. In particular, she worked to establish an extensive and necessary array of policies and procedures to ensure the organization's growth. She has worked tirelessly to develop local chapters of NAHN and specifically in how to use parliamentary procedure as an effective organizational tool.
Legacy
Sarah's legacy cannot be chronicled by publications. Rather, it is the existence of over 75 primary care clinics serving migrant farmworkers, a health clinic in Watsonville, California that was named after her, and the continued growth of NAHN that speak to her contributions to the underserved in the name of nurses everywhere. Sarah's numerous and varied awards—including the UCSF Medal and a recent Lifetime Achievement Award from the National Alliance for Hispanic Health are also evidence of her lasting legacy. At a time when women's - and nurses roles were more narrowly defined, Sarah's career and personal service speak to all that is possible in nursing.
In recognition of Sarah's steadfast support of the School, a scholarship will be awarded to an incoming student. Her impact will be felt in communities for decades. To make a donation in Sarah's name, please send a check, made payable to the UCSF Foundation noting "School of Nursing Community Health" in the memo section, to the following address:
Attn: Lynnette Teti
UCSF Foundation
BOX 45339
San Francisco, CA 94145-0339
Related Coverage: