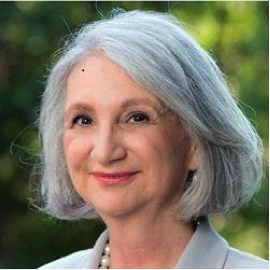 The School of Nursing Alumni Association (NAA) is pleased to announce the selection of Linda Sarna, PhD, RN, FAAN ('89) as the 2016 recipient of the Jane Norbeck Distinguished Alumni Award. Dr. Sarna currently leads UCLA's School of Nursing as interim dean and professor and holds the Lulu Wolff Hassenplug Endowed Chair. Before her appointment as interim dean, she was elected to serve as chair of the UCLA Academic Senate, the first nursing professor to serve in that position in the history of UCLA. She is internationally recognized for her scholarly activities promoting nursing involvement in tobacco control and her oncology nursing research focused on quality of life as well as symptoms of patients with lung cancer. Dr. Sarna spearheaded UCLA's distinction as the first tobacco-free campus in April 2013, an initiative eventually adopted by all the ten UC campuses. She participated in the creation of one of the first oncology nursing specialties in the country and has mentored generations of masters, doctoral, postdoctoral, and novice researchers in oncology nursing across the U.S. as well as abroad. Dr. Sarna received her bachelor's and master's degrees in nursing from UCLA, and her doctorate from UCSF.
Awarded annually since 1984, the UCSF School of Nursing Alumni Association Distinguished Alumni Award was named in honor of Jane Norbeck in 2003. Norbeck was a graduate of both masters and doctoral programs at UCSF and dean of the School of Nursing from 1989 to 1999. The award recognizes alumni who have made contributions to the nursing profession and/or health care and who have demonstrated continuous or sustained service and/or leadership that have contributed to the growth and development of the UCSF School of Nursing.
As the Principal Investigator for the Tobacco Free Nurses (TFN) initiative, funded by The Robert Wood Johnson Foundation, she initiated the first national program to help nurses quit smoking in the U.S. and to promote the role of nurses in tobacco control inaugurating the award-winning TFN Website, www.tobaccofreenurses.org. Begun in 2003, this work continues with her colleague UCSF Associate Professor Stella Bialous, RN, DrPH. She has led translational research projects to increase nursing interventions to treat tobacco dependence among hospitalized patients in the U.S., China, and Eastern Europe using web-based educational programs and resources. Dr. Sarna has collaborated with national and international nursing organizations on policies related to nurses and tobacco control, including the American Academy of Nursing.
Dr. Sarna has been elected as a fellow to the American Academy of Nursing, recognized as a distinguished research professor by the Oncology Nursing Society, and inducted into the International Nurse Research Hall of Fame, Sigma Theta Tau International. She has served on commissions and task forces for the National Cancer Institute, the International Society of Nurses in Cancer Care, the Oncology Nursing Society, the American Society of Clinical Oncology, and the Institute of Medicine, among others.
Dr. Sarna's many scholarly achievements in oncology nursing, leadership, mentorship, and impact on policy and clinical practice demonstrate the personal qualities and professional achievements that are signified by this award. We look forward to recognizing her during the upcoming UCSF Alumni Weekend April 8 – 9. Be sure to join us for the Nursing Gala on Saturday, April 9 at the Fairmont Hotel in the Crown Room from 5 to 9 PM where we will honor her distinction as the 2016 Jane Norbeck Distinguished Alumni Award. Register here for Alumni Weekend.
Related Coverage: