The School of Nursing is excited to announce that DorAnne Donesky, RN, PhD, NP, is the recipient of an educational change award for 2016 from the Josiah Macy Jr. Foundation. DorAnne is the first-ever Macy Faculty Scholars Program Award recipient from the UCSF School of Nursing.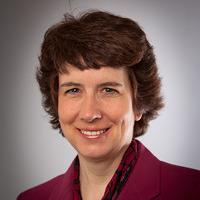 DorAnne, an Adult Nurse Practitioner and Associate Professor, is one of five individuals selected for this program designed to identify and nurture the careers of educational innovators in medicine and nursing. She teaches palliative care and pathophysiology, and is co-director of the Clinical Nurse Specialist Program. DorAnne's career is dedicated toward improving the quality of life for patients living with serious illness by providing team-based palliative care education to students and practicing clinicians in the four core palliative care disciplines of medicine, nursing, social work, and spiritual care. Although palliative care is interprofessional by definition, very few palliative care courses for learners or practitioners are designed for all core disciplines. As a Macy Faculty Scholar, DorAnne will develop an interprofessional center for palliative care education that will become a national model for other institutions to follow.
The Macy Faculty Scholars Program—the first of its kind—launched in December 2010. The program aims to accelerate needed reforms in health professions education to accommodate the dramatic changes occurring in medical practice and health care delivery. Under the program, DorAnne will receive salary support for two years with fifty percent effort dedicated toward pursing education reform projects at UCSF. Additionally, the Foundation will support education change at UCSF and develop a national network for DorAnne and the other Scholars, who will receive career advice from a National Advisory Committee and participate in an Annual Meeting for the program. UCSF School of Nursing Dean David Vlahov exclaimed, "This is great news! It's a testament to the preparation, initiative, dedication and productivity Dr. Donesky has shown over the past few years. This validation and support from the Macy Foundation provides the opportunity to truly consolidate, refine and expand a significant program."
DorAnne will travel to New York City September 12 and 13 for the Scholar kick-off event and two-day meeting to get to know fellow Scholars as well as the Macy Foundation Staff through a "teaching the teacher workshop" led by Kelley Skef. According to President of the Josiah Macy Jr. Foundation Dr. George Thibault "We are thrilled to welcome Dr. Donesky to our newest class of Macy Faculty Scholars. Dr. Donesky's interprofessional education project in palliative care illustrates the kind of change needed in how our health professionals are trained today in order to lead the health care systems of tomorrow."
About the Josiah Macy Jr. Foundation: Since 1930, the Josiah Macy Jr. Foundation has worked to improve health care in the United States. Founded by Kate Macy Ladd in memory of her father, prominent businessman Josiah Macy Jr., the Foundation supports projects that broaden and improve health professional education. It is now the only national foundation solely dedicated to this mission. Visit the Macy Foundation at www.macyfoundation.org.
About UCSF: UC San Francisco (UCSF) is a leading university dedicated to promoting health worldwide through advanced biomedical research, graduate-level education in the life sciences and health professions, and excellence in patient care. It includes top-ranked graduate schools of dentistry, medicine, nursing and pharmacy; a graduate division with nationally renowned programs in basic, biomedical, translational and population sciences; and a preeminent biomedical research enterprise. It also includes UCSF Health, which comprises two top-ranked hospitals, UCSF Medical Center and UCSF Benioff Children's Hospital San Francisco, and other partner and affiliated hospitals and healthcare providers throughout the Bay Area. Please visit www.ucsf.edu/news.