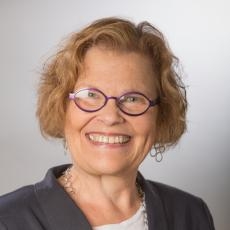 Janine Cataldo, Chair of the Department of Physiological Nursing
One of my first goals as department chair was to make sure our diverse faculty came together as a true, interdisciplinary department. A two-day retreat last year with both clinical and tenure-track faculty spurred the process and, since then, we've matched people across disciplines on a variety of projects.
We are also strengthening our commitment to junior faculty, who are building their careers at a time when resources are scarce. We've created a group – An RO1 for Everyone – which meets every eight weeks to share and critique aims, proposals and methods and to help direct people to where they can submit grant applications and papers. Our investment in our talented junior faculty also includes mentoring them into leadership roles and supporting them on quality-of-life issues, such as providing more flexible hours so they can do things like spend time with their children or support an aging parent.
Working more closely with the Medical Center is another priority; to that end, we recently formalized collaboration on acute care nurse practitioner fellowships. We also want to better leverage our faculty's incredible work in technology. We hope that supporting and focusing individual research programs will lead to a fundable center that makes us the go-to university for how nurses research and use technology for prevention, palliation and intervention.
Finally, even as we strengthen our department from within, we are strengthening relationships across departments. With other department chairs, we've built a strong working team determined to address the challenges our entire School faces.
Janine Cataldo has been chair of the Department of Physiological Nursing since July 2016. Her research focuses on smoking in older adults, a group she calls "the most neglected population in tobacco control." Her longitudinal study – Tobacco Attitudes and Behavior Study (TABS) – aims to understand risk perceptions and the connection between tobacco use and other drug and alcohol use in older adults.