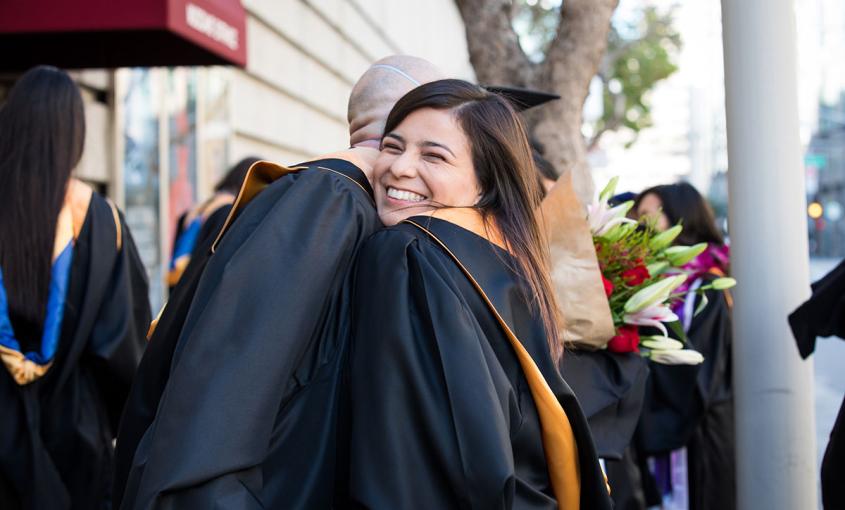 The UCSF School of Nursing conferred degrees upon nearly 200 new graduates from the Class of 2022 who stand equipped and poised to advance health and health equity.
Hundreds of family and friends joined the celebration on June 2, 2022 at Davies Symphony Hall in San Francisco, filling the auditorium with enthusiastic applause as UCSF Executive Vice Chancellor and Provost Dan Lowenstein conferred degrees upon 181 master's and doctoral students. In addition, 16 post-master's students received their certificates for completion of their training.
Due to the COVID-19 pandemic, the ceremony was the School of Nursing's first in-person commencement since 2019. Public health guidelines were followed for the in-person event. Commencement was livestreamed for those unable to attend in person.
Catherine Gilliss, dean of the School of Nursing, opened the celebration by welcoming the graduating students, university leaders, faculty, staff and guests to the event.
Student speakers Angel Coaston (PhD program), Mitchel Erickson (Doctor of Nursing Practice program), Katherine Schott (Doctor of Nursing Practice program) and Vicky Valentine (Master of Science program) shared messages of gratitude and hope, and conveyed the graduates' collective passion for nursing.
"A pandemic changed how we were taught, but we're leaving UCSF with the skills and tools to become incredible health care providers," Valentine said. "We are on our way to doing impactful work with heart, in communities that deserve the quality, dignified care that we will provide."
Keynote speaker Suresh Gunasekaran, president and CEO of UCSF Health, emphasized the critical role that nurses play in patient care, including throughout the pandemic.
"There were a lot of patients in rooms by themselves without their family members, and the family they had was their nursing staff," Gunasekaran said. "There were so many patients and community members that needed to be tested. Those that rose to the occasion were not just the nurses, but the nursing students, dental students, pharmacy students, retired nurses, physicians. … It's that spirit that has gotten us through this pandemic, and it's that spirit that I hope will inspire you to great careers moving forward."
"You chose this profession because the unifying belief in nursing is that the potential of human compassion is almost infinite," he added. "Compassion in nursing is still alive, it is still thriving, it is still the lifeblood of what we do in health care systems and there is nothing stopping us."
The following students were recognized at Commencement for their achievements:
Sukardi Suba received the Distinguished Dissertation Award in Nursing
Melanie Jeske received the Distinguished Dissertation Award in Sociology
Douglas Wagemann received the Distinguished DNP Project Award
Whitney Bagby and Vivian Huang received the Outstanding Master of Science Student Award
Lior Bloom received the Nursing Alumni Student Award for Meritorious Service
In addition, the graduating students honored three faculty members for their mentoring and teaching excellence:
Caroline Stephens was honored as the PhD mentor of the year
Jyu-Lin Chen was selected as DNP mentor of the year
Andrew Penn was named the Master of Science teacher of the year