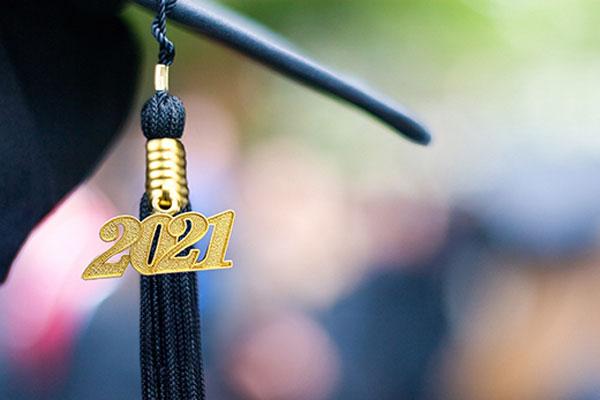 By Milenko Martinovich / June 15, 2021
The UCSF School of Nursing celebrated the accomplishments of the Class of 2021 during its commencement on June 11, graduating nearly 200 nurse leaders who are dedicated to advancing equal access to health care for all.
The School's commencement ceremony, usually hosted in a packed Davies Symphony Hall in San Francisco, was held virtually and streamed on YouTube.
UCSF Chancellor Sam Hawgood conferred degrees upon 180 master's and doctoral students. Eighteen post-master's students also received certificates. Catherine Gilliss, PhD, RN, FAAN, dean of the School of Nursing, acknowledged the extraordinary circumstances the Class of 2021 endured to reach this milestone.
"While this may not be the type of celebration you imagined with processions, diplomas and photographs, we're still filled with an overwhelming sense of joy and happiness," she said. "We pause to celebrate your accomplishments achieved in spite of numerous challenges presented throughout the last year. We are proud of your decision to elevate the nursing profession at such a critical time. Health care needs your leadership now more than ever."
Embracing leadership was a common theme among the event's speakers, notably keynote speaker Rep. Lauren Underwood, who serves Illinois' 14th Congressional District. She is the first woman, first person of color, and the first millennial to represent her community in Congress. She is also the youngest African American woman to serve in the U.S. House of Representatives.
Underwood — a registered nurse who served as a senior advisor in the U.S. Department of Health and Human Services before being elected to Congress — told the story of a former Black classmate who died three weeks after giving birth, despite repeated visits to her doctor. That tragedy motivated her to co-found the Black Maternal Health Caucus to raise awareness and advance policy solutions toward the nation's Black maternal health crisis. The continuing battle to improve Black maternal health and the disproportionate impact of COVID-19 on communities of color are opportunities for nurses to bring about change, said Underwood.
"What I want graduates to recognize today is it's in your power to correct the inequities of our health system," Underwood said. "Your leadership is key to improving the health of your community. Ability to lead is not tied to age or time spent in the profession. It's about aggressively applying your expertise, speaking honestly and boldly advocating for the health of your community.
"Trust in the education you received at UCSF and never forget what you saw during the coronavirus pandemic," she added. "Be courageous and be disruptive. Lives are at stake and we have the power to save them."
Student speakers Macy Lieu (Doctor of Nursing Practice), Ariel Baria (PhD) and Frank Molina (master's) also shared messages of hope, relief and gratitude.
"Our hard work and sacrifices have led us to this milestone in our careers and now more than ever, we can see the horizon of all that is possible. And the possibilities are truly limitless," Baria said. "What we've learned in these great halls is a gift, and with all gifts we are thankful and humbled. We are grateful to our faculty, mentors, preceptors and staff who have helped make this opportunity possible."
Additionally, University of California President Michael Drake and California Gov. Gavin Newsom and First Partner Jennifer Siebel Newsom delivered congratulatory messages to the Class of 2021.
The following students received awards in recognition of their outstanding work:
Distinguished Dissertation Award in Nursing: Ariel Baria
Distinguished Dissertation Award in Sociology: Rashon Lane
Anselm Strauss Special Award for Qualitative Dissertation: Chadwick Campbell
Outstanding Master of Science Award: Dulce Santana Gonzalez, Biz Mcllmoyl
Nursing Alumni Student Award for Meritorious Service: Janelle Silvis
Doctor of Nursing Practice Outstanding Award: Julie Poepoe
The Class of 2021 bestowed the Mentor of the Year Award upon faculty member Marianne Hultgren, DNP, RN, CNE, and the Excellence in Teaching Award upon Victoria Keeton.