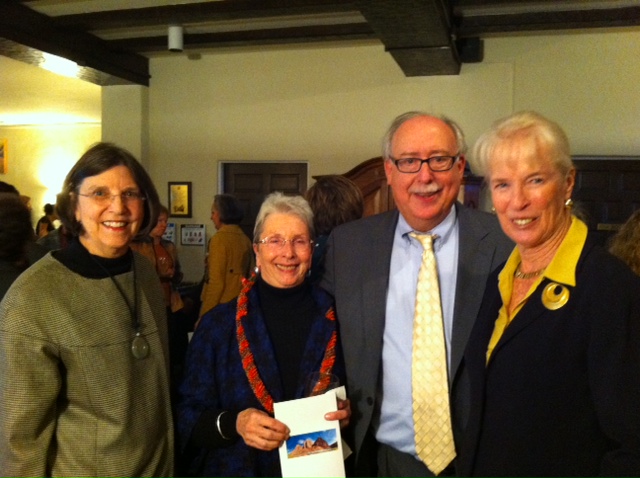 From the top of the School of Nursing (SON) building at UCSF, you can see the late afternoon sun sinking into the Pacific Ocean, and the bustle of campus life below.  Amidst that perfect backdrop yesterday afternoon, there was a steady stream of faculty, alumni, students, and friends making their way to honor a leader, a mentor, a teacher, and a driving force at SON for the past 40 years.
Associate Dean for Administration Zina Mirsky, RN, EdD, was at the door to Faculty House greeting guests as they arrived to honor and celebrate her retirement.  And, she listened patiently as Joseph Castro, UCSF Vice Chancellor for Student Academic Affairs, and SON Deans Kathleen Dracup and David Vlahov sang her praises and thanked her for her well-known candor.  Assistant Deans Jeff Kilmer and Karen Mah-Hing also shared humorous and heartfelt memories of "Captain Mirsky".
Mirsky began her long and illustrious UCSF tenure in 1972 as assistant profession in the (then) Department of Biological Dysfunction.  As she told the guests last night, she came for a six month acting appointment!  She joined the CE unit in 1976, and the in 1978 was invited by the Dean Dr. Margretta (Gretta) Styles to be the Assistant Dean for Administration.  For the next 34 years, Mirsky shared her ship-shape, no-nonsense style with five deans, countless faculty & students, devoted staff, and the UCSF community at large.  In addition to her administrative post, Mirsky had an unpaid lecturer appointment and taught in the education minor and major for the Department of Physiological Nursing.
Prior to joining UCSF, Mirsky was on active duty as a Navy Nurse, with service in Bethesda, MD; Sasebo, Japan, and San Diego, CA.  She stayed in the Reserves until she retired from the Navy in 1998, with an additional year of recall to active duty for Operation Desert Storm in 1991.
Mirsky, pictured above with Deans Jane Norbeck, David Vlahov, and Kathleen Dracup plans to spend her retirement volunteering at the Oakland Zoo, exploring the American Southwest, and continuing to master Social Media.  40 years, a great beginning!