On September 28 the Haile T. Debas Academy of Medical Educators welcomed nineteen new members at their 15th Annual Celebration. For the first time, those inducted include representatives from "sister schools" to the School of Medicine—administrative home of the Academy. Part of this inaugural cohort are two outstanding faculty members from the School of Nursing—Angel Chen, RN, MSN, PNP, Family Health Care Nursing, and JoAnne Saxe, DNP, ANP-BC, Community Health Systems.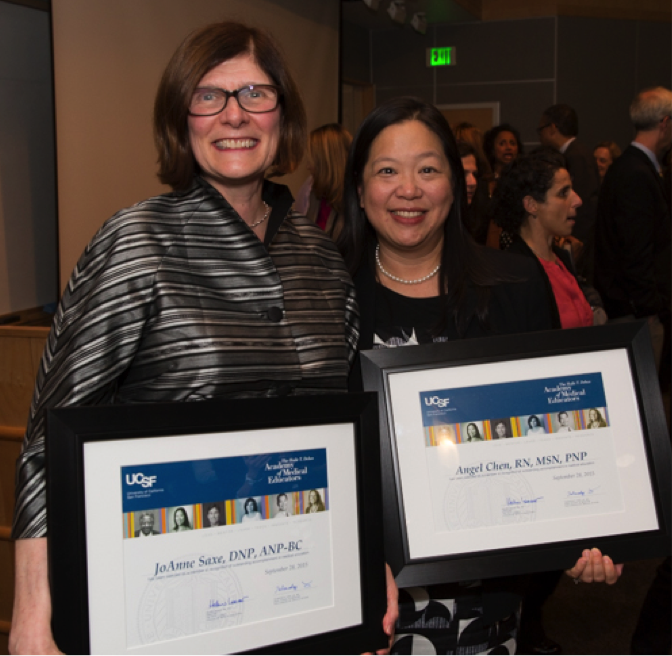 The Academy was established to support the people who execute and advance the education mission of UCSF, with the values of community, advocacy, service, and innovation, in order to promote an educational climate that accelerates advances in teaching and learning, champions educator causes and improves health. Following a welcome from newly appointed Dean Talmadge E. King, Jr., MD, Academy Director Helen Loeser, MD, MSc, provided an update on the Leadership Council and activities on the horizon.
Karen Hauer, MD, PhD, inducted the 2015 Academy members, including Professors Chen and Saxe. From Dr. Hauer's remarks:
Angel Chen, RN, MSN, PNP
Her teaching incorporates interprofessional education for both learners and faculty in classroom and clinical teaching settings in the Pediatric Nurse Practitioner program. … 'She has consistently been at the forefront of engaging faculty in improving the way we teach our learners, starting with the School of Nursing Master Core Curriculum revision and evaluation, to the implementation of an online clinical tracking system across our School for twelve specialties,' according to Dean David Vlahov.
JoAnne Saxe, DNP, ANP-BC
Students and faculty, including interprofessional faculty, value her expertise and ability to translate clinical exemplars into primary care practice. Dr. Saxe has received three School of Nursing Teacher of the Year awards and an AME Excellence in Teaching Award, and is recognized internationally for her expertise in advance practice education. … Rebecca Shunk, MD, EdPACT co-director, recognizes Dr. Saxe as a highly valued interprofessional colleague: 'She is an outstanding clinician, educator and nurse leader who has made significant contributions to the advancement of the educational mission at UCSF and affiliated academic partners.'
A packed crowd celebrated the induction of this new class of members in addition to the presentation of awards for Service, Excellence in Teaching, and Boyden Staff Service. An inspiring keynote address from Professor of Internal Medicine and Learning Health Sciences at the University of Michigan Medical School, Monica Lypson, MD, MHPE, entitled "Celebrating what Medical Education can do for the Support of Health Equity… Engaging in 'Black Lives Matter'" reminded the audience of the spirit of the Academy's namesake Haile T. Debas, MD.