How Nurses Are Transforming Health in California for the Better
From ending the tobacco epidemic to reducing the presence of pesticides in child care centers, UCSF School of Nursing faculty are leading innovative projects to transform the health of Californians. Learn about just some of the major projects that are advancing health, particularly for communities that need it most.
Ending Preventable Pregnancy-Associated Deaths in California
California deaths from preeclampsia, a pregnancy complication characterized by high blood pressure, plummeted 76% from 2014-2016 to 2017-2019. This was, in large part, thanks to improved diagnosis and treatment guidelines informed by the California Pregnancy-Associated Mortality Review (CA-PAMR).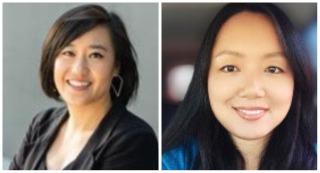 Jarmin Yeh, PhD, MPH, MSSW, and Dan Sun, MA Established by the California Department of Public Health, the CA-PAMR reviews deaths among pregnant or recently pregnant Californians, up to one year after pregnancy, with the goal of eliminating these preventable outcomes.
Assistant professor Jarmin Yeh, PhD, MPH, MSSW, and Dan Sun, MA, data specialist for the Institute for Health & Aging, are working with CA-PAMR to meet this goal.
Yeh provides project oversight and management, while Sun works to identify all California pregnancy-associated deaths. This complex data analysis links vital statistics data and patient-level administrative data from hospitals, emergency departments and ambulatory surgery centers.
To understand and foster discussion about the social determinants of health and possible structural racism, Sun designed a dashboard to describe the conditions of the communities where victims of pregnancy-related deaths lived.
"These collective efforts have contributed to California's decline in pregnancy-related mortality and a consistently lower rate of overall pregnancy-related deaths compared with the United States," shared Sun.
First Program of Its Kind in California Aims to Close Mental Health Practitioner Gap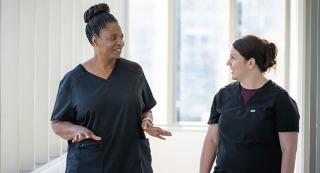 PMHNP student Janet Meda, left, speaks with her preceptor Ann Marie Coria, who is a PMHNP at UC Davis Health. Over 50% of people with mental illness in the state are not receiving psychiatric care — and many communities in the San Joaquin Valley and Inland Empire have only half as many psychiatrists as other parts of the state. A recent report from Healthforce Center at UCSF projected California will experience a 34% decline in the number of psychiatrists by 2028 — and will have 41% fewer psychiatrists than needed in the next 10 years.
To help address this statewide need, the UCSF, UC Davis and UCLA Schools of Nursing in 2021 launched the UC Multi-Campus Psychiatric Mental Health Nurse Practitioner (PMHNP) Post-Master's Certificate Program, the first of its kind in California. The program will prepare 300 new PMHNPs within a five-year period. Graduates are expected to serve as many as 378,000 patients over the next five years.
That includes health care providers like Tonia Jones, MS, PMHNP, who has been a nurse since 1989. She saw the spike in demand for psychiatric services even before the pandemic and enrolled in the PMHNP program to help expand access to care for patients in the Los Angeles area where she works. "The training I received has already helped me better support my community's needs," said Jones.
Protecting Reproductive Rights
The Abortion Care Training Incubator for Outstanding Nurse Scholars (ACTIONS) program at the UCSF School of Nursing is training the next generation of leaders working to advance reproductive justice.
This fellowship supports pre- and post-doctoral scholars to design studies that prioritize reproductive justice as the primary approach to reproductive health services provision, including abortion, birth, contraception, healthy sexuality, parenting and pleasure.
Former postdoctoral fellows are now pursuing academic careers and leading reproductive justice work at institutions across the country.
Since its launch in 2018, ACTIONS has joined an amicus brief on improving maternal health and launched several research projects including two first-of-their-kind studies – one examining how nurses' attitudes toward abortion impact patient care and another on the motivators and barriers for aspiring midwives of color.
Further, as a California Future of Abortion Council participant, ACTIONS is working with allies across the state to protect abortion rights and ensure reproductive freedom for Californians and those that seek services in the state.
The program recently received a $1.8 million, three-year grant to continue its innovative work training nursing and public health leaders. 
Health Care Decision-Making in California Women's Prisons 
The California Eugenics Program, which legalized forced sterilization in state-run hospitals, homes and institutions, ended in 1979. Yet between 2006-2010, at least 148 women in California women's prisons were sterilized without informed consent.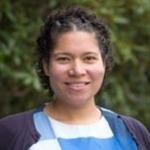 Jennifer James, PhD, MSW Assistant professor Jennifer James, PhD, MSW, is examining the impact of forced sterilization for people who are incarcerated and studying how medical decisions are made within prison settings. Through interviews, she works to understand the individual experiences of women who are incarcerated in California, patient-provider interactions within prisons, California's approach to enacting regulations, and how California's history of eugenics impacts these factors.
James' research is particularly timely. Beginning in January 2022, California launched a new program to compensate survivors of state-sponsored sterilization.
In collaboration with the California Coalition for Women Prisoners, James is also working on a "know your rights" pamphlet. The pamphlet will be distributed in prisons so that people who are incarcerated are knowledgeable about their legal rights when making health care decisions.
Reducing Children's Pesticide Exposure in California Child Care Centers
Long-term, low-level exposure to pesticides can have serious health consequences for children including cancer and cognitive, neurological and respiratory problems.
A survey of 637 child care center directors in California found that 90% of child care centers had at least one pest problem and 55% had used pesticides. Often, pesticides were used in or around classrooms and playgrounds.
Professor Abbey Alkon, PhD, RN, FAAN, is leading the charge to reduce children's pesticide exposure in California child care centers. As part of the NIEHS-funded Healthy Children and Environments Study, she is recruiting 88 child care centers serving socio-economically and ethnically diverse preschool-age children across four counties in Northern California.
The study explores the effectiveness of a child care health consultant-led pest management program in reducing pesticide exposure in child care centers. Through trainings and site-based monthly consultations with center staff, the program provides critical information about pesticide exposure to improve centers' policies for pesticide use and prevention, reduce the presence of pesticides within centers and reduce children's pesticide exposure overall.
HIV Policy Research Center that Works for All of California
Ending HIV in California will take more than policies that address HIV in isolation. Black and Latine populations in the United States are disproportionately impacted by the HIV epidemic, but HIV prevention and treatment efforts often fall short in

reaching these communities. Studies show that perceived racism and medical mistrust lead to a decrease in health care utilization and higher HIV disparities. Social and structural factors rooted in racism, anti-LGBT bias and social exclusion create inequitable health outcomes.
Assistant professor Orlando Harris, PhD, MPH, FNP, is working with the HIV policy research center We the People to address weaknesses in California's HIV response and close gaps in health outcomes. A project of the Black AIDS Institute, the center works on rapid-response policy research addressing HIV/AIDS and tobacco-related health disparities. Their policy work addresses both broad HIV initiatives and the social and structural factors that increase vulnerability to HIV, reduce service access to marginalized communities and contribute to HIV health disparities.
Leading a Statewide Commercial Tobacco Control Equity Project
Tobacco use is the leading cause of preventable premature deaths in California. State officials are working to end the commercial tobacco epidemic by 2035, and professor Valerie Yerger, ND, is heeding the call.
Yerger leads The LOOP, a centralized one-stop delivery system that supports California Tobacco Control Program (CTCP) grant recipients to address the needs of their local communities, especially those disproportionately burdened by commercial tobacco. The LOOP provides free, expert-led trainings for CTCP grant recipients, allowing them to implement their tobacco control initiatives more effectively.
The LOOP's services include trainings and webinars on topics ranging from health equity, research, information sharing and more. The LOOP prioritizes grant recipients that are working with priority populations, marginalized groups that are disproportionately impacted by tobacco and the predatory methods of the tobacco industry.
To ensure that no Californians are left behind in ending tobacco use, The LOOP launched the Health Equity Academy. The academy provides educational materials and learning opportunities to foster dialogue about systemic racism and commercial tobacco and builds frameworks for understanding the social factors at the root of tobacco-related disparities.
Developing Community Health Workers on California's Central Coast
The COVID-19 pandemic highlighted the critical role of community health workers/promoters (CHW/Ps) in ensuring access to health care.
CHW/Ps are not doctors or nurses, but bring their community lived experiences to act as patient advocates and educators on health care teams. They connect community members with clinical services, serve as trusted individuals and advocate on behalf of communities regarding issues related to social determinants of health – issues such as access to safe housing, nutritious food, education and more. During the pandemic, CHW/Ps were essential in providing services to people including vaccination education.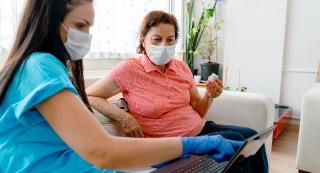 Professor Susan Chapman, PhD, RN, FAAN, and data analyst Jacqueline Miller have studied the CHW/P profession for six years.  
The CHW/P role has evolved to encompass both paid and volunteer positions in a variety of clinical and community settings. CHW/Ps have gained importance as a workforce critical to addressing health equity for populations that have been historically underserved. 
Chapman and Miller recently partnered with the Monterey County Workforce Development Board (MCWDB) to provide comprehensive CHW/P training. The program was supported by Workforce Innovation and Opportunity Act funds from the Department of Labor and was no cost to participants. 
Community hospitals and clinics employed incumbent workers and new trainees in CHW/P positions for the program's externship component. 
UCSF evaluated the training program, finding that nearly all participants felt satisfied with the training, better prepared for the role of CHW/P and supported by their instructors. 
Using the same model, the MCWDB plans to train another cohort in early 2023.
Proposition 56's Economic Impact on Low-Income Californians
Low-income individuals are more likely to smoke than high-income people. In 2016, 20.7% of Californians living below 185% of the federal poverty level (FPL) smoked, compared to 13.3% of those living above that threshold. That same year, Californians voted to pass Proposition 56 which raised cigarette taxes by $2. The tax was intended to discourage smoking and improve health outcomes across California. But have these expected impacts been realized? What was the economic impact on low-income Californians?
Professor Hai-Yen Sung, PhD, is working to answer these questions. Her research examines the economic impact of Proposition 56 on low-income Californians and explores the law's effectiveness in narrowing the gap between low-income and high-income smokers in California. Looking at the amount paid by MediCal and Medicare for low-income Californians, her work explores Proposition 56's impact on cigarette-smoking health care costs.
Sung also hopes to understand the impact of Proposition 56 on low-income individual's cigarette-buying behavior, such as whether low-income individuals utilized coupons or sourced cigarettes from outside California.
By documenting the impact of Proposition 65, Sung's research will inform smoking mitigation strategies within California and across the country.