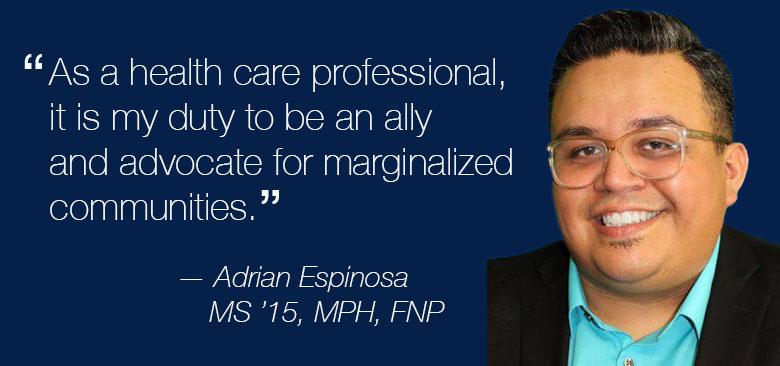 Influencing Change: Adrian Espinosa
Alumnus Adrian Espinosa, president of the UCSF Nursing Alumni Association, shares his experience of leveraging his voice to influence health care reform and offers advice to colleagues on how to propel positive change forward. Espinosa is a nurse practitioner in Fremont, California and a former board member of the National Association of Hispanic Nurses. He currently serves as a mentor for nursing students via the National Hispanic Medical Association and is a member of the California Association for Nurse Practitioners and American Nurses Association.
Adrian Espinosa, MS '15, MPH, RN, PHN, FNP-BC 
Living through a pandemic was traumatic and challenging for many frontline workers and particularly for the health care workforce. As an advanced practice nurse, I found myself challenged daily. I geared up with my personal protective equipment every day to assist in COVID-19 testing of numerous patients and also quickly adapted to the world of telehealth while refining assessment skills through virtual appointments.
Yet, the ultimate sense of duty occurred when we lost Eric Garner, George Floyd, and other Black lives in our community. This recurrence of injustice left a feeling of helplessness that weighed heavier during the pandemic as health disparities related to COVID-19 cases and deaths widened among racial and ethnic groups. This is when I realized that my voice could be a powerful tool to advocate and take action to address these issues.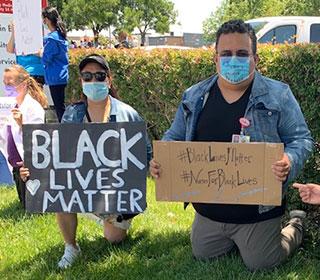 Adrian Espinosa attends a health care and Black Lives Matter event. Along with my colleagues serving on numerous national and local boards, we took pen to paper, and denounced these horrific acts of violence. We used our platform to declare our commitment to addressing this public health crisis.
We used our social media channels to show support for the #BlackLivesMatter movement. We released statements via various professional and community outlets, and attended rallies. Whether it was a nursing coalition or community partner, the message was universal: there was no room for silence and we would have to magnify our voices and efforts together.
Through these efforts, I was reminded of the structural and institutionalized racism that still runs deep in our society. As a health care professional, it is my duty to be an ally and advocate for marginalized communities.
As we continue to navigate our complex COVID reality, I can't help but feel honored and excited to step into the role of President of UCSF's Nursing Alumni Association. More than ever, this is a crucial time for alumni, composed of multi-generational leaders, to engage our nursing community via collective voices and bold ideas.
When I consider how each of us can use our voices to create positive change, I am reminded that no one individual's story is identical to the next person. We may often feel that our journey or experience does not compare to the conventional paths of others but it can be humbling to realize that our unique journey may actually inspire others. Reflect on your path and what sacrifices and lessons have helped you become the health care professional that you represent today.
Lend your voice and experience while remembering that speaking your truth and empowering others is a gift that can be carried on for generations. The care that our patients need in the world of health care, is comprised of diverse and at times, complex needs that can best be addressed by using our collective knowledge. Sometimes creating change is difficult and you can be challenged with resistance but always hold on to your personal values, integrity and ethical standards while remembering why your voice is needed to create the change you want to see. It is during these moments where your resiliency and commitment to the nursing profession will stand the test of time.