In June, thousands of nurses and nursing students – including faculty and alumni from UC San Francisco School of Nursing – gathered in Seoul, Korea, for the International Council of Nurses (ICN) conference and Council of National Nursing Association Representatives (CNR) meeting, the largest international nursing event of the year.
Set to the theme "Global Citizen, Global Nursing," more than one hundred countries took part in this four-day conference, which explored the importance of cross-cultural understanding and global cooperation in nursing. Participants enjoyed several opportunities to build relationships, disseminate nursing knowledge and exhibit leadership across specialties, cultures, and countries.
"We [UCSF] are seen as a pioneer in global health nursing, but I also look at what we can learn from other countries," said UCSF School of Nursing Associate Professor Jyu-Lin Chen, RN, PhD, FAAN. "We all have strengths and weaknesses and that's how a conference like this can really improve global nursing, by learning from each other."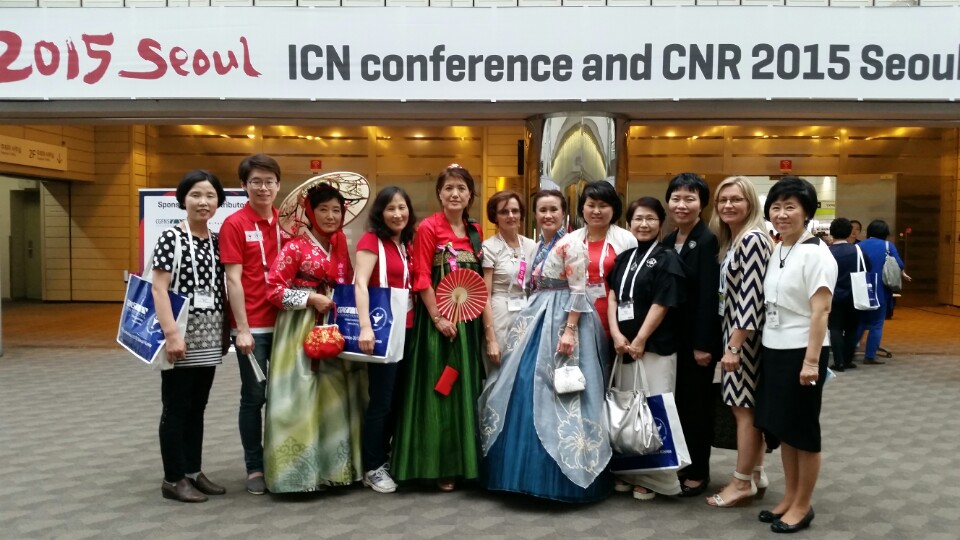 For UCSF, this year's conference was special on two fronts.
First, the School of Nursing's new Center for Global Health (CGH) was able to support faculty participation at the conference, after launching in October 2014. The Center collaborates with academic and community partners, both locally and around the world, to promote training and capacity building of local nurse work forces.
Second, the conference afforded an opportunity for more than eighty UCSF alumnae now working internationally, to convene, share, and reflect on their work around the globe at a special reception hosted by the UCSF SON Center for Global Health. Several School of Nursing graduates or visiting scholars play leadership roles within the ICN. For example, Dean Margretta Madden Styles was ICN President from 1993-1997, and was awarded the Christian Reimann Prize in 2005. Dr. Hiroko Minami in Japan, a 1982 UCSF School of Nursing DNS graduate and 2001 recipient of our Distinguished Alumna Award, served as the Twenty-fifth President of the ICN in 2005-2009. Currently, she is the President of the University of Kochi, Japan. Another example, Dr. Susie Kim in South Korea, a 1990 UCSF School of Nursing Lucile P. Leone Distinguished Professor, [1] was recognized this year for her significant role in fundraising for Girl Child Education Fund Project initiated by the ICN-Florence Nightingale International Foundation (FNIF). Girl Child Project supports education for girls who lost nurse parent/parents. Dr. Susie Kim also is a past recipient of FNIF's International Achievement Award. UCSF School of Nursing Professor OiSaeng Hong, RN, PhD, FAAN, noted, "It was very rewarding to see the leadership roles our alumni play, not just in their countries, but in the ICN."
Another UCSF faculty participant, Associate Adjunct Professor Jill Howie Esquivel, RN, PhD, NP, added "When I went to the UCSF alumni reception, I was really struck with how our alumnae are from all over the globe: Europe, Africa, South Korea, Taiwan, China, Japan, Australia and many other countries."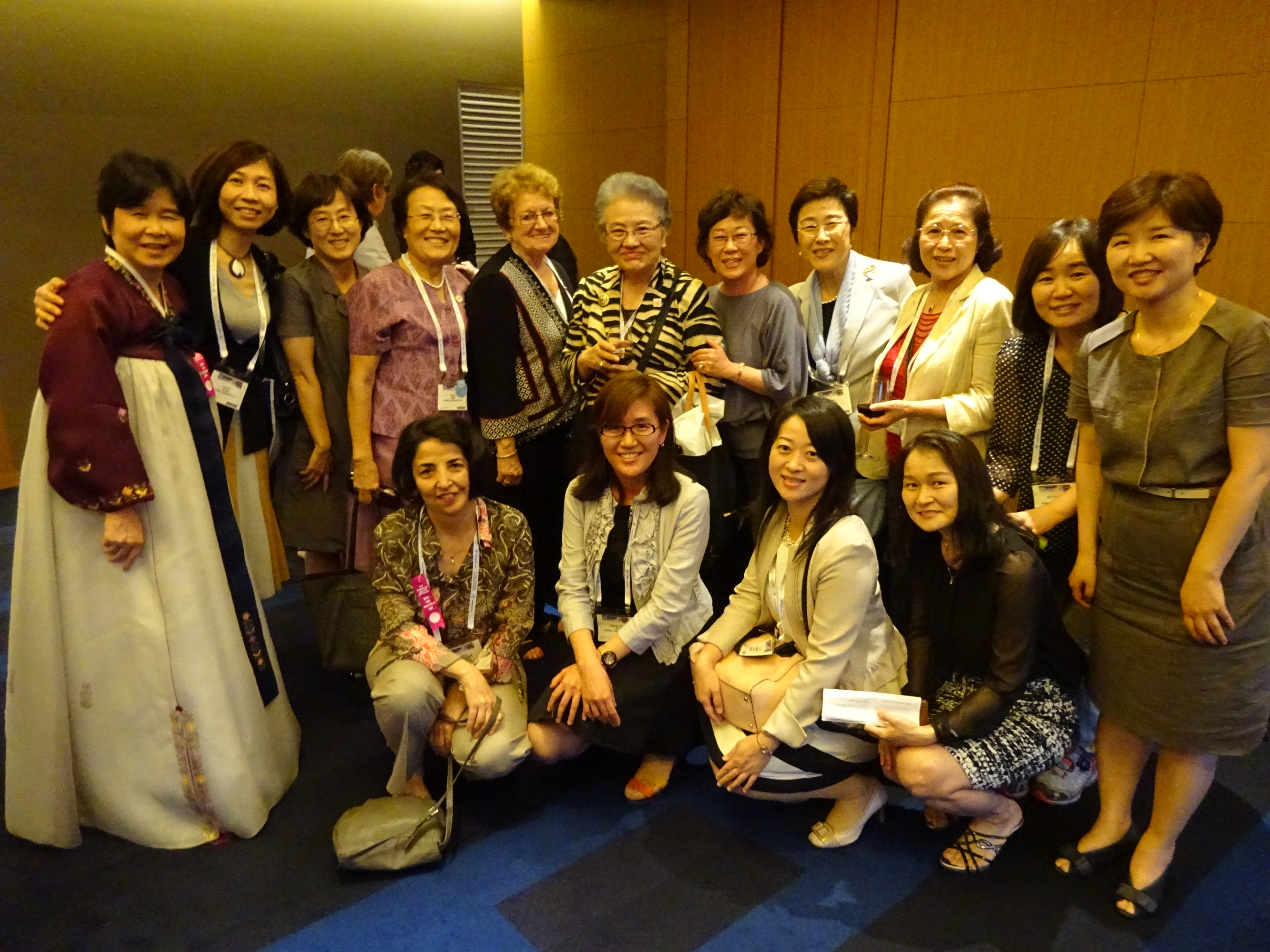 Global Citizen, Global Nursing
The ICN conference is one of the two major events of the organization, along with the ICN Congress, which is also held every four years. Throughout the week, the audience of nurses and aspiring nurse professionals considered the conference's three major themes:
To advance and improve the coverage and quality of health services.
To demonstrate the nursing contribution to the health of individuals, families, and communities.
To provide opportunities for an in-depth exchange of experience and expertise within and beyond the international nursing community.
Several high-profile politicians and international health authorities, including President of South Korea Park Geun-hye and World Health Organization Director General Margaret Chan led sessions on topics such as mental health, global trends in nursing education, telenursing, and disaster response. During Chan's keynote "Reshaping Nursing for the Future Needs of Citizens," she recognized the need for improvement of nurses' working conditions and vowed to work with them.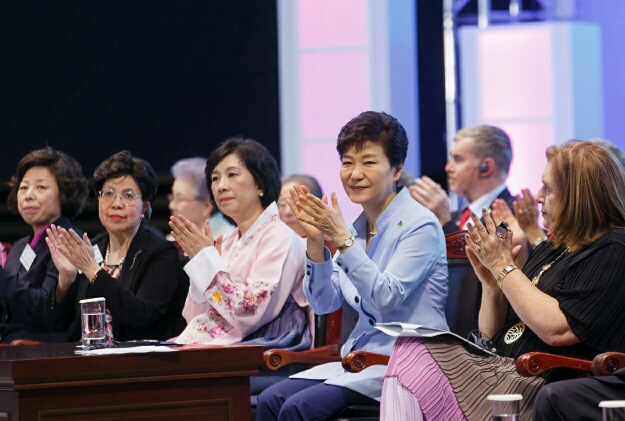 The launch of the UCSF School of Nursing Center for Global Health (CGH) and the record alumni attendance at ICN underscore a potentially major trend—nurses who train in the U.S. and return abroad to practice. Considering a potential shortage of nursing schools abroad despite a growing international demand, the UCSF CGH could not have emerged at a better time to influence and lead in this changing environment.
Learn more about UCSF School of Nursing CGH and the ICN conference at the following links:
http://nursing.ucsf.edu/about/center-for-global-health
http://www.icn.ch/conference2015/en/index.html
http://www.icn.ch/who-we-are/icn-conference-2015/
http://www.icn.ch/conference2015/documents/Programme/Programme_synopsis.pdf
---
[1] The UCSF SON Lucile P. Leone Distinguished Professorship in International Nursing was established in honor of its former coordinator of international students and visitors who is one of the nursing profession's most influential leaders. Each Distinguished Professor spends one or two quarters in residence at UCSF, working with students and faculty in research, education, or clinical service pertinent to international issues in health.