Awarded annually, the UCSF Medal replaces the granting of honorary degrees and is given to individuals who have made extraordinary contributions in areas related to UCSF's mission: health, science, and education. The Medalists are selected after months of deliberation by an independent committee composed of representatives from our campus and our community.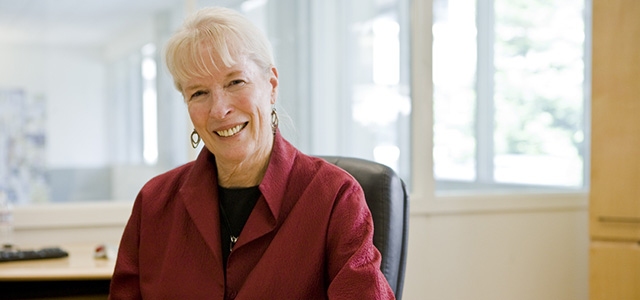 Emeritus Dean and Professor Kathleen (Kathy) Dracup, RN, PhD, FAAN, is one of three chosen to receive this year's UCSF Medal—the University's highest honor. This recognizes Kathy's outstanding and visionary effects on nursing, compassionate care, scholarship, and overall pioneering transformation of the profession as well as her selfless leadership of our School for a decade. She joins an illustrious list of internationally renowned innovators, leaders, and scholars who have attained preeminence in areas encompassed by the missions of UCSF.
UCSF Chancellor Sam Hawgood, MBBS, will present the UCSF Medal to Princeton University President Emerita Shirley M. Tilghman and posthumously to Visionary Philanthropist Helen Diller at a gala event held on November 4 in San Francisco City Hall. A committee composed of University members and others select the honorees annually.
The UCSF Medal tradition began in 1975 by then Chancellor Francis Sooy, MD, who replaced granting honorary degrees with the UCSF Medal. He also inaugurated Founders Day, an annual celebration of UCSF's contributions to the people of California, in 1982. The UCSF Medal recognizes outstanding personal contributions in areas associated with the University's mission, including providing top-quality patient care, improving understanding of the factors that affect human health through research and teaching the next generation of health sciences leaders.
Dr. Dracup served as Dean of the UCSF School of Nursing between 2000 and 2010. Her professional career includes clinical experience in cardiovascular nursing and university professorships. Dr. Dracup is recognized nationally and internationally for her investigation in the care of patients with heart disease and the effects of this disease on spouses and other family members. In her interdisciplinary program of research, she has tested a variety of interventions designed to reduce the emotional distress experienced by cardiac patients and their family members and to reduce morbidity and mortality from sudden cardiac death and heart failure. Dr. Dracup has published her research in more than 400 articles, chapters, and books. She served as the editor of Heart & Lung for over a decade and was the co-editor of the American Journal of Critical Care for almost two decades. She is a Fellow of the American Academy of Nursing and the American Heart Association Council of Cardiovascular Nursing. She was a Fulbright Senior Scholar to Australia and is a member of the Institute of Medicine. Dr. Dracup was awarded the American Heart Association's Eugene Braunwald Award for Academic Mentorship in 2003 and a Lifetime Achievement Award from the Heart Failure Society of America in 2011. In 2014 she was designated a Living Legend by the American Academy of Nursing.
As Dean of our School of Nursing for a decade, Dr. Dracup tripled our School's research dollars and made us the number one recipient of National Institutes of Health funding. She helped recruit new faculty, administrators, and master's degree students, increase student and faculty diversity, and win a $10 million grant to provide financial support to doctoral students. In keeping with her view that nurses are key players in health care, Dr. Dracup promoted cooperation among UCSF's professional schools and expanded students' opportunities for interdisciplinary learning. She made contributions that have changed and improved all of health care.
"Kathy Dracup is one of the most remarkable individuals I've had the pleasure of working with. She is brilliant, generous, well rounded, and has made exemplary contributions to research and society. She embodies the ideals to which we all aspire," says current Dean David Vlahov. "Not only is she a superb clinician and scientist, but her influence continues through the many educators and researchers she has mentored over the decades."
UCSF Medalists are selected for work that is "impressive, enduring, and historic," said Chancellor Hawgood in making the announcement. For the School, Kathy follows one of last year's winners, Carroll L. Estes, PhD—founder and former director of the UCSF Institute for Health and Aging. The UCSF School of Nursing now has seven UCSF Medalists: Dr. Kathleen Dracup (2015), Dr. Carroll L. Estes (2014), Dr. Dorothy P. Rice (2002), Dr. Shirley S. Chater (1997), Ms. Sarah Gomez Erlach (1995), Mrs. Lucile P. Leone (1983), and Dr. Helen E. Nahm (1977). Congratulations to Dr. Dracup and her fellow 2015 Medalists.
Related articles: http://scienceofcaring.ucsf.edu/profiles-nursing/nursing-and-heart-care-pioneer
http://scienceofcaring.ucsf.edu/profiles-nursing/nursing-news-honors-awards-and-accomplishments-2