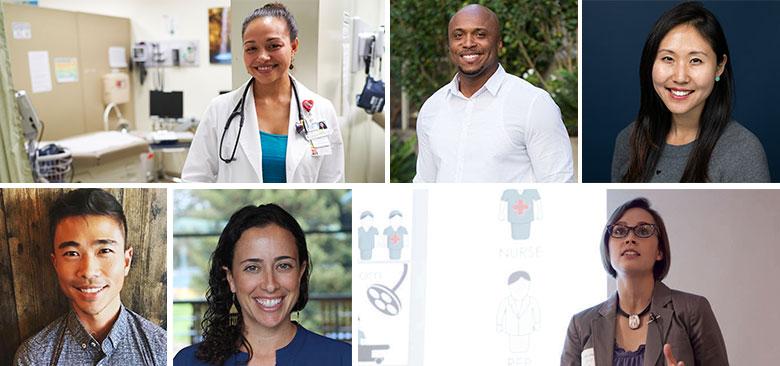 40 Under 40: Rising Nurse Leaders
Meet 40 rising nursing leaders from the UCSF School of Nursing who are leading innovative changes and forging new paths to better health for our communities. These faculty, students and alumni, who are age 40 or younger, are already making significant contributions in health care.
Help celebrate these nursing leaders by sharing a post on social media with the hashtag #UCSFNurse40Under40. This feature is part of an ongoing series that highlights remarkable nurses and scholars from the School, and their commitment to a more equitable world.
Hamza Alduraidi, MS '13, PhD '16, RN, MPH 
Hamza Alduraidi is an assistant professor at the University of Jordan's School of Nursing, and head of the university's Accreditation Department. His research has focused on the health of worldwide refugees, especially in Jordan. He was one of the first researchers to go into the field and measure the differences in health-related quality of life inside versus outside Palestinian refugee camps, leading to papers published in the Journal of Nursing Scholarship and Nursing Outlook. He currently studies the psychosocial well-being of Syrian refugees as well. In addition to his administrative and research tasks, Alduraidi teaches undergraduate and graduate courses—in the schools of nursing, medicine and dentistry — and supervises public health master's students.
Cisco Alvarez, MS '19, RN 
Cisco Alvarez has distinguished himself with his leadership, compassion and commitment to diverse children with health challenges in the Emergency Department at Valley Children's Hospital in Fresno. An active member of the Emergency Nurses Association, he has strived to improve care in the Emergency Department, including improving triage evaluations for sick infants and children. He is currently the lead advanced practice provider at U.S. Acute Care Solution for Valley Children's Emergency Department and is working in throughput management in response to COVID-19. 
Allison Anderson, MS '17, RN, CPNP
Allison Anderson is a pediatric nurse practitioner and clinical operations lead at Latitude Food Allergy Care where she provides personalized and comprehensive care to food allergic patients. In addition to her direct patient care, she manages the oral immunotherapy treatment program and develops clinical protocols for this network of specialized clinics. She is also president of the Bay Area Chapter of the National Association of Pediatric Nurse Practitioners, the only national organization dedicated to both advancing the Advanced Practice Registered Nurse (APRN) role and improving the quality of health care for infants, children and adolescents.
Ifeyinwa Asiodu, PhD '14, MS '12, RN, Assistant Professor 
Through her research and outreach efforts, Ifeyinwa Asiodu strives to better understand the structural and systemic barriers that lead to and perpetuate infant feeding disparities in Black communities. She is actively engaged in organizations geared toward achieving birth and breastfeeding equity and justice. During this pandemic, Asiodu has partnered with local organizations to lead the COVID-19 Birth Worker Relief Fund, which provided one-time small grants to Black, Indigenous, People of Color (BIPOC) lactation support persons, doula, midwives, and BIPOC-led organizations that serve pregnant and postpartum BIPOC communities. Asiodu has received numerous awards recognizing her work and advocacy, including from the California Breastfeeding Coalition.
Janessa Broussard, MS '17, PhD '23, RN, AGNP-C 
Janessa Broussard is the vice president of medical affairs at the San Francisco AIDS Foundation. The foundation's nurse-led services prioritize LGBTQ+, BIPOC and substance-using communities. Broussard oversees the largest PrEP program in the U.S., as well as research aimed at increasing PrEP access, knowledge and options. Additionally, she has helped develop Hep C treatment services for individuals who actively use substances and are experiencing homelessness, rapid initiation of antiretroviral therapy and transgender health services. Broussard also leads the foundation's Magnet Clinic in the Castro neighborhood, Harm Reduction Center Clinic in the Tenderloin neighborhood, and mobile services throughout San Francisco.
Dena Bushman, MS '12, RN, NP, MPH 
Dena Bushman is an Epidemic Intelligence Service (EIS) Officer with the Centers for Disease Control and Prevention, assigned to the New York City Department of Public Health and Mental Hygiene. Since January, Bushman has been working on COVID-19. She wrote protocols for and trained clinicians on testing, infection control, and isolation and quarantining and conducted sentinel surveillance and genetic sequencing, suggesting probable introductions of SARS-CoV-2 into NYC by way of Europe and other U.S. locations. Prior to EIS, Bushman worked in HIV research in Kenya and as a nurse practitioner in many Bay Area clinics.
Chamroeunpaul Chhean, MS '19, RN 
With his experience in government, nonprofits and health care, Chamroeunpaul Chhean strives to improve health care delivery. Chhean minored in civic engagement while earning his nursing degree at the UCLA School of Nursing, then came to the UCSF School of Nursing for his master's degree in health policy. He worked under President Barack Obama, coordinating and managing health care agencies, and then with the U.S. Senate's Health, Education, Labor and Pensions Committee. During that time, he coordinated teams in response to the Zika virus, worked to strengthen the military family health care model, and helped develop the Comprehensive Addiction and Recovery Act. In addition, Chhean spent months lobbying state Congress on behalf of the California Association for Nurse Practitioners to successfully pass the nurse practitioner full practice authority bill.
Kim Q. Dau, MS, CNM, Associate Professor
Kim Dau, director of the nurse-midwifery specialty at the UCSF School of Nursing, has been a steadfast champion for advancing the health of women and families by making nurse-midwives an integral part of their care, and a fundamental solution to addressing California's shortage in women's health care providers. As past chair of the Health Policy Committee for the California Nurse-Midwives Association, Dau dedicated seven years to advocating for legislative reform. In addition, she co-authored a 2019 in-depth report detailing how California's scope of practice laws impact care. (In September, California passed Senate Bill 1237, allowing certified nurse-midwives to independently provide midwifery care.)
Brittany Edwards, MS '18, CNM 
As a bilingual certified nurse-midwife from Fresno, California, Brittany Edwards is troubled by the disproportionate rates of babies born prematurely in Black and Latinx communities and its impact on families as a whole. It's what fuels her drive to emphasize parent experiences in health care systems and improve maternal and infant health in low-income neighborhoods. Edwards recently published "What About The Men? Perinatal Experiences of Men of Color..." and is a co-investigator with the EMBRACE preterm birth study, a $6 million, multi-year comparative study involving 2,600 women exploring group prenatal care in the Central Valley.
Adrian Espinosa, MS '15, RN, MPH, PHN, FNP-BC
Adrian Espinosa is a chronic care coordinator at School Health Clinics of Santa Clara County, where he works with vulnerable and underserved populations in a primary care setting. He is also an RN case manager at Kaiser Permanente in Santa Clara, assisting patients with chronic health conditions. Espinosa is president of the greater San Jose chapter of the National Association of Hispanic Nurses, and in 2019, he established one of the first Latinx nursing conferences focused on increasing diversity in the profession.Espinosa has mentored many nursing students as a "padrino" or godfather, providing guidance as they complete their training.
Elizabeth Gatewood, DNP, MS '08, FNP, Assistant Dean and Associate Professor 
Elizabeth Gatewood is leading the expansion of educational and health care technologies at the UCSF School of Nursing to enhance the academic experience of nursing students and prepare them to deliver the best health care possible to patients. Her efforts have included expanding clinical simulation, increasing telehealth, and participating in the development of devices that empower patients to better manage their health and chronic conditions. As an associate professor, Gatewood has expanded partnerships with clinics throughout California's rural and underserved areas, including the Central Valley, so residents can have increased access to care, and nursing students receive the training they need to meet the complex health needs of farmworkers and others in the region.
Asmara Gebre, MS '17, CNM
Asmara Gebre founded the BIPOC Aspiring Midwives, a shadowing, mentorship, and community building program. She also partnered with the UCSF School of Nursing's midwifery specialty to create UCSF Mentorship & Belonging for BIPOC students. In response to COVID-19 disparities, Gebre founded One Love Black Mamas, a grassroots community effort in San Francisco that has provided individual gifts of $200 to more than 120 Black families since April. Through crowdsourcing, Gebre was also able to donate $32,000 to 160 Black student midwives in the U.S. Since July, Gebre has been on a sick strike from San Francisco General Hospital, opposing racism and demanding removal of sheriffs for their use of force against people of color and trauma she experienced.
Quinn Grundy, PhD '15, RN 
Quinn Grundy authored the first U.S. study that examined registered nurses' experiences of interacting with the medical industry and how those interactions shape cost and quality dynamics in health care. Her book, "Infiltrating Healthcare: How Marketing Works Underground to Influence Nurses," (Johns Hopkins University Press 2018) generated new knowledge to inform policy on disclosure, monitoring and management of conflicts of interest to ensure ethical, safe and quality patient care. Grundy is continuing her research as a consultant with the World Health Organization, and is assistant professor with the University of Toronto.
Orlando Harris, PhD, RN, FNP, MPH, Assistant Professor 
Orlando Harris has dedicated his career to improving the lives of sexual and gender minorities, both in the United States and in the Caribbean. His research examines structural inequities, social and cultural factors affecting sexual decision making, the experience of violence, and other factors that contribute to poor health and HIV risk among men and transgender women. His papers have been among the first to address these issues among marginalized sexual minority groups in the Caribbean. Harris also serves as an expert panelist on the COVID-19 Prevention Network established by the National Institute of Allergy and Infectious Diseases.
Jennifer James, PhD '16, MSW, MSSP, Assistant Professor 
Jen James is a sociologist and Black feminist scholar. Her research lies at the intersection of race, gender and health with a particular focus on cancer, aging and chronic illness. She currently has several grants supporting her work examining experiences of health and illness for older, formerly incarcerated women and trans/gender non-conforming people. She is engaged in policy-level investigations to learn how health inequities may be produced and reproduced by incarceration during COVID-19. James has won numerous fellowships and awards for her work, including the Qualitative Dissertation Award from the International Institute for Qualitative Inquiry in 2018.
Hannah Jang, PhD '16, RN, CNL, PHN 
Hannah Jang is the associate chief nurse researcher and clinical inquiry manager at UCSF's Institute for Nursing Excellence (INEx), directing evidence-based practice, research and quality improvement initiatives for UCSF's 4,000-plus nurses. The INEx team, in collaboration with UCSF Health's Hospital Epidemiology and Infection and Prevention and Safety Office, have trained hundreds of UCSF nurses and staff on properly managing coronavirus patients. Jang and her team, in coordination with UCSF Infection Prevention, researched and distributed educational materials on nursing policies, procedures and protocols to equip nurses with the most accurate, evidence-based data of this changing virus. In addition, Jang and her team worked to support and educate all UCSF nurses on the various randomized clinical trials to find a treatment for COVID-19.
Stephanie Kennell-Heiling, MS '18, RN, FNP-BC 
Stephanie Kennell-Heiling has a passion for improving health on a global scale, and has worked to build nursing capacity in low- and middle-income countries in East Africa. She designed a poster series to disseminate the World Health Organization's Safe Childbirth Checklist to improve maternal and neonatal outcomes in the Neno district of Malawi, and served as the oncology nurse educator at a new cancer center in Rwanda. She is currently working with the UCSF Global Cancer Program in collaboration with UCSF School of Nursing faculty members Kimberly Baltzell and Stella Bialous to increase access to palliative wound care in Tanzania.
Chelsea Landolin, MS, RN, NP, Assistant Professor
Chelsea Landolin co-created and co-directs the interprofessional Dyad Project — believed to be the first of its kind in the nation — that aims to address the shortage of mental health providers in the state by training future psychiatric mental health nurse practitioners and clinical pharmacists to collaborate in the care of psychiatric patients. Having the two professions work together as a team is enabling them to better meet patients' needs.

Cherry Leung, PhD, RN, Assistant Professor
Cherry Leung's research and work aims to broaden the collective understanding of adolescent mental health and promote the health social and emotional development of children. She examines a range of biological and environmental risk factors of adolescent depression. In her NIH-funded study, she is exploring the connect among the gut microbiome, inflammation, and symptoms of depression in adolescents. In addition, she is involved in a separate study examining the effect of maternal depression, including stress hormones and inflammatory biomarkers, on the infant gut microbiome. Leung was awarded the 2020 Hellman Family Award for Early-Career Faculty in July.
Karen Lopez-Acero, MS '20 
Karen Lopez-Acero is a student midwife, community birth worker, healer and community organizer, with a steadfast commitment to health equity and justice for Black, Indigenous and People of Color (BIPOC) and LGBTQI+ communities. She has raised awareness of the complex health needs of underrepresented communities and pushed for health reforms. She has been a leader in Nursing Students of Color, the Associated Students of the School of Nursing at UCSF, the UndocuHealth Justice Panel, and other task forces and committees, both at the university and in the community.
Mary Massella, MS '17, RN, PHN, FNP 
Mary Massella is a family nurse practitioner at La Clinica de la Raza in Oakland, which cares for underserved communities. A special focus for Massella is diabetes care. While a master's student at UCSF, she was named a Madison Clinic Peggy Huang Diabetes Nurse Fellow. Massella participated in camps — organized by the nonprofit Diabetes Youth Families —  for kids, teens, and families affected by diabetes. She has also visited Chiapas, Mexico, sharing her knowledge and skills with local nurses to improve outcomes for people affected by type 2 diabetes. More recently, Massella has returned to UCSF to teach her first graduate courses. 
Katerina Melino, MS '14, RN, PMHNP 
Katerina Melino is an assistant professor at UCSF's School of Nursing and serves as director of its Psychiatric Mental Health Nurse Practitioner specialty. Melino has U.S. and international experience as a psychiatric provider across the continuum of mental health services, in both clinical and administrative leadership roles. Her clinical interests include integration of primary and behavioral health care, concurrent treatment of mental health and substance use disorders, geriatric psychiatry and LGBTQ mental health. She currently serves as the chair of the National Organization of Nurse Practitioner Faculties' Psychiatric Mental Health Nurse Practitioner SIG.
Victoria Michalchuk, MS '16, PhD '21, AGPCNP 
Victoria Michalchuk is a senior wellness program manager at Genentech, charged with developing and implementing initiatives to enhance the health and well-being of the company's employees by building a workplace that enables health and is regenerative to the environment. Her tireless efforts were acknowledged when her team received the 2019 Building Health Leadership Award from the Green Health Partnership — a research and development initiative involving the U.S. Green Building Council, the University of Virginia, and the International WELL Building Institute — for their work on Genentech's new employee center in South San Francisco. The building was lauded for promoting physical activity, positive mental health, and utilizing sustainable materials that prioritize human health and supply chain transparency.
Sara Miller, MS '11, MPH, FNP
Sara Miller is a nurse practitioner with UCSF Medical Center in the Department of Hepatology and Liver Transplant. She cares for patients with a wide variety of liver disease, with a specific focus on caring for patients with end-stage liver disease and those who are awaiting liver transplant, working with an interdisciplinary team to provide comprehensive care to these vulnerable patients. Her other focus is on patients with non-alcoholic fatty liver disease. She is part of an initiative to create a Fatty Liver Clinic, which offers group based educational programs to help people living with non-alcoholic fatty liver disease.  
Lourdes Moldre, MS '08, RN, ACNP 
Lourdes Moldre is the clinical director of Oncology Services and Regulatory Compliance at UC Davis Health. In her position, she leads the nursing care and clinical strategy for UC Davis' Comprehensive Cancer Center, which cares for more than 10,000 adults and children each year. Prior to her role at UC Davis, Moldre was both a managing director and nursing director for Clinical Research Services at UCSF. Her strategic leadership and supervision in those roles spanned across UCSF's five campuses, touching adult and pediatric patients in inpatient and outpatient settings.
Ashley Moore, MS '19, RN 
Ashley Moore spent Summer 2019 in Geneva, Switzerland, working alongside the World Health Organization's Chief Nursing Officer. Moore contributed to an international report emphasizing the importance of investing in the global nursing workforce. The experience enhanced her global health policy perspective. Moore, a nurse at UCSF's Outpatient Medical Oncology Clinic, coordinates treatment plans and delivers chemotherapy and biotherapy that serves hundreds of patients daily. She also serves as a resource manager for patient education and treatment planning, and trains new nurses.
Sarah Nathan, MS '08, FNP, Assistant Professor 
Sarah Nathan combines her passion for teaching with her dedication to community clinic health care. For the past 12 years, her clinical practice has been at La Clinica in Oakland, California. Nathan works at the Clinica Alta Vista site, which provides primary and prenatal care for young adults 12 to 25 years old and pediatric care for their children. In addition, Nathan leads the innovative grant-funded Sexual Assault Forensic Examiner Recruitment and Retention program. This program trains nurses, advanced practice nurses and students to become sexual assault nurse examiners, with the goal of expanding the number of qualified nurse examiners and improving care for victims of sexual assault. She is currently a student in the UCSF PhD in Nursing program. 
Jerry John Nutor, PhD, MS, RN, Assistant Professor 
Jerry John Nutor centers his work on advancing global health, particularly maternal and child health and the prevention of mother-to-child HIV transmission. His work seeks to understand the impact of environmental, social and economic factors on the health of women and children with HIV/AIDS in low-resource countries and among underrepresented populations in the U.S. Nutor is the founder of the annual Africa Interdisciplinary Health Conference, in which health care providers gather to share research findings and engage in discussions aimed at improving the health of people in Africa.
Hema Doshi Patel, MS '16 
Hema Doshi Patel is a nurse practitioner and gerontologist who co-founded Aging Mastered, a new online platform on healthy aging that features free classes and talks from health and wellness experts. During the COVID-19 pandemic, Patel launched a series of mini-classes focusing on helping people improve their physical, mental and emotional health. She is also an integrative medicine nurse practitioner at the Susan Samueli Integrative Health institute at UC Irvine. 
Angelica Rosales, MS '17, APRN, ACCNS-AG, CCRN
Angelica Rosales is a critical care trauma instructor and Clinical Nurse Specialist at the Navy Trauma Training Center in Los Angeles. Rosales, who was promoted to Lieutenant Commander in the Navy's Nurse Corps in August 2020, has spent the past decade serving at health care facilities dedicated to U.S. military personnel and veterans.  She previously was an intensive care nurse at Naval Hospital Camp Pendleton (California) and has deployed as a critical care nurse to the Role III Trauma hospital in Kandahar, Afghanistan.  She spent nearly three years at the Captain James A. Federal Health Care Center (Illinois) serving as the clinical nurse specialist for inpatient services and in her remaining year became the associate chief nurse of acute medicine.
Glenn-Milo Santos, PhD, MPH, Associate Professor 
Glenn-Milo Santos is an associate professor at the School of Nursing and a senior research scientist at the San Francisco Public Health Department. His research involves the development of substance use and HIV interventions. He also examines how social factors—including stigma, discrimination and criminalization—impact HIV prevention and care. Santos has captured millions of dollars in federal research grants and has published 90+ manuscripts. He has been awarded the Director's Early Independence Award, part of the National Institute of Health's "High-Risk, High-Reward" initiative that funds scientists with exceptional creativity and highly innovative research projects addressing major contemporary challenges in health. 
Michelle Stephens, PhD '19, RN, CPNP
Michelle Stephens is the co-founder of Oath, an app that provides parents intimate community and medical support at their fingertips, from pregnancy through pediatrics. Oath is building a new, group-based continuous care model that will redefine how we understand health and practice care for the next generation. As a Robert Wood Johnson Future of Nursing Scholar, her doctoral research focused on understanding stress reactivity during early childhood through cardiac measurements of the autonomic nervous system. Stephens has been a pediatric nurse practitioner for over 10 years and holds a master's degree in nursing science from Johns Hopkins University.
Sukardi Suba (MS '16, PhD '20), RN, ACCNS-AG
Sukardi Suba's research focuses on electrocardiography (ECG) characteristics in predicting patient outcomes, especially in acute and intensive care settings. He has collaborated with UCSF School of Nursing assistant professor Michele Pelter and other experts on numerous studies that have appeared in journals such as the American Journal of Critical Care and Journal of Electrocardiology. He has received a number of fellowship awards and has presented posters at conferences, including one that won first place for Student Poster of the Year from the National Association of Clinical Nurse Specialists. Suba has also served as secretary of the Alpha Eta Chapter of the Sigma Theta Tau International Honor Society of Nursing. 
Stacy Torres, PhD, Assistant Professor 
Stacy Torres, PhD, is a sociologist and ethnographer whose research focuses on aging, health and mental health, and urban communities. She has received awards for her work that sheds light on how older adults in a New York City neighborhood developed and maintained the social support and social ties that enabled them to thrive. A prolific writer, Torres has authored numerous op-eds and essays, which have appeared in The Washington Post, USA Today, The San Francisco Chronicle and more, in which she shares personal experiences or her research results to provide the public with context to important contemporary issues. 
UCSF Street Nurses (Taylor Cuffaro, MS '20, RN, AGPCNP; Megan Grant, MS '20, RN, AGPCNP; Katie Machado, MS '20, RN, CPNP-PC; Tessa Rubin, MS '20, RN, FNP; Janelle Silvis, MS '21, RN)
This quintet took to the streets of San Francisco, providing nursing advice and a compassionate ear to those dealing with homelessness. The Street Nursing team provided "bridge care" — offering basic supplies and advice — to people  experiencing homelessness, many of whom don't often seek medical help. When the team hosted a study group in spring 2019, about 60 students — double what they expected — showed up. The impressive turnout motivated the team to petition for Street Nursing to become an elective course at the UCSF School of Nursing. The course was approved and will be offered this spring.
Louis Ward, MS-HAIL '14 
Louis Ward has served as chief executive officer of Mayers Memorial Hospital District in Fall River Mills, California, for five years. Under Ward's leadership, Mayers Memorial Hospital was awarded the Association of California Healthcare District's California Healthcare District of the Year Award (2017) and won the Hospital Council of Northern California Innovation Challenge (2018). Additionally, Mayers Memorial Hospital is one of only 17 certified health care districts in California. Ward has been named to Becker's Hospital Review's "60 Rural Hospital and Health System CEOs to Know" for four consecutive years. He was also appointed to serve on the Board of Directors for the California Hospital Association (2021-23).
Morgan Weinert, MS '18, RN 
Morgan Weinert is passionate about addressing health disparities and is dedicating their career to advancing health equity for vulnerable communities. As the medical director of homeless care at Minnesota Community Care, Weinert leads a team in providing compassionate care to unsheltered or marginally housed adults in the Twin Cities region. Weinert has been honored with the Community Ally Award from Violence Free Minnesota in recognition of their dedication. 
Monifa Willis, MS '14, PMHNP, Assistant Professor 
As a nurse and former mental health service worker, Monifa Willis saw a major gap in the continuum of care for children after a mental health crisis: the lack of follow-up care for youth and their families, during a period when they are most vulnerable. To address this need at Benioff Children's Hospital in Oakland, Willis developed the Behavioral Crisis Aftercare Service, in which a team of nurse practitioners and psychologists provide 30 days of support and interventions to youth who enter the emergency department with a mental health crisis. This service, for which Willis now serves as director, has helped stabilize families and connect them to long-term mental health resources.
Jyesha Wren, MS '15, RN, CNM, WHNP-BC
Jyesha Wren is a certified nurse-midwife at Alameda Health System- Highland Hospital in Oakland, California. She co-founded "BElovedBIRTH Black Centering: Group Perinatal Care by, for, and with Black People," a collaboration between Alameda Health System and the Alameda County Public Health Department. The program honors and celebrates Black birth, while decreasing the impact of racism on Black people's birthing experiences and outcomes by providing holistic, culturally attuned and racially concordant group perinatal care. Additionally, Wren is a co-developer of Alameda County Public Health Department's EmBraceHer Childbirth Education by, for, and with Black People. She also serves as chair of the California Nurse-Midwives Association's Reproductive Justice & Anti-Racism Committee.
Jarmin Yeh, PhD '20, MPH, MSSW, Assistant Professor 
A former gymnast who became a researcher and assistant professor, Jarmin Yeh has been examining age-friendly community initiatives and the lived experiences of older adults to help improve their quality of life. She currently partners with the California Department of Public Health to implement a training for In-Home Supportive Services (IHSS) caregivers of older adults living with Alzheimer's disease and related dementia. As part of the project, she is evaluating how effective this training is on increasing caregivers' knowledge, reducing their stress, and decreasing how often people living with dementia turn to the emergency room or another high-cost health care intervention.