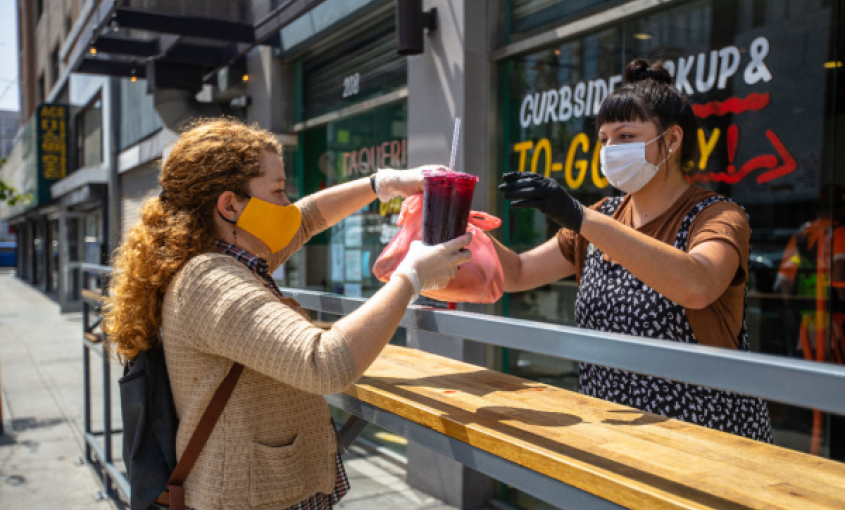 From understanding worker well-being to studying barriers to HIV prevention, UCSF School of Nursing community members are leading projects that enhance our understanding of social determinants of health. Here are just some of the projects addressing health equity and informing policy.
Understanding Worker Well-Being
The majority of service sector workers in the United States have unstable schedules. Their work hours change frequently, often on short notice, creating personal and financial stress.
Professor Kristen Harknett, PhD, co-leads The SHIFT Project, the country's largest data source on service sector workers that was created, in part, to understand more nuanced dimensions of job quality.
Prior to The SHIFT Project, insights on work conditions were limited to annual income or hourly wage data. The SHIFT Project uses survey data from more than 100,000 retail and fast food workers nationwide to draw connections between work conditions and worker well-being. Their dataset is the first of its kind to include employer information. 
"Part of the rationale for having employers named is that we're poised to understand and respond to how specific employer practices impact the well-being of their employees," says Harknett.
In 2020, when the restaurant chain Olive Garden began offering paid sick leave in response to public criticism, The SHIFT Project was ready. 
Their dataset already included Olive Garden employees, so Harknett and her team re-surveyed those respondents to measure the new policy's impact. They found a 15% decline in workers coming to work sick, an outcome benefitting both worker well-being and public health.
The Shift Project's robust dataset allows them to inform real-time policy debates. They provide their findings and recommendations to state and city leaders nationwide. Their research was cited in a federal bill on work scheduling that is currently under Senate review.
"Work is an important social determinant of health for everyone, but particularly for service sector workers who face unique vulnerabilities," Harknett said.
Social Adversity During Pregnancy
Research suggests that stress during pregnancy may change infant physiology, and influence physical, emotional and behavioral health. 
But little is known about how stress from prenatal experiences of social adversity – factors like violence, racism, food insecurity – impacts child health outcomes. 
"We need to understand how stress from social adversity changes the body and increases the risk for health conditions," says Victoria Keeton, PhD, PNP, a postdoctoral scholar with the California Preterm Birth Initiative at UCSF.
Utilizing data from a study led by School of Nursing professor Sandra Weiss, PhD, RN, FAAN, Keeton is studying 235 diverse birthing persons and their babies. She is examining the relationship between the birthing person's social adversity and stress hormones during pregnancy, and their baby's mood and stress hormones over the first year of life. 
Participants reported their experience with up to 60 stressors during their pregnancy. Cortisol, the stress hormone, was analyzed via saliva collected from the birthing person in their third trimester and 6 and 12 months after birth, and from their child at 1, 6 and 12 months of age. 
She hopes her findings will inform interventions. "I want to identify optimal times during pregnancy or infancy to address stress regulation so we can prevent or mitigate its potential pathologic consequences." 
Read the full story in our Science of Caring online publication.