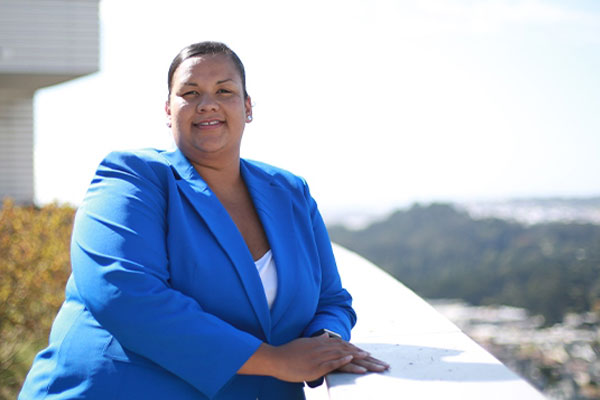 By Andrew Schwartz
While growing up in San Francisco, Janelle Charles was a star student, ultimately earning scholarship offers to multiple universities – heady stuff for someone who would be the first in her family to truly attend college (her father attended briefly). Having spent her entire life in the city's Bayview-Hunters Point neighborhood, Charles decided to leap into the unknown, choosing Bowdoin College, a small, liberal arts college in Brunswick, Maine. 
There – as many students who are the first in their families to graduate from college do – she struggled. Because first-generation students are more likely to be members of underrepresented minority groups or come from disadvantaged socioeconomic backgrounds, they can become isolated, unaccustomed to the social and academic routines that are second nature to their peers whose parents attended college. The isolation can be exacerbated by the fact that first-gen students rarely see faces that look like them and struggle to find peers who might also be first-gen. In addition, financial demands might require first-gen students to work significant hours during their college years, forcing many to take a longer time to graduate or to leave school for good. 
Charles checks all of those boxes and did leave Bowdoin for a stretch. She too might have permanently abandoned her college dreams, but her ability to gather herself and graduate in 2008 speaks to another defining characteristic of many first-gen students: grit. It's one of many strengths that the FirstGenRN program at UCSF School of Nursing has made a point of emphasizing. Now a student in the Master's Entry Program in Nursing (MEPN) program at the School, in the Adult-Gerontology Primary Care Nurse Practitioner-Occupational & Environmental Health specialty, Charles appreciates the emphasis on her strengths as well as the program's many support services. 
"FirstGenRN has been important," she says. "It provides a social space to identify with my peers and talk about our challenges. It also has professional development workshops that we need to further our careers after we graduate." 
Leading the Way in First-Gen Graduate Education
The School's FirstGenRN program is part of the broader UCSF First Generation Support Services program, which has rapidly become a national leader in addressing the needs of first-gen students in graduate school, particularly in health sciences. In June 2019, the Center for First-Generation Student Success recognized UCSF as a First Forward Institution, an acknowledgement of the university's commitment to first-gen students. 
"This was especially meaningful, because most of the other schools [that received the First Forward designation] are focused on the undergraduate experience," says faculty member Laura Wagner, right, who began the FirstGenRN program with student Frank Molina and Alece Alderson, acting assistant vice chancellor for student life. Laura Wagner, who began the FirstGenRN program at the School of Nursing through a 2017 UCSF Innovations Funding for Education Grant. "We are one of, if not the only, institution focused on graduate education in health sciences." 
"[Many other graduate institutions nationwide] are looking to us for how we're supporting our first-gen students," says Alece Alderson, acting assistant vice chancellor for Student Life. Alderson says the emphasis on first-gen students' many strengths extends to the insights they bring to health care's next generation. "Many of these students, for example, return to marginalized communities to work, bringing with them a deep and heartfelt commitment to and understanding of those communities," she says.                                     
"There's been so much research on race, social and cultural concordance between providers and their patients with health care outcomes that it makes sense to have as many first-gen students as possible," says Wagner, who is first-gen herself and is quick to note that the diversity of first-gen students goes beyond race and ethnicity. "Every one of us has had a different way of working our way through college and one of things I like about working with this group is our diversity. Every student is different."
She and Alderson note that the emphasis on strengths, however, does not discount the many barriers these students face at UCSF. "Many have to move here from far away and this is an expensive, fast-paced city; it takes them out of their comfort zone," says Alderson. "Our university gives them a safe place to work through their insecurities – to help them overcome so-called 'impostor syndrome' and recognize the value of the experiences they do bring to the table." 
Read the full story in our Science of Caring publication.