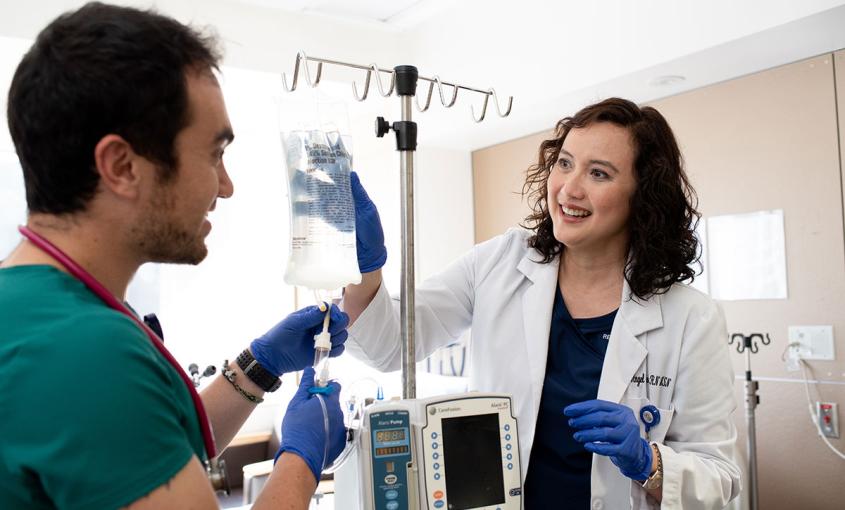 The UCSF School of Nursing is meeting the growing need for doctorally prepared nurses, offering streamlined approaches for nurses to attain the profession's highest degree. (Photo credit: Barbara Ries)
By fall 2024, the UCSF School of Nursing plans to launch streamlined academic pathways to meet the growing demand for doctorally prepared nurses who will lead transformative change in an increasingly complex health care arena.
The expansion of the School's doctoral education will provide multiple avenues for nurses, regardless of their current education level, to attain the profession's highest degree. And the expansion of the DNP program in particular aligns with guidance from the National Organization of Nurse Practitioner Faculties to shift all entry-level nurse practitioner education to the DNP degree by 2025.
Under the new pathways:
Post-baccalaureate students with no nursing background will be able to earn an RN license and seamlessly continue their journey to their terminal degree.
Post-baccalaureate registered nurses will be able to choose one of 11 specialties in which to earn a DNP degree.
Master's-prepared nurses who wish to obtain additional Advanced Practice Registered Nurse (APRN) training and certification can enroll in new post-master's APRN/DNP tracks, selecting from 11 specialties.
The Post-Master's APRN/DNP and Graduate Entry Program in Nursing (GEPN) to DNP/PhD pathways will launch in 2023, followed by the Post-BSN to DNP pathway in 2024, pending final university approval.
"As the School's mission is to educate diverse health leaders, conduct research, advance nursing and inter-professional practice, and provide public service with a focus on promoting health quality and equity, we need to align programs and develop curriculum to meet not only the national standards but also lead the path to excellence in education, research and community service," said Jyu-Lin Chen, who is leading the DNP program through December when KT Waxman will become the new director.
Mary Lynch, director of the Master of Science program, added, "This is the right time for the School to create these pathways and it comes after careful, deliberate planning. Our new pathways will enable our NPs to be active decision-makers in health care change."
The School will continue to offer its existing PhD program in both Nursing and Sociology to post-baccalaureate and post-master's nurses who seek to advance research and science.
Read the full story in our Science of Caring online publication.