Shirley Sears Chater named "Force Multiplier" by RWJ Foundation, Completes Leadership on Executive Nurse Fellows Advisory Committee
Shirley Chater, RN, PhD, FAAN, the national advisory committee chairwoman for the Robert Wood Johnson Foundation's Executive Nurse Fellows program since its inception in 1998, has stepped down from her post, the Foundation announced.  RWJF recently named her a "Force Multiplier" for being a nursing trailblazer and pioneer.
The Force Multiplier recognition program is in honor of the Foundation's 40th anniversary.
RWJF Executive Nurse Fellows is a three-year program that strengthens the leadership capacity of nurses who aspire to shape healthcare locally and nationally. Fellows receive coaching, education and other support to strengthen their ability to lead teams and organizations that improve healthcare. More than 200 nurse leaders have participated in the program.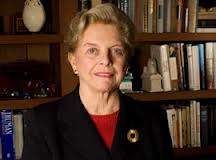 Executive nurse fellows hold senior leadership positions in health services, scientific and academic organizations, public health and community-based organizations or systems, and national professional, governmental and policy organizations. They continue in their current positions during their fellowships, developing, planning and implementing a new initiative to improve healthcare delivery in their communities.
"The Executive Nurse Fellows program has always been the jewel in the Foundation's crown," Chater said, according to a news release. "It's been a wonderful, wonderful experience for me."
Chater worked side by side with RWJF leaders to develop the program and has been its chairwoman since it launched. Before that, she was commissioner of the U.S. Social Security Administration under President Clinton. She also has been president of Texas Woman's University and vice chancellor of academic affairs at the University of California, San Francisco.
When she received her doctorate from the UC Berkeley in 1964, Chater was one of only 64 nurses nationwide to hold that degree.
Nailah Cox. Conference Participant, Dean Catherin Gillliss, Brianna Singleton, UCSF PhD student
Frank Sidders, conference participant shares thoughts during Disparities in Mental Health Session
Conference Participants Rosario Hernandez, Guendi Castaneira, and Tangitinga Paama unwind after Day One of conference
Nursing Leaders of Tomorrow Conference Group Picture
Conference participant Shelia Riffe participates in discussion
Howard University Scholars at the Nursing Leaders of Tomorrow Conference