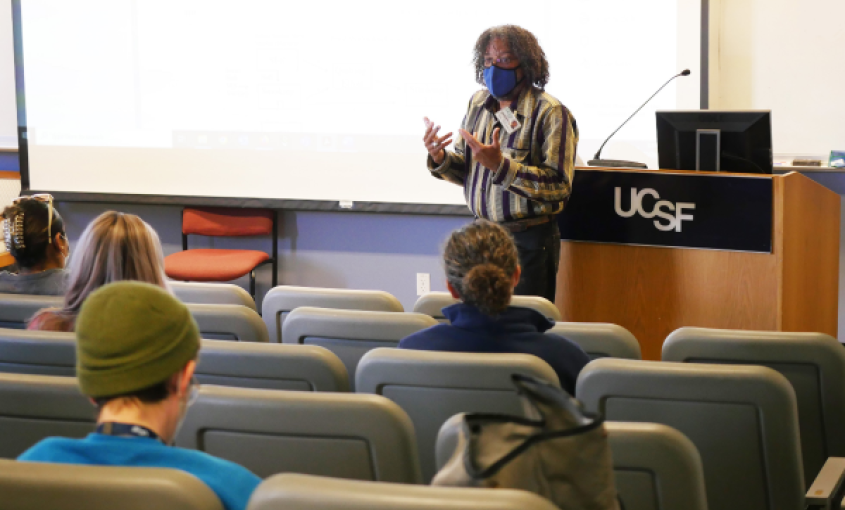 Mags Hines, RN, was an educator and community organizer, and helped run the Berkeley Free Clinic before enrolling in the UCSF School of Nursing. 
"I had an understanding of social determinants of health through my work, seeing first-hand the structural factors impacting access to care," says Hines. 

But Hines credits "Race and Class Factors in Health Care Delivery," a course offered in the school's Master of Science program for giving them the framework to apply that knowledge in clinical and non-clinical settings. 
"As nurses, our daily reality of providing service – whether direct patient care, managerial or at a systems level – requires that we navigate the impacts of social determinants of health in a holistic and person-first way, and that approach is borne out in this class." 
How Race and Class Impact Health Care Delivery
"Race and Class Factors in Health Care Delivery" examines how social determinants of health drive inequity. It grapples with the question, As a health care professional, what can I do to impact health disparities and advance health equity? 

"Looking at the intersection of social determinants of health, toxic stress and violence, we explore how they contribute to the production of health inequality," says professor Howard Pinderhughes, PhD, who teaches the course.
Master's student Mariana Trujillo, RN, says the class broadened her understanding of the historical policies, often rooted in racism, that have contributed to social determinants of health. "The class made me take a step back and ask, 'How can I make an impact on addressing health disparities and promoting racial justice?'"
By understanding factors that drive health inequity, says Pinderhughes, nurses are able to identify and formulate opportunities for intervention – both at the patient level and at systemic and policy levels. 
But Pinderhughes warns that the work to address social determinants cannot be done in isolation. He encourages students to get to know their community and identify allies also working to address social determinants. This includes health care colleagues.
It's a sentiment echoed by Hines. "There's an evolving landscape within the health care ecosystem to engage in conversations about health inequity, health disparities. The next step becomes how do we take this collective understanding and transform that into action?" 
Read the full story in our Science of Caring online publication.