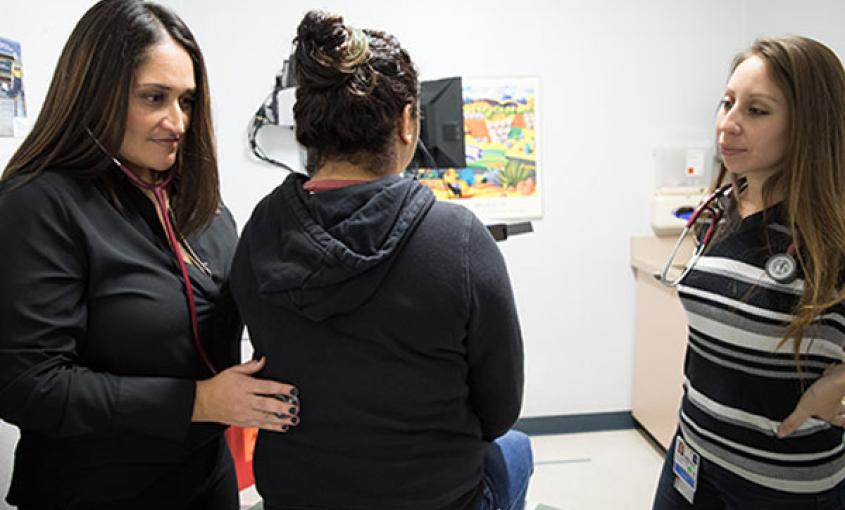 November 2021 / Milenko Martinovich
Through the School of Nursing's Rural Health concentration, Assistant Professor Elizabeth Castillo (left) is helping students learn about the barriers rural communities face and how to address them. (Photo credit: Elisabeth Fall)
The COVID-19 pandemic has exposed fundamental flaws in the U.S. health care system, including stark health disparities for people of color and underserved populations.
To prepare future nurse leaders to address these challenges, the UCSF School of Nursing is blending hands-on clinical opportunities in underrepresented communities with a master's curriculum that focuses on understanding and advancing health equity.
"This falls in line with our mission of improving access to care, especially to those communities that suffer from a lack of resources and access," said assistant professor Elizabeth Castillo.
Providing Care in Rural Areas
Racial and ethnic minority groups have been at increased risk for COVID-19 due to a number of factors, including health care access, housing, structural racism and the fact that many are employed in essential industries. Health disparities stretch from rural areas to urban centers.
In rural communities, where there are fewer health care facilities, limited transportation options and depressed socioeconomic status, the arrival of the pandemic has exacerbated the health disparities. Educating residents about COVID-19 so they can protect themselves and those around them has been a challenge. For example, patients have reported losses of taste and smell — common symptoms of COVID-19 — yet they were unaware of the connection to the virus, Castillo said.
"With the lack of accessibility and resources for this population, things weren't ideal before COVID," said Castillo, who has been working in rural settings for 14 years. "COVID has added another layer to that."
Nurse practitioner students at the School are learning the barriers that rural communities face, and acquiring the skills to address them. Through the Rural Health concentration that Castillo leads, students perform clinical rotations in rural areas throughout California, providing preventive care to residents and addressing chronic ailments such as diabetes and hypertension.
The students fulfill 80 hours of clinical work, and complete courses examining population health issues, social determinants of health and telehealth from a rural health perspective. They study common health problems among farmworkers, and the influence of socio-cultural factors and public policy on health systems. They also develop the knowledge and clinical assessment skills to treat opioid use disorder, a common problem in rural areas.
"You have to recognize the background of your patients to provide them with quality care," she said. "We train our students to understand the risk factors of living in rural places such as geographic isolation, socioeconomic status and a lack of access to appropriate information — as well as the inequalities that result from those factors."