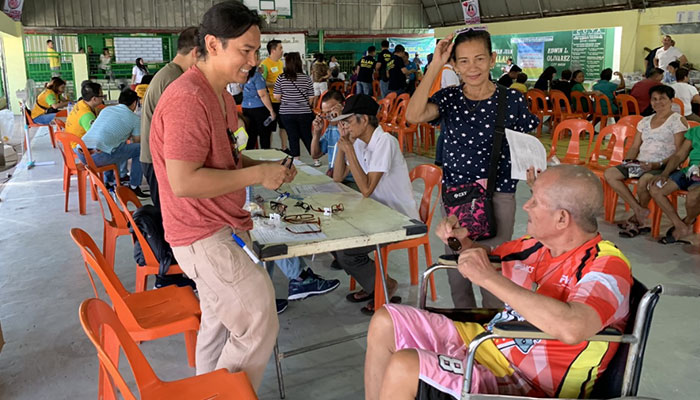 By Milenko Martinovich
In their commitment to serve the underserved, students at the UC San Francisco School of Nursing apply the skills they've learned to help marginalized communities. 
They administer flu vaccines at local public libraries, churches and farms; volunteer at homeless shelters; provide health counseling at children's wellness camps in California and elsewhere in the nation; deliver critically needed health care in rural parts of California, and more.
Some are also finding ways to give back beyond their local communities. Here are the stories of a few of our UCSF nursing students making a difference in the lives of those who need help abroad.
Coming Home Again, and Again, and Again…
Ariel Baria is reminded he's one of the lucky ones each time he returns to the Philippines. 
"I have relatives there who were not as fortunate as I was to come to the U.S., and get a great education, and be given the opportunities I have been given," said Baria, a PhD candidate in the School of Nursing. 
That gratitude and a love for his homeland are why Baria returns annually to provide free medical care. 
Most recently in April, Baria visited the Philippines for the sixth consecutive year with Global Health Force.  The nonprofit group and its volunteers – which include physicians, nurses, nurse practitioners and pharmacists – cared for about 1,700 people in a single week. They typically spend two days in Manila and two days in a rural area where the need is greater, treating ailments like urinary tract infections and chronic diseases such as diabetes and hypertension. Minor surgeries are also performed. 
The patients – many from poor, rural areas with little to no running water – often have the agonizing choice of purchasing food or medicine, Baria said. That Baria and his colleagues can provide a three- to four-month supply of ibuprofen, vitamins and medications is vital.
Baria estimates he treats about 50 to 70 patients daily. One year, he recalled, there were only four volunteers, and he treated about 100 patients per day.
"The days are long, but it doesn't feel like work," Baria said. "Knowing that you're giving them something keeps us going."
Read more about Baria and other students in the full story in our Science of Caring publication.